Navy buying XQ-58A Valkyrie drones for 'penetrating affordable autonomous collaborative killer' initiative
The Navy has awarded a $15.5 million contract to Kratos as it pursues new lethal drone technology.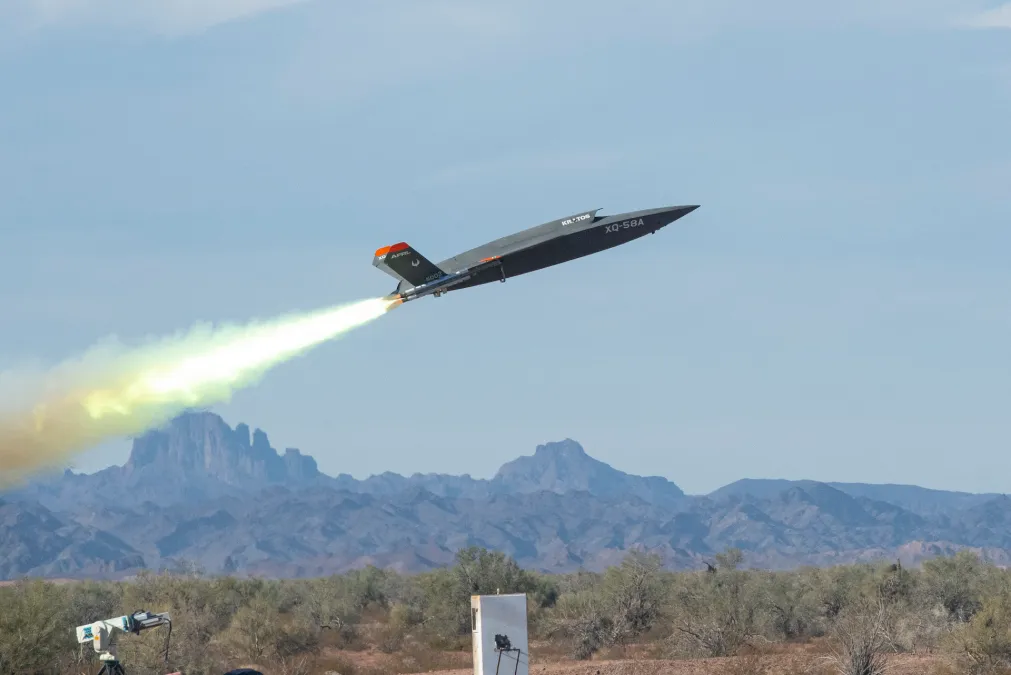 The Navy has awarded a $15.5 million contract to Kratos Unmanned Aerial Systems for two of the company's XQ-58A Valkyrie drones as the sea service looks for "penetrating affordable autonomous collaborative killer" technology.
The deal comes as the U.S. military is pursuing robotic wingmen and other uncrewed aircraft that can operate more autonomously than today's UAS and are less expensive than manned platforms. However, little information is publicly available about the specific Navy portfolio referenced in the Dec. 30 Defense Department contract announcement, suggesting it may be shrouded in secrecy.
The cost-plus-fixed-fee contract with Kratos, which was not competitively procured, is for the purchase and delivery of two XQ-58A platforms "with sensor and weapon system payloads to accomplish the penetrating affordable autonomous collaborative killer – portfolio objectives, including technical services non-recurring engineering, system/subsystem integration, installation, testing, ground and flight operations, logistics, and maintenance for the UAS as well as government-owned, contractor-operated operations for flight test and demonstration events at government test ranges," according to the DOD announcement.
The Naval Air Warfare Aircraft Division, Patuxent River, Maryland, is the contracting activity, and the funding is coming from the Navy's fiscal 2022 RDT&E funds.
Work will be performed in Sacramento, California, and is slated to be completed in September.
DefenseScoop submitted a list of questions to Naval Air Systems Command to get more information about the "penetrating affordable autonomous collaborative killer" tech portfolio but has yet to receive a response.
However, the name of the portfolio suggests that the systems the Navy is looking for must be long range; capable of evading enemy air defenses through stealth or other means; low cost; lethal; operate with limited human intervention; and be able to team with other platforms.
The XQ-58A Valkyrie could fit the bill, based on information that's publicly available and U.S. military statements.
The system is 30 feet long with a 27-foot wingspan; has a dry weight of 2,500 pounds; 600-pound internal payload capacity; Mach 0.72 cruise speed; and maximum range of approximately 3,000 nautical miles, according to a Kratos data sheet.
Additionally, the drone only costs a few million dollars per platform.
The drone was originally developed for the Air Force Research Lab's Low Cost Attritable Aircraft Technology (LCAAT) initiative, and the platform has also participated in AFRL's Skyborg program aimed at furthering technology for autonomous systems and robotic wingmen.
"This low-maintenance, reusable vehicle is an example of an 'attritable' aircraft designed to be used for several missions, but built at a cost that permits it to be a combat loss. This long-range aircraft is designed for high speeds and agile maneuverability, enabling it to perform a variety of missions. It is runway-independent, offering maximum operational flexibility to the warfighter," according to AFRL.
The drone is "stealthy" and can deploy a mix of weapons from its internal bomb bay and wing stations, according to Kratos.
Developing "collaborative combat aircraft" that can serve as robotic wingmen for Next-Generation Air Dominance fighters and other Air Force planes is a top priority for Air Force Secretary Frank Kendall — who has cited the success of Skyborg, among other Defense Department programs, as an indicator that the concept is viable.
In July, Kratos issued a press release trumpeting the completion of a series of flight tests for the Skyborg program with two production aircraft.
The XQ-58A has also been involved in projects "for several customers and applications" and there are ongoing efforts "related to production, specific mission applications, and operational development of the XQ-58A family of affordable, high speed, tactical UAVs," per the release.
"Kratos is excited to expand the use of the Valkyrie and offer its capabilities and the Kratos advantage of affordability to the Navy with our first major tactical contract with the branch, which internal investments and our established production line enable us to deliver the aircraft with effectively zero lead time," Steve Fendley, president of Kratos' Unmanned Systems Division, said in a statement to DefenseScoop.
"As the application of UAS in conflicts and in prevention of conflicts continues to increase around the world, the ability for Kratos to support with affordable and ready-now, uncrewed aircraft across all branches is substantial," he added.
Echoing statements by DOD officials and other observers, Fendley said these types of platforms could be "game-changers," but he suggested the Pentagon's acquisition system needs to move faster than it often does.
"It's imperative that we don't let better be the enemy of the good enough — and begin fielding available technologies today that can satisfy the current need space. Evolution of the systems, capabilities, and methods will naturally occur; but the initial need is here today," he said.
Editor's note: This story has been updated to include comments from Kratos' Steve Fendley.