Latest Valkyrie drone flight test focused on AI-enabled air combat
The demonstration had the Valkyrie drone go up against "simulated opponents using simulated mission systems and simulated weapons," AFRL said.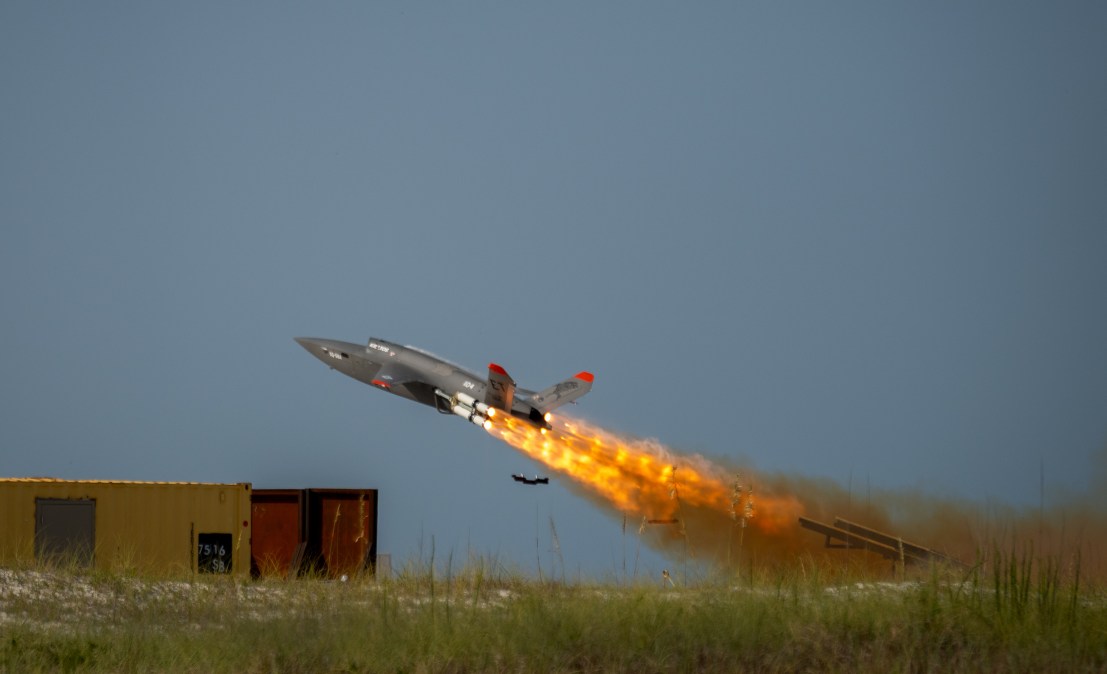 The Air Force held another demonstration for the XQ-58A Valkyrie unmanned aerial vehicle last month, this time testing the drone in a simulated air combat scenario, the Air Force Research Lab announced Wednesday.
The flight was conducted by the 40th Flight Test Squadron on Aug. 22 at the Eglin Gulf Test and Training Range. Building upon a previous demonstration in July that trained the algorithms controlling the vehicle's flight, the latest test pit the Valkyrie drone against "simulated opponents using simulated mission systems and simulated weapons," according to an AFRL release.
"The opportunity to fly alongside this trained AI-piloted air vehicle really set into stone this technology is very real and here to stay," Capt. Tyler Brown, autonomy flight test lead at the Air Force, said in a statement. "I feel we are at an inflection point of an exponential curve for the application of AI. It is imperative we understand the power of AI, its strengths and weaknesses, and that it is implemented in the right way."
The event helped the Air Force train a "tactical autonomy algorithm," according to AFRL. This demonstrates a shift from algorithms tested at the previous flight, which focused on performing common aviation, navigation and safety-related tasks while the Valkyrie drone flew alongside an F-15E Strike Eagle jet.
The ongoing demonstrations with the Valkyrie, which is manufactured by defense-tech company Kratos, are building upon previous work done by AFRL for the Skyborg Vanguard program.
The efforts are closely linked to the Air Force's collaborative combat aircraft (CCA) program, which aims to develop autonomous systems that will serve as robotic wingmen for the service's current and future aircraft. The Air Force is planning for a fleet of 1,000 CCAs, hoping to begin fielding before the end of this decade.
The AI algorithms tested during the August demonstration used neural networks — a type of machine learning process that teaches computers to process data in a manner inspired by the human brain — to fly a real-world Valkyrie drone against the simulations, the AFRL release said.
"AI testing requires combining new and traditional test and evaluation techniques. The team has a lot of lessons learned that will be used to inform future programs," Ryan Bowers, lead test engineer for the effort, said in a statement.
The Air Force did not immediately respond to DefenseScoop's questions about the specifics of the types weapons and opponents that were simulated during the flight test.