SpaceX again stands down first launch of SDA's Tranche 0 satellites, plans to reschedule
The Space Development Agency has once again delayed the liftoff of its Tranche 0 satellites after launch provider SpaceX aborted Friday's mission.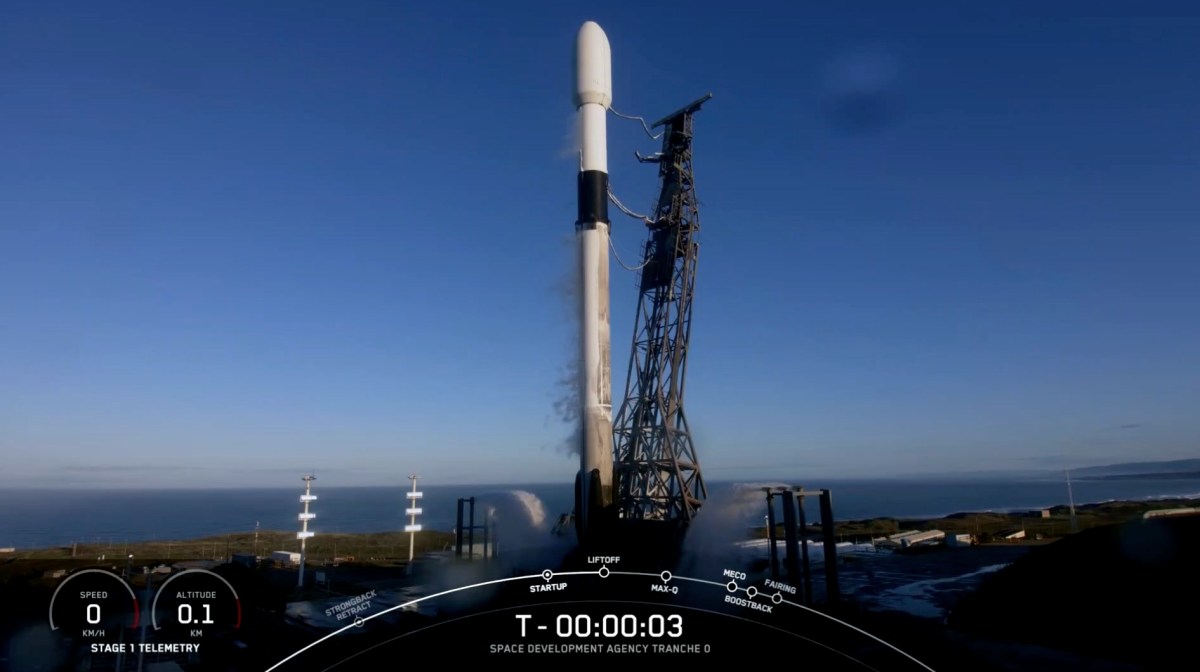 The Space Development Agency has once again delayed the first launch of its Tranche 0 satellites after launch provider SpaceX aborted Friday's mission.
The moves comes less than 24 hours after SpaceX called off the launch that was slated for Thursday.
"SpaceX will not make an attempt for SDA's Tranche 0 launch today (3/31), as previously scheduled. They are working quickly to resolve issues discovered during yesterday's launch attempt. We will provide add'l updates as soon as possible," the agency said in a tweet Friday.
Ten satellites were scheduled to fly aboard a SpaceX Falcon 9 reusable rocket deployed from Vandenberg Space Force Base in California. On Thursday, just three seconds before lift off, the mission was auto-aborted, according to a tweet from SpaceX. No immediate reason was given for the move and the launch was rescheduled for Friday morning.
"Vehicle and payload are in good health; teams are resetting for a launch attempt tomorrow, March 31 at 7:29 a.m. PT," the company tweeted.
However, in a Friday tweet, SpaceX said they were standing down again in order to allow more time for vehicle preparations. The company is now targeting "no earlier than April 1 for the next liftoff attempt."
The Space Development Agency and SpaceX did not immediately respond to DefenseScoop's request for comment.
The stand-down marks yet another delay for the launch of the first batch of Tranche 0 satellites that are intended to be a part of the SDA's Proliferated Warfighter Space Architecture (PWSA). The architecture is envisioned to have hundreds of satellites in low-Earth orbit carrying critical warfighting capabilities — including satellite communications and missile warning and missile tracking technologies — and is an important component of the Pentagon's modernization plans.
Pentagon Press Secretary Brig. Gen. Pat Ryder told DefenseScoop during a press briefing Thursday that the Defense Department would continue to keep an eye on the status of the launch.
"Just to provide some perspective, it's not uncommon for space launches to go through a checklist before launch to make sure that there's no anomalies, given the expense of the payloads and safety and security," he said.
The launch slated for Thursday — and then rescheduled for Friday — would have been the first of two missions to get Tranche 0 satellites on orbit — a major milestone after SDA experienced previous delays getting to liftoff. The two launches for Tranche 0 spacecraft were initially scheduled for September 2022 and March 2023, but the agency was forced to push them back to March 2023 and June 2023, respectively, due to supply chain issues and other problems.
Overall, Tranche 0 will include 28 satellites made by York Space Systems, Lockheed Martin, SpaceX and L3Harris.
SpaceX received a $150 million contract from the Space Development Agency for the two Tranche 0 launches. While using a commercial launch provider gave the agency some cost savings for Tranche 0, SDA plans to use the Space Force's national security launch contracting vehicle for subsequent Tranche 1 and Tranche 2 launches, SDA Director Derek Tournear told reporters Wednesday prior to the launch scheduled for this week.
"Obviously, that gave us some cost savings on Tranche 0," he said. "But going forward, that's something that the Space Force is working hard to negotiate in their future [national security space launch] phases to incorporate cost savings in different ways to get new entrants into the launch marketplace."