SpaceX aborts initial launch of SDA's Tranche 0 satellites
SpaceX said in a tweet: "Falcon 9 had an auto abort just prior to T-0. Vehicle and payload are in good health; teams are resetting for a launch attempt tomorrow, March 31 at 7:29 a.m. PT."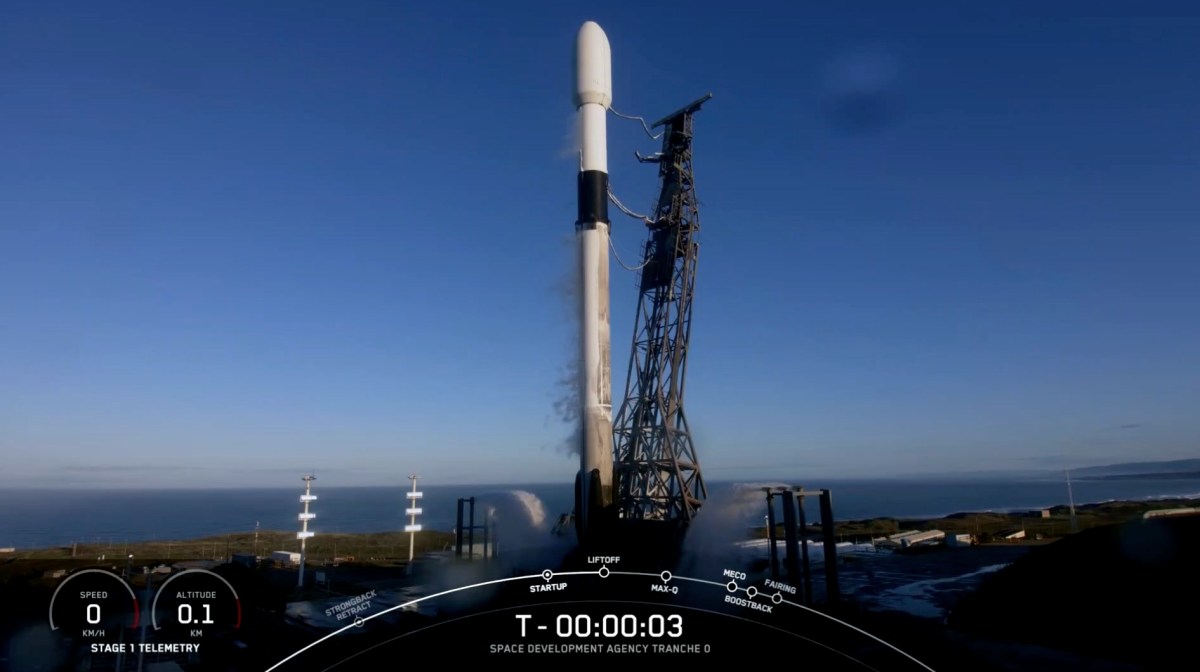 Just 3 seconds before it was set to lift off Thursday morning, SpaceX aborted the launch for the Space Development Agency's first batch of Tranche 0 satellites that are an important component of the Pentagon's plans for data transport and missile warning.
Ten satellites were scheduled to fly aboard a SpaceX Falcon 9 reusable rocket deployed from Vandenberg Space Force Base in California. The systems are to be part of the SDA's Proliferated Warfighter Space Architecture (PWSA), envisioned as a multi-layer proliferation of satellites in low-Earth orbit carrying critical warfighting capabilities.
But at T-0:03 before launch, operators aborted the mission. No immediate reason was given for the move. The Space Development Agency and SpaceX did not immediately respond to DefenseScoop's request for comment.
SpaceX said in a tweet: "Falcon 9 had an auto abort just prior to T-0. Vehicle and payload are in good health; teams are resetting for a launch attempt tomorrow, March 31 at 7:29 a.m. PT."
Overall, Tranche 0 will include 28 satellites made by York Space Systems, Lockheed Martin, SpaceX and L3Harris that will be launched in two batches. The two launches for Tranche 0 were initially scheduled for September 2022 and March 2023, but SDA was forced to push them back to March 2023 and June 2023, respectively, due to supply chain issues and other problems.
The first Tranche 0 launch was set to be a major first step for the Space Development Agency's goal for a proliferated satellite architecture featuring hundreds of platforms and sensors. Once in full operation later this decade, the architecture will help warfighters track missiles and hypersonic vehicles, provide position, navigation and timing in GPS-denied environments, and improve communications.
The Space Development Agency tapped SpaceX to launch the Tranche 0 satellites in December 2020. The company received a $150 million contract for two launches from Vandenberg Space Force Base aboard a Falcon 9 Block 5 rocket, according to an SDA press release.
The U.S. government has used SpaceX's Falcon 9 to launch a number of national security and defense payloads in the past. Speaking to reporters Wednesday the day before the aborted launch, SDA Director Derek Tournear said the reason the agency procured the launch commercially was for affordability.
"Obviously, that gave us some cost savings on Tranche 0," he said. "But going forward, that's something that the Space Force is working hard to negotiate in their future [national security space launch] phases to incorporate cost savings in different ways to get new entrants into the launch marketplace."
Following Tranche 0, the SDA plans to continue forward with its plans to begin Tranche 1 — the agency's first mission-capable constellation consisting of 128 satellites in the transport layer, 28 in the tracking layer and an additional 18 experimental satellites.
Those launches, as well as the follow-on Tranche 2, will be procured using the Space Force's national space security launch contract.