Eric Schmidt-led panel pushing for new defense experimentation unit to drive military adoption of generative AI
The proposal was included in a new memo to the president and Congress by the Special Competitive Studies Project (SCSP).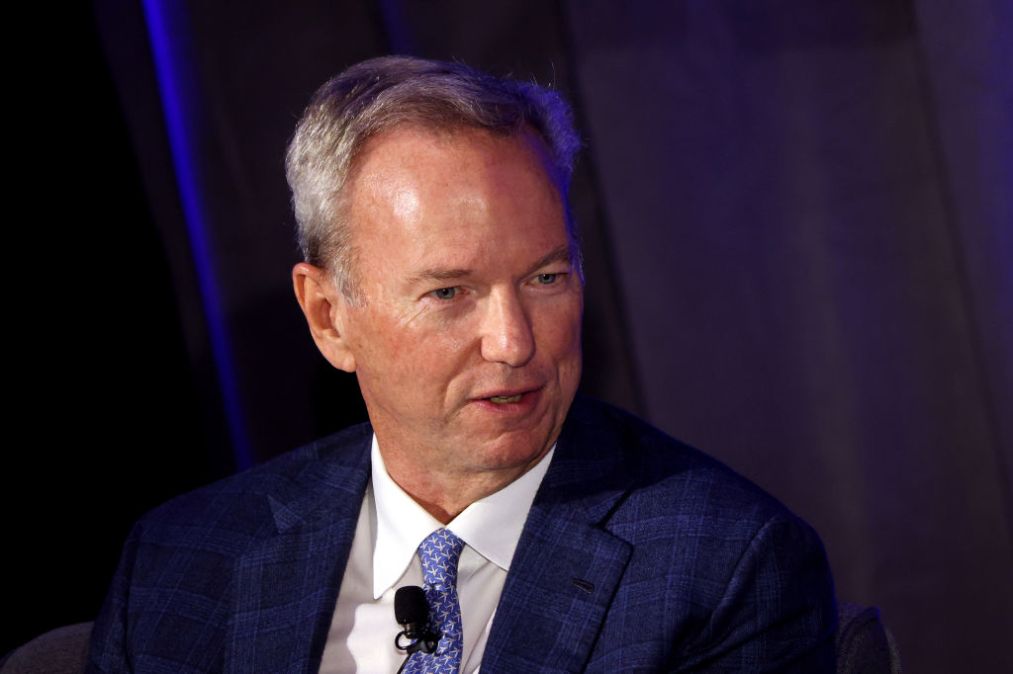 National security experts are calling on the Pentagon to establish a new "Defense Experimentation Unit" to more deliberately enable deep and accelerated exploration of generative AI capabilities — particularly as China pursues its own rapid adoption of the powerful and still-unpredictable emerging tech.
This proposal is one of several recommendations laid out by the Special Competitive Studies Project (SCSP) in their "Memo to the President and Congress on the Adoption of Generative Artificial Intelligence for Military Purposes," released on Friday.
Launched in 2021, SCSP is chaired (and partly funded) by former Google CEO Eric Schmidt. Roots of this non-profit organization stem back to the congressionally mandated National Security Commission on AI, a now-defunct committee of industry and former government officials who were charged with informing and issuing guidance on the Defense Department's use of artificial intelligence. Schmidt served as the NSCAI's commissioner and was the inaugural chair of the Pentagon's Defense Innovation Board.
Broadly, the buzzy realm of generative AI underpins the making of large language models that can produce audio, software code, images, text, videos and other content when humans prompt them.
"We are still in the early stages of generative AI development. The technology's capabilities, limitations, and sources are rapidly changing, and will continue to evolve, potentially in areas that we cannot yet predict. Therefore, it is important to urgently position the DOD to both capitalize on today's early use cases and prepare for increasingly powerful and sophisticated models, including artificial general intelligence and superintelligence," SCSP officials wrote in the new memo.
In that light, the experts are pressing the department to set up the proposed Defense Experimentation Unit as a new hub that can drive operational experiments and applications with AI models for diverse U.S. military missions. The aim would be to enable "their broader and faster deployment and mainstreaming" across the Joint Force.
"DEU's mission would be to advance the use of generative AI and other key technologies in the DOD through an iterative and continuous process of experimentation, learning, and development," according to the panel.
"To accomplish this, the DEU would build a 'sandbox environment' for generative AI experimentation and concept development that is accessible DOD-wide; develop new generative AI capabilities for use in the sandbox environment; emphasize partnerships with front-line units, field-to-learn processes, rapid iteration, and concept exploration; and establish feedback mechanisms to quickly and consistently share lessons learned from experiments to the entire DOD," they wrote.
The unit could support or partner with the Pentagon's Defense Innovation Unit — which is focused on helping the military acquire commercial tech — to identify and acquire new capabilities, or "augment and leverage the infrastructure and standards" set by the Chief Digital and AI Office, they noted.
The panelists propose that the unit be stood up by Jan. 1, 2024 and report to the deputy secretary of defense. The experts also recommend allotting $20 million annually to fund the organization.
The other "concrete steps" DOD should urgently pursue, the group suggests, involve building an automated orchestration platform to complete associated tasks, and facilitating the development of defense-tailored generative AI models.
Opportunities for how the Pentagon might integrate such advanced models across different sets of its components' critical activities are also listed in the new memo.
The experts repeatedly warn that China's government and military "are fusing mechanization, informatization, and 'intelligentization'" to "leapfrog" all branches of America's armed forces.
"We are in a decisive decade of military competition with China. For the past three decades, the People's Liberation Army has invested in technologies, concepts, and institutional changes to undermine U.S. military capabilities. Today, generative AI is driving a fundamental change in how we interact with computers, and therefore how militaries can harness AI and robotics to deter, fight, and win wars. Generative AI should be used to help invalidate the PLA's investments, increase their uncertainty, reduce risk, and ultimately, help prevent conflict," Justin Lynch, SCSP's senior director for defense, said in an email to DefenseScoop on Friday.
With this memo, SCSP simultaneously released its new "Memo to the President and Congress on the Implications of Generative Artificial Intelligence for the U.S. Intelligence Community."
Both proposals will be parts of the SCSP's forthcoming report, "Generative AI: The Future of Innovation Power," which is slated to publish Sept. 12.