Silentbarker 'watchdog' satellites successfully launched for Space Force-NRO spy missions
Silentbarker is a joint NRO-Space Force program designed to monitor objects in geosynchronous orbit.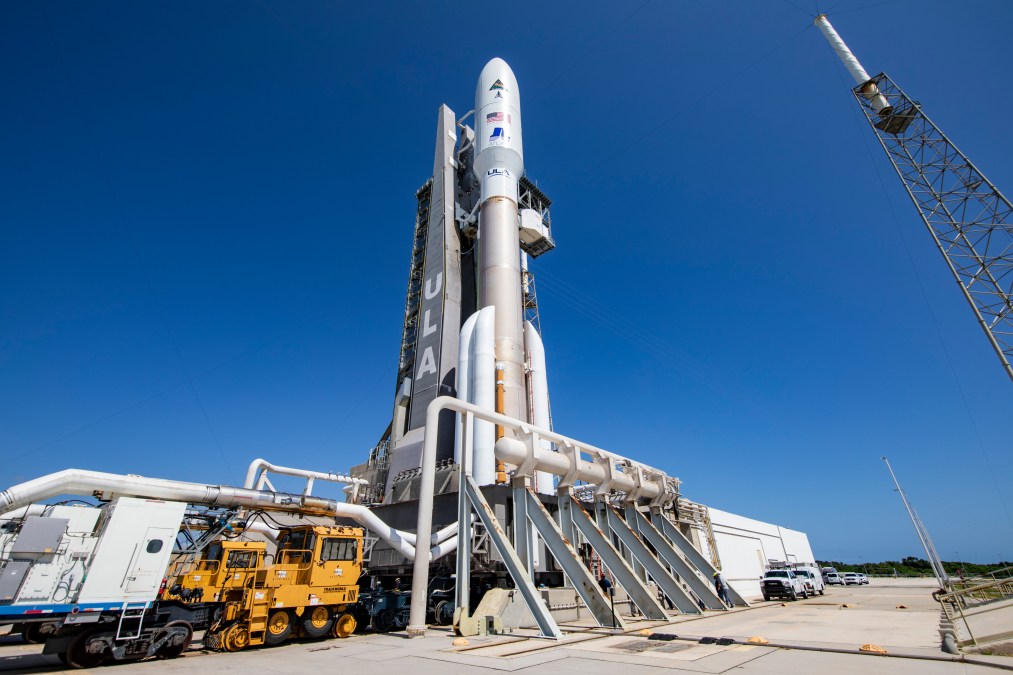 After multiple postponements, the launch of the first satellites for a joint National Reconnaissance Office-Space Force program dubbed Silentbarker was carried out on Sunday morning — a significant milestone for the highly classified capability meant to monitor a growing number of objects in space.
The payloads were carried by United Launch Alliance on board one of the company's Atlas V rockets. The event took place at Cape Canaveral Space Force Station in Florida. Liftoff was initially scheduled for Aug. 29 but got scrapped due to Hurricane Idalia making its way across the Florida coast. It was rescheduled for Saturday but was postponed until the following day "due to an issue found during a prelaunch ordnance circuit continuity check," according to a ULA post on X, the social media platform formerly known as Twitter.
NRO Director Christopher Scolese told reporters in August prior to the launch that Silentbarker underscores an important burgeoning partnership between his spy agency and the Space Force.
"Working together, we've developed a system in a relatively short amount of time that's going to provide us with unprecedented coverage of what's going on in the [geosynchronous] belt so that we can understand the intentions of other countries to see what they're doing in the GEO belt, to see if there's any indications of threats or if it's just normal," he said.
Details about the Silentbarker satellites — including any contractors involved or what specific capabilities are included with the payloads — have largely been kept secret since the NRO began working with the Pentagon on the program. However, Scolese confirmed that the entire constellation will eventually include multiple payloads that will keep track of objects stationed in geosynchronous orbit.
Scolese described the constellation as a "watchdog" for the GEO regime, which is about 22,236 miles above the Earth's equator and a difficult area of space to monitor from the ground. Silentbarker will allow the Space Force and the NRO to have a better understanding of what's happening in that orbit, where a number of critical space assets are.
"We also want to know if there is something going on that is unexpected or shouldn't be going on that could potentially represent a threat to a high value asset — either ours or one of our allies," he said.
Space domain awareness is considered a priority mission for the Space Force, especially as more military and commercial assets are launched into space and that realm becomes increasingly contested. The service is actively working to close current capability gaps that prevent it from having adequate data on what's happening in space.
In the case of Silentbarker, moving the capability on orbit offers unprecedented opportunities for sensing objects in the GEO regime, according to Lt. Gen. Michael Guetlein, commander of Space Systems Command — the Space Force's acquisition arm.
"Today, we primarily rely on our ground-based radars. Our ground-based radars are pretty exquisite, but they pretty much can only see about a basketball-sided object in space. And because of the challenges of day, night and weather, it gets extremely hard to maintain custody of those objects," Guetlein said during the roundtable with reporters. "By actually moving the sensor into orbit with those objects, we can actually not only detect smaller objects, but maintain custody of them."
The Space Force requested $115.6 million in fiscal 2024 for Silentbarker, which includes "on-orbit support" in order to meet initial operational capability and a continued development of the Silentbarker "expansion" increment to achieve full operational capability, according to budget documents. The constellation is on track to meet full operational capability by 2026, Scolese said.
The payloads launched Saturday will now undergo a checkout phase that could range from 30 to 90 days, he noted.
Once full operational capability is achieved, Silentbarker will be maintained by NRO while data gathered from the satellites will be sent to the National Defense Space Center jointly operated by NRO and U.S. Space Command, the combatant command responsible for American military operations in space.