Can industry deliver for Replicator? 'It depends,' Pentagon acquisition chief says
The Department of Defense has ambitious plans to field thousands of autonomous systems in the next 18 to 24 months, as part of its Replicator initiative to counter China's military buildup.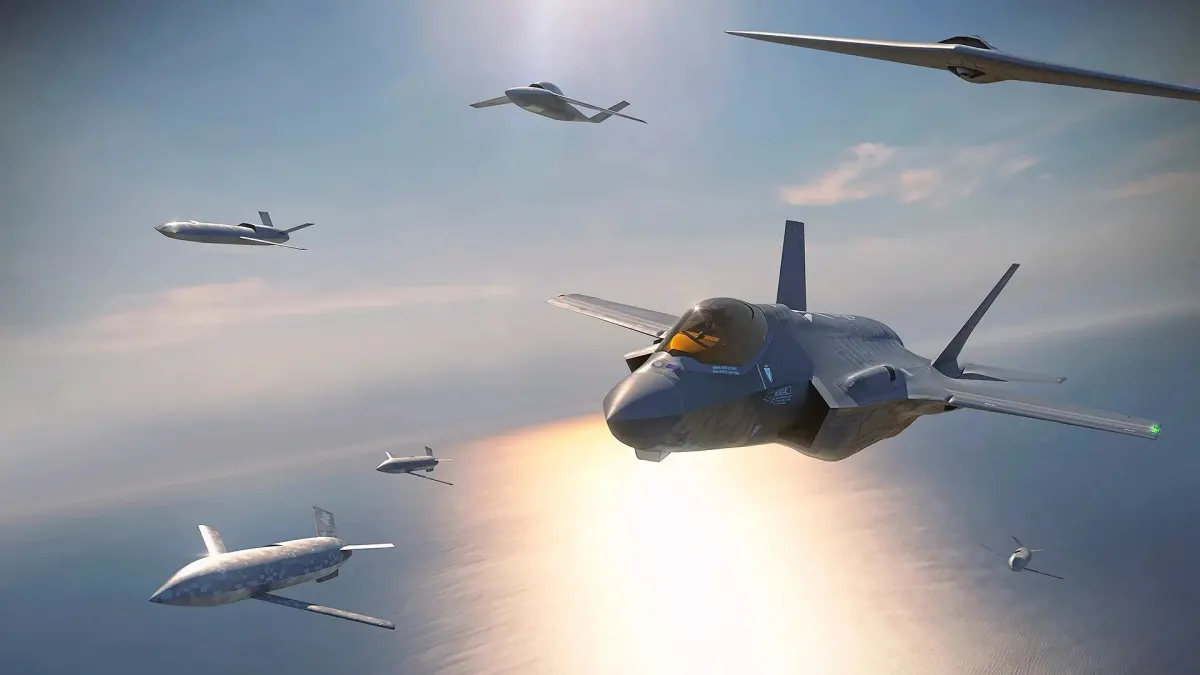 NATIONAL HARBOR, Md. — The Department of Defense has ambitious plans to field thousands of autonomous systems in the next 18 to 24 months, as part of its Replicator initiative to counter China's military buildup. But a variety of factors will determine whether the U.S. industrial base can meet the demand, according to the Pentagon's top weapons buyer.
The vision for Replicator was unveiled last month by Deputy Defense Secretary Kathleen Hicks. But there are questions as to whether vendors can produce enough systems to meet her goals.
"It depends what is actually selected. And I think that one of the criteria of whatever the approach that's gone through should look … at the production capacity — and not just the capacity, but how close we are to production," Undersecretary of Defense for Acquisition and Sustainment William LaPlante told reporters Tuesday during a meeting at AFA's Air, Space and Cyber conference.
"There are some capabilities that, you know, some things that can go into production very fast," he said. "I'm not … ruling out one [type of system] or the other, but you should look at that as well. And as you formulate the program … you look at the state of the technology, you look at the simplicity or the complexity of it, you look at the ability to produce it and in what numbers. And then the key thing for me [is] the price point … Whatever the number is announced, what is it going to cost per round if you take away the non-recurring [cost]? Because that's — all those are the things that matter. And so you look at all of them together in a systems approach, and you select the way forward."
Hicks has said that Replicator, which is not an actual program of record, will leverage platforms across multiple warfighting domains that are "small, smart, cheap."
"We think we got the production capability going. We have a lot of work going on [with these technologies] across the department. This is really about unifying those efforts and scaling them up," according to Hicks.
The Pentagon is looking to work with a variety of vendors, LaPlante noted, including non-traditional contractors, startups, small businesses and academia.
"We need everybody," he said.
However, the Pentagon needs to send strong demand signals if it wants to attract innovators.
"If I'm a business and I want to invest in something that may make a line of business enduring, I have to have a market, I have to see a market there. That's what is very important. What is the market in the DOD? It's the warfighter or it's the suppliers. That's the market. So I have to come up with something that is compelling for that marketplace and that there's a business case that it will go into some degree of production," LaPlante said.
"We have to help people understand the market that we need. And then the second thing is we have to fund the market. Okay. That's why I say in there all the time: production, production, production. If I'm an investor or a startup, I want to see where is this thing gonna go to scale? Is it just a prototype that's going to be done? That's why when [Air Force Secretary] Mr. [Frank] Kendall talks about CCA [drones] or the deputy talks about Replicator, do you notice they say the numbers? Because if I'm out there, I want to see that," he added.
CCAs, or "collaborative combat aircraft," are unmanned systems enabled by artificial intelligence that both the Air Force and Navy are pursuing to serve as robotic wingmen for manned fighter jets and to perform other missions.
Kendall has stated that the Air Force is planning for 1,000 CCAs. The service aims to spend more than $6 billion on the program and related projects over the next five years.
Navy officials have said they'd like the sea service and the Air Force to be able to control each other's drones depending on operational needs.
During a meeting with reporters at the AFA conference on Monday, Assistant Secretary of the Air Force for Acquisition, Technology and Logistics Andrew Hunter suggested the departments could work together on potential requirements and acquisition strategies for collaborative combat aircraft.
"I've heard the Navy say that we're a little ahead of them on some of that, which is an assessment I would agree with. But in terms of cooperation, absolutely, absolutely. I think what we have found, as we've worked with our Navy colleagues on CCA is there's a tremendous opportunity for us to work together and move. We're both extremely interested in doing so. And we can't probably proceed at the pace that we need to proceed at and intend to proceed at without leveraging some of their investment, which they've been generous in saying that they're very happy to work with us. And vice versa. I think they can substantially accelerate the progress and pace of their efforts by leveraging some of what we've done," Hunter said.
On Tuesday, DefenseScoop asked LaPlante what his office plans to do to prevent the services' CCA efforts from going off the rails.
"Ultimately, for everything we try to make sure that the acquisition strategies are solid. And I work with my component acquisition executives to do that. So in this case it would be Mr. Hunter, and I have complete confidence in Mr. Hunter in cost, schedule and performance," LaPlante said.
He noted that his A&S office conducts integrated acquisition program reviews for a variety of projects.
"There's three legs to the process," he explained. "There's acquisition, there's requirements and then there's funding. Okay. What we've done in these in these reviews is we have the Joint Staff validate requirements. For all of these, let's say unmanned systems, including CCA, we then take more or less the same set of programs and look at them across acquisition, look at them and say what's missing, and look at things like interoperability, data links, commonalities that are good and not — and make sure that … we've thought through the kill chain across the services."
He continued: "And so there, then we find things like, oh, we need … another common waveform that'll work between CCA and something else. That's where it comes out. And then we'll make that happen. So that's sort of how we do that job. We want the innovation and the uniqueness of the services, but we want the benefit of the kill chain and the joint fighting approach."