Army planning another on-the-move comms pilot for armored units
The pilot will take place next year and test best-of-breed technologies.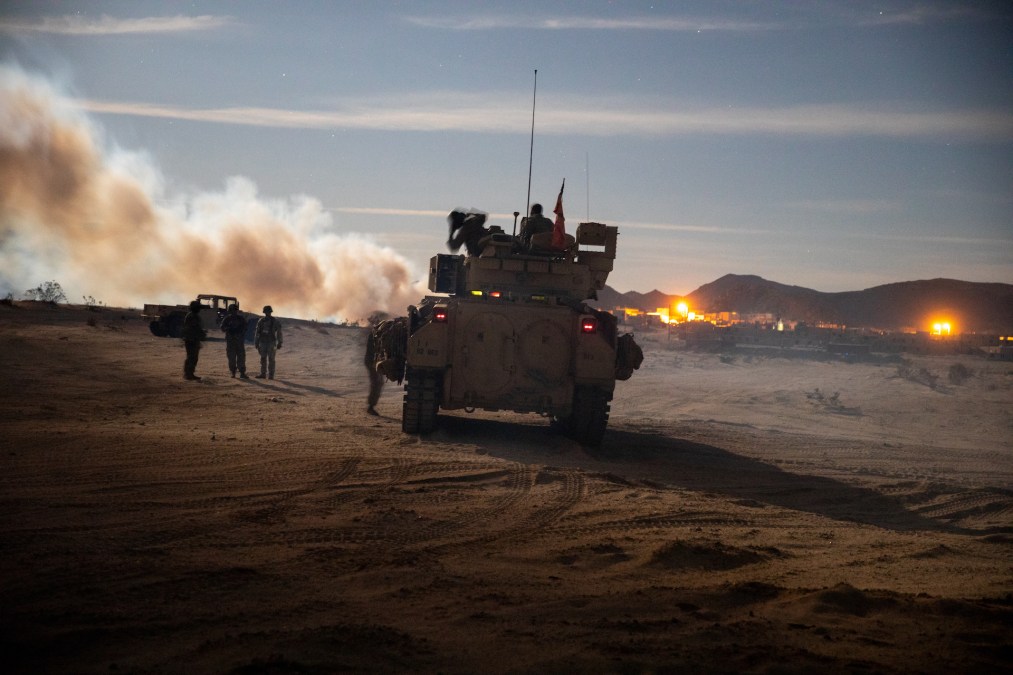 ABERDEEN PROVING GROUND, Md. — The Army is planning a second pilot to test communications on the move for armored units next year.
The initiative follows experimentation efforts with 1st Armored Brigade, 3rd Infantry Division at Fort Stewart, Georgia in February 2022. These types of units must move rapidly on the battlefield, but their current communications architecture doesn't allow them to do what they need at the right speed or range.
The exact date of the pilot hasn't been set and the unit that will participate hasn't been identified, though it will not be 1st Armored Brigade, 3rd Infantry Division, Col. Stu McMillan, project manager for tactical network at Program Executive Office Command, Control, Communications-Tactical, told DefenseScoop in a September interview.
The pilot effort, now dubbed armored formation network on the move, will seek to look at best-of-breed technologies to enable units to be more mobile on the battlefield.
"In the future, of course, as we look to the Army of 2030, we need to be able to support large-scale combat operations. We need to be able to be geographically dispersed. And so [we're] looking at technologies that are going to allow us to do that," McMillan said. "That's where that next pilot, if you will, is key to figure out what capabilities are available from a flat panel, secure Wi-Fi, being able to integrate with the command post and also beyond the move. But taking a look at some of those newer technologies and then presenting that, of course, to senior leaders as to what is going to be the solution."
In future conflicts against sophisticated adversaries, units will have to limit the time they stop or risk being more easily targeted.
In a departure from the last experiment, this upcoming effort likely won't be giving different kit and capabilities to different battalions. 1st Armored Brigade, 3rd Infantry Division saw different battalions with different variations of capabilities as a means of getting unvarnished solider feedback on what they liked, what they didn't like and how those mix of capabilities enabled them to perform their missions.
"I think we're trying to level-set this time and not necessarily put different kit into different formations, but go with commonality to get that same user look and feel," McMillan said.
Some of the technologies the Army will be looking to test this time around include line-of-sight and beyond-line-of-sight comms.
McMillan explained that industry has "ponied up" from technologies brought a few years ago. These include new systems to leverage high throughput, low latency as well as flat panel systems and high capacity networks — such as geosynchronous and medium-Earth orbit satellite communication capabilities.
The Army wants pathway diversity so in the event an adversary jams systems, there is another option.
"Nirvana to me is having a system that's multi-orbit, multi-band so that way if one band is being jammed, you can go from Ka to Ku or use commercial. We're looking at commercial as well," McMillan said. "So next-generation tactical terminal comes to mind, where we have a system that has all the bands, it's multi-path, multi-orbit and allows that capability for the end user to seamlessly switch from one band to the other if we're in a [disrupted, disconnected, intermittent and low-bandwidth] type of environment."
Industry knows the direction the Army wants to go and is looking to bring those approaches to fruition, he noted.
"Now we're looking at technologies that are available today or that they're being developed for tomorrow and integrating those quickly in a modular approach," he said. "Reducing size, weight and power, and then the cost. Taking a look at systems that we're not developing, but what's available in the commercial marketplace is what we're looking at as well, which goes away from traditional acquisition of where we spent many years doing the requirements and then kicked it over the fence to the materiel developers and then, hey, we were supposed to move fast, but we've been working on a requirement for seven years and now hey, I'm expected to deliver something in two years."
There will likely still be things that need to be done at the halt, McMillan acknowledged, but officials want to limit how long these Army units have to stop.
"We're looking at capabilities that would provide the commanders the opportunity if they have to stop, that that particular antenna will acquire quickly and they'll be able to get the information that they need and then move on. Because you don't want to stay in one area too long during large-scale combat operations," he said. "Speed, lethality, mobility is what we're looking at — giving the commanders … the capabilities that they need. And they're not going to use all of them when they're on the move, but when they stop, maybe it's at a quick halt where you kick out a small terminal and put the terminal into operation."