Army eyeing more frequent iterative development for its tactical network
While the Army is moving away from its capability set nomenclature, it will still be providing capabilities to units on an iterative basis, albeit, more frequently and not under a one-size-fits-all approach.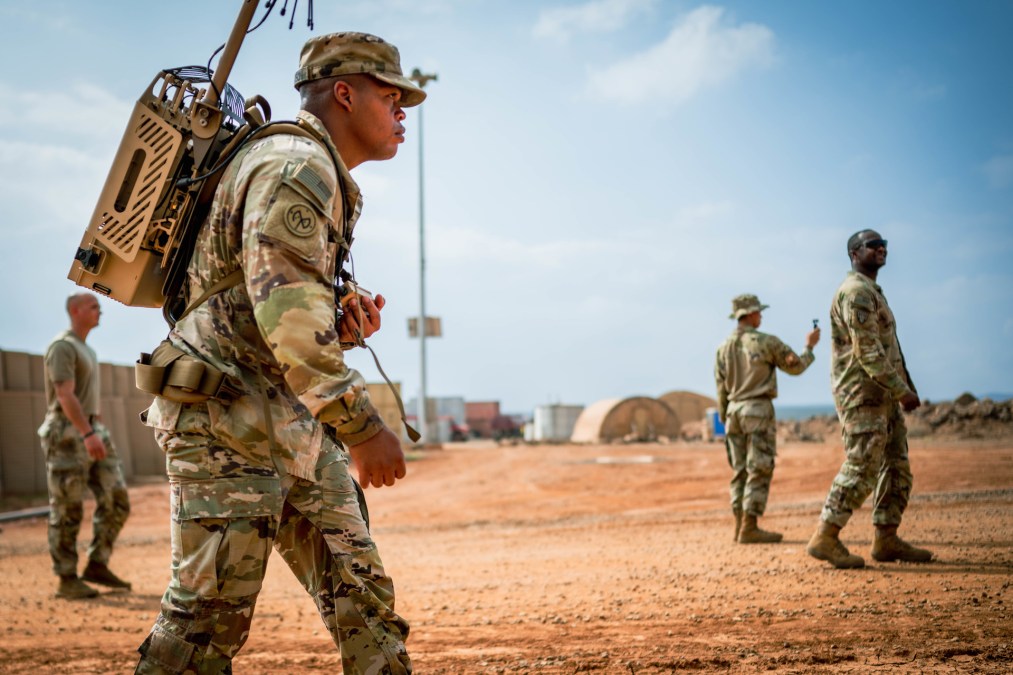 ABERDEEN PROVING GROUND, Md. — The Army is looking to iterate its tactical network capabilities more frequently than in the past.
The service is moving away from nomenclature for its integrated tactical network — a combination of program-of-record systems and commercial off-the-shelf tools — that was used in the past with capability sets. These capability sets sought to provide technologies to units every two years, each building upon the previous delivery. While the multi-year network modernization effort undertaken by the Army around 2017 has always been an iterative approach of sorts, the service is shifting the vernacular and perception.
Part of it is due to the fact the Army as a whole is moving to divisions as the main units of action rather than brigades, as was the case for the last 20 years of the counterterror fight. The initial capability sets were very brigade focused.
Additionally, the mindset shift is to emphasize the more iterative approach.
"I think it's little bit of a difference, but I don't think it's significantly different and here's why: We identified those two-year cap sets as target points. And I think unfortunately, the narrative kind of was: we're not iterating over those two years, we're just looking at that one point in time. That wasn't true," Mark Kitz, program executive officer for command, control, communications-tactical, told DefenseScoop during a September interview. "I think …part of this is some messaging. Those programs were iterating … I think this narrative of we're touching you every two years, that to me was too parochial."
Kitz said the paradigm change is each of the programs that are part of the integrated tactical network will iterate more rapidly in the future.
He stressed that he doesn't want to take a one-size-fits-all approach to the network. There are some slices that will have to be treated differently than others.
"Something that's implemented in the cloud that can take updates more easily is going to get updated more rapidly. Some capabilities that have to get touched directly, HMS radios, they're going to get updated at a slower rate. But we're going to think critically about each of those programs and how they iterate," he said.
On the flip side, the cloud can't be the end-all and be-all approach for solutions either.
"The cloud doesn't work for a company commander who can't access the cloud. We can't just be parochial and say, 'We'll access the cloud and that's how you'll get your capability,'" Kitz said. "That one-size-fits-all approach is not going to work for our network. We have to think critically about okay, what are the options we can provide so that you can implement the network in a way that's more flexible?"
Through this iterative approach, and as the Army is maturing the way it modernizes its network, it is looking at more coordination across the PEO and portfolios and with other organizations.
Several of the modernization efforts are reliant on each other creating a reinforcing strategy. For example, as the Army is looking improve communications on the move for armored units, those efforts must be tied into modernizing command posts that must be more mobile as well. Data from one pilot must be fed to the other to inform the effort, and vice versa.
This iteration of design with pilots and assessments must become more rapid in order to crate that reinforcing approach, according to officials.
"Sometimes, I would say maybe in the past 15, 20 years ago, you have stovepipes of excellence. We're getting away from that and we're talking to our fellow PMs to make sure that we [look at other people's] requirements and then of course, our requirements for providing an on-the-move capability to the armored formations," Col. Stu McMillan, project manager for tactical network at PEO C3T, who is leading the on-the-move comms pilot for armored formations, told DefenseScoop.
There are technologies that several offices could be experimenting with that can have applications across portfolios.
"Secure Wi-Fi, connecting dispersed mobile command posts — secure Wi-Fi is one of those systems that's in my net mod portfolio. And then also look at the on-move kit as well, that informs our [armored formation network] on the move," McMillan said.
This coordination is also spanning across PEOs and other organizations in the Army as well. The network team does not own the platforms for which they must be outfitting with new radios and communications gear. Outfitting new radios and comms equipment presents integration challenges given space constraints on platforms and power issues.
PEO C3T has begun partnering with the ground vehicle and aviation communities early on in design to mitigate integration challenges.
Additionally, there is more coordination between the requirements community to ensure that new vehicles and network requirements jive. The Army doesn't want to run into an integration challenge given the platform community and network community designed systems that work by themselves, but now can't be put together.
The Maneuver Center of Excellence is beginning to host PEO-level summits to align requirements across these various communities.