Robo-ship from US Navy task force launches missiles in Middle East region
A USV operated by Task Force 59 successfully attacked a target boat with a "Lethal Miniature Aerial Missile System" during an exercise last week, according to U.S. Naval Forces Central Command.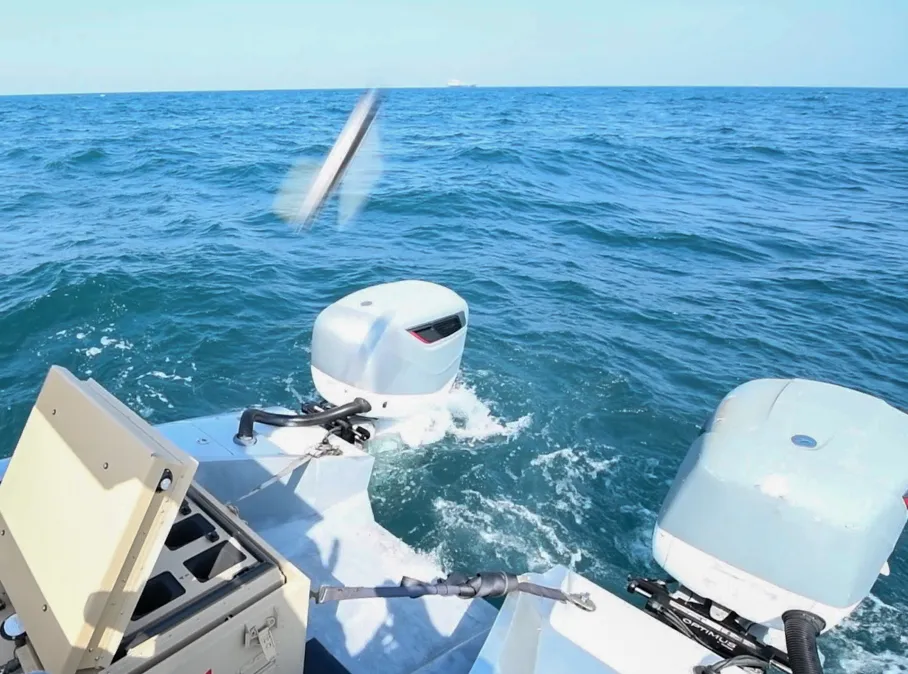 An unmanned surface vessel operated by Task Force 59 successfully hit a target boat with a "Lethal Miniature Aerial Missile System" during an exercise last week, according to U.S. Naval Forces Central Command.
The task force, which falls under 5th Fleet, has been using a variety of drones and artificial intelligence capabilities to perform intelligence, surveillance and reconnaissance missions in the Middle East area of operations to monitor Iranian military assets and other activity. That includes unmanned aerial vehicles (UAVs), unmanned surface vessels (USVs), unmanned underwater vessels (UUVs) and AI tools to enable computer vision, anomalous behavior detection, multi-system command and control, and edge intelligence
Now, the unit is testing its ability to launch weapons from robo-ships.
During a live firing exercise in the international waters near the Arabian Peninsula on Oct. 23, the task force showed that it could use an unmanned surface vessel to launch a loitering munition and hit what it was aiming for.
"During multiple firing events, a MARTAC T38 Devil Ray USV, equipped with a Lethal Miniature Aerial Missile System, successfully scored direct hits each time," NAVCENT said in a news release Thursday. The Navy also released a video of one of the engagements.
The event was part of Exercise Digital Talon — which was conducted in partnership with U.S. Special Operations Central Command — and "constituted the first use of lethal munitions from USVs in the Middle East region," according to NAVCENT.
The Navy is touting the initiative as an example of manned-unmanned teaming where robotic platforms and crewed systems work together to achieve military goals.
The task force "demonstrated the ability of unmanned platforms to pair with traditionally crewed ships … to identify and target simulated hostile forces at sea. The hostile forces were represented through the use of a target boat. Then, using live munitions launched from another unmanned platform, NAVCENT forces engaged and destroyed the targets," per the release.
It noted that a human operator at Task Force 59's Robotics Operations Center ashore was in the loop and gave the green light for the weapons launch.
"We are focused on the operational application of new, cutting-edge unmanned systems and artificial intelligence technologies," NAVCENT and 5th Fleet commander Vice Adm. Brad Cooper said in a statement. "During Digital Talon, we took a significant step forward and advanced our capability to the 'next level' beyond just maritime domain awareness, which has been a traditional focus with Task Force 59. We have proven these unmanned platforms can enhance fleet lethality. In doing so, we are strengthening regional maritime security and enhancing deterrence against malign activity."
Cooper anticipates additional exercise in the future with an "expanding the arsenal of combat-capable unmanned systems," according to the release.
The Navy's long-term vision for its force posture includes a "hybrid fleet" of crewed and uncrewed vessels.
The Congressional Budget Office released a report last week about the service's latest shipbuilding plan.
"Although the 2024 plan does not include many details about the size or composition of the unmanned vessels the Navy envisions procuring, the service provided CBO with a notional plan for those purchases. Under Alternative 1, the Navy would purchase large unmanned surface vessels (LUSVs), which would probably be missile platforms operating in conjunction with large manned surface ships) at a rate of 2 per year; under Alternatives 2 and 3, it would purchase them at a rate of 3 per year," according to the report.
"Although the Navy would probably purchase other types of systems, such as medium unmanned surface vessels or large undersea unmanned systems, the 2024 plan does not include them," nor does it include "small expendable drones" like the ones that have been used in the Ukraine-Russia war, the CBO study noted.