JADC2 will benefit from lack of requirements, officials say
Officials believe that too many requirements will bog down efforts to modernize how the Pentagon will fight and connect systems in the future.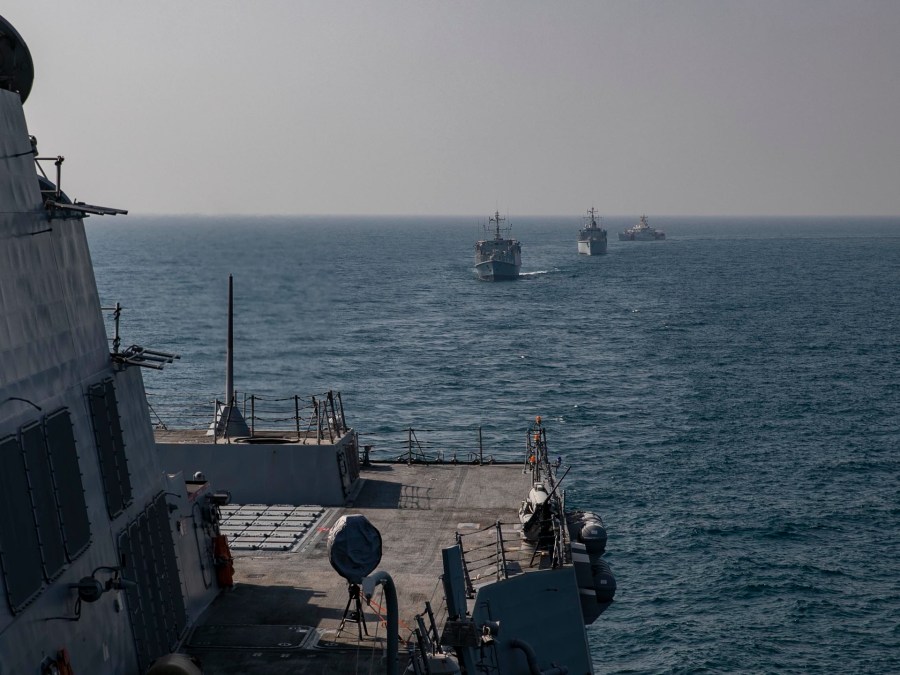 Defense officials are lauding the experimental nature of the various efforts to build out a new way for the Pentagon to fight, applauding the lack of requirements associated with the Joint All-Domain Command and Control initiative.
The JADC2 concept essentially envisions how systems across the entire battlespace are networked and connected to provide the right data to commanders for better and faster decision-making. The departments of the Air Force, Army and Navy each have separate initiatives that are expected to contribute to JADC2. For the Army it's Project Convergence, for the Navy and Marine Corps it's Project Overmatch, and for the Air and Space Forces it's the Advanced Battle Management System (ABMS).
"I actually applaud the fact that we've not put out any specific requirements yet. Because the complexity of what we're trying to do for coordinated, large volume, time, tempo of kinetic and non-kinetic fires, and the data that must be synchronized and what the opportunities are to do that across the joint force — that's what we're learning with Overmatch, Convergence and the Advanced Battle Management System in our work," Vice Adm. Jeffrey Trussler, deputy chief of naval operations for information warfare, N2/N6 and director of naval intelligence, told DefenseScoop on the sidelines of the Association of Old Crows symposium Thursday.
During a panel at the conference, Trussler said that historically, the Department of Defense has a poor track record when it comes to requirements.
In the past, the DOD and the services have released extremely detailed and lengthy requirements for programs. And when industry presents a solution built to the exact specifications outlined by the requirements, the department will be disappointed because it's not what it wanted, Trussler said.
With basic guidance and no specific requirements — in his service's case, from the chief of naval operations — to improve how the force fights, Project Overmatch can experiment to find out what it needs to solve the problem.
"Our challenge is, what I usually see from industry, when people say, 'Hey, we think we've gotten a JADC2 solution for you,' is we haven't explained very well. Whether it's JADC2, Overmatch, whatever, we haven't explained very well the challenges," he said.
"The complexities of the fusion systems we're dealing with — with respect to how we're fusing targeting information, how we're managing that to pass on any circuit available, communications as a service — we're talking about as we're trying to implement that in Overmatch, it just becomes a little more complex. I don't think we're mature enough in the learning that we're doing with our multiple exercises yet to define the problem we want solved," he added.
Trussler's fear is that if organizations start putting requirements out or a "joint fusion engine," the problems might never be solved.
This sentiment was echoed by others within the DOD.
"It's not write a requirement, work to the [key performance parameters], fill out all the [key system attributes] and then at the end, I have JADC2. It really is DevSecOps, it's agile. So you really need to be setting an epic then doing scrums through that. And the user doesn't have to write a requirement. The user needs to be sitting there while you're doing this and going, 'I like that, I don't like that,'" Chris O'Donnell, deputy assistant secretary of defense for platform and weapon portfolio management in the Office of the Undersecretary of Defense for Acquisition and Sustainment, said at the conference.
"If we think we're just going to put a dot out here and we're going to move towards it like I'm going to build the sixth-gen fighter, I just don't see that happening for JADC2 … If we put that dot out here, it's going to take us 15 years and we're going [to] FCS it," he said, harkening back to one of the biggest failed programs in recent history.
O'Donnell was referencing the Future Combat System (FCS), an Army program in the mid-2000s that envisioned unmanned systems and platforms connected via a revolutionary new battlefield network. The program's failure was due in large part to too lofty goals and faith in immature technology. The canceled project is often brought up as an example of how not to run modernization programs.
Trussler said the path ahead should be to define the problem that officials are trying to solve, then sit down with industry and write down what that looks like.
When it comes to cooperation across the services on JADC2, Trussler said DOD components are working closely.
"We've got some memorandums signed across the services of how we're going to focus our efforts in making sure that as we develop some ability to communicate with our weapons systems and our sensors, that they're going to be collaborative and work together," he told DefenseScoop.