DOD making progress in information operations but more improvement is needed, experts say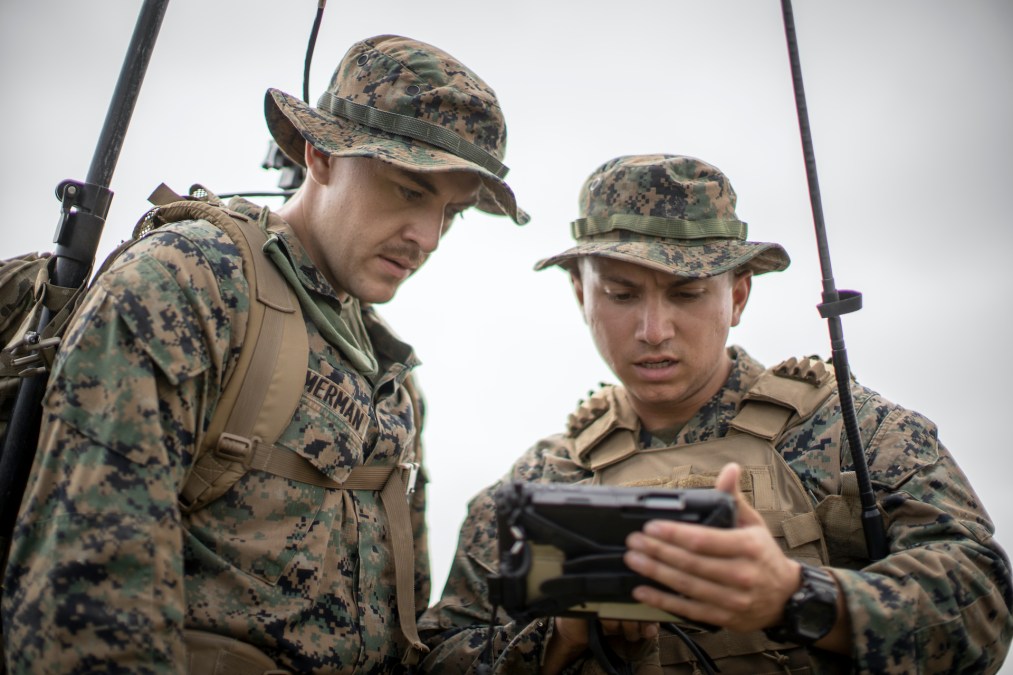 The Department of Defense is taking action to elevate and further incorporate information operations and information warfare into its strategy and planning. However, some experts say more work needs to be done.
Over the past couple of decades, the DOD divested much of its capabilities and tactics in this realm, ceding the ground to others such as Russia and China and forcing the Pentagon to play catch-up, according to some observers.
"Fundamentally, information operations is a critical part of modern warfare. Our enemies are using it. We've actually used it effectively in the past. But our current capabilities are way behind the times. We are losing the information warfare fight," Rep. Seth Moulton, D-Mass., a member on the House Armed Services Committee, told DefenseScoop.
In his view, the DOD doesn't sufficiently approach information operations as a critical warfighting function, but as just "one minor tool" in its toolkit.
Others say the Pentagon has had trouble with implementation.
"What we found a lot of times is that the department has been really great strategy-wise. They've set out a vision and they've set out the things they really want to do — and in some ways, what they need to do to get there," Joseph Kirschbaum, a director in the Government Accountability Office's defense capabilities and management team, told DefenseScoop. "The way I always put that in shorthand terms is the department tends to be long on strategy and short on implementation. That's where the struggle has been definitely in the information environment area is the ability to implement the vision that they've set out for themselves."
The DOD has taken some steps recently to begin shining the light on information operations again, including highlighting its importance in the newly updated National Defense Strategy, which was publicly released Oct. 27.
"Deterrence depends in part on competitors' understanding of U.S. intent and capabilities. The Department must seek to avoid unknowingly driving competition to aggression. To strengthen deterrence while managing escalation risks, the Department will enhance its ability to operate in the information domain — for example, by working to ensure that messages are conveyed effectively. We will work in collaboration with other U.S. Federal departments and agencies along with Allies and partners," the document said in a section about the role of information in deterrence.
Moreover, the strategy notes that tailored information operations can be used to support and maybe even lead the DOD's response to adversaries' coercion attempts.
The department is also still working to meet several mandates Congress directed in the fiscal 2020 National Defense Authorization Act. The provision, which created the principal information operations adviser, among other things, directs the DOD to update the 2016 Strategy for Operations in the Information Environment and designate a joint force trainer for information operations and a joint force provider for information operations — much how U.S. Cyber Command is the joint force trainer and provider for cyber.
The draft 2023 strategy "reinforces many of the same themes from the 2016 strategy to include people and organizations, programs, policies and governance and partnerships," a DOD spokesperson told DefenseScoop, adding they expect to publish it this year.
One top official said DOD needs more time to experiment before identifying a joint force trainer and provider.
"We've been required to identify a joint IO force trainer and joint IO force provider, in much the same way as U.S. Cyber Command is the joint force trainer and joint force provider for cyber forces, but we can't do that until we've experimented more with these different capabilities with the right mix of space, cyber, electronic warfare and psychological operation forces to do these types of missions," Maj. Gen. Matthew Easley, deputy principal information operations advisor in the Office of the Undersecretary of Defense for Policy, said at an NDIA-hosted event on Oct. 12.
Since information operations, along with the much larger information environment, are so all-encompassing, what Congress is likely looking for with this provision is to integrate all facets together, Kirschbaum said.
The information environment "involves offensive, defensive elements, protecting individual, it crosses elements of operational security, information security … it crosses over into cyber and [electromagnetic spectrum operations] areas," he said. "That is a huge, daunting task to think about in terms of integrating existing plans, existing doctrines, and existing training in order to make sure that the joint force is getting the right consistent training across those areas so they understand where all the integrations are. They can test them out, they can find out where things aren't working and then make changes and immediately test them again."
Part of the concern for Congress and others is the confusion of lexicon. Information warfare, more broadly, encompasses a raft of capabilities such as information operations, cyber, electronic warfare, psychological operations and others. However, there is no set definition for the term.
In fact, each of the services has gone down its own path regarding terminology, with the Marine Corps opting for "operations in the information environment," the Air Force and Navy "information warfare," and the Army "information advantage."
Kirschbaum noted that it can be tough to get all the services on the same page.
"It's also true that DOD continues to have a hard time running herd on individual services because they will go their own way and use the term. Some services will absolutely want to use the term 'information warfare' all the time. Some want to use 'information operations' and some want to just use 'operations in the information environment,'" he said. "They are all roughly talking about the same things. It is hard to expect that the department will always have a universally accepted lexicon for those things."
However, Congress is now trying to force the military to develop the same lexicon. It has so far failed to do so as outlined in the same NDAA provision that created the principal IO adviser office. As a result, in this year's NDAA, the House side will be withholding travel funds if the department doesn't develop joint terms.
"Information operations have been a real focus area for our members, particularly given what's going on in Ukraine. Right now, each service defines information operations differently," a committee aide told reporters in June. "If you were to go to the Army and say, 'How do you define information operations?' that would actually be different than how the Navy defines it, which makes synchronizing these capabilities often very difficult."
"As a nudge and a push, we're doing a funding limitation of the office of the secretary of Defense travel … to encourage and really push the department to do that work, which we've seen is really important and important to the members," the aide added.
Congressional concern
In the fiscal 2020 NDAA, Congress outlined several directives DOD must meet to bolster its prowess in the information domain. For many members, the Pentagon simply hasn't been doing enough.
"I am concerned the Department leadership has been slow to adapt to the changing nature of warfare in this domain," Rep. Jim Langevin, D-R.I., the chairman of the House Armed Services Subcommittee on Cyber, Innovative Technologies, and Information Systems, said in opening remarks during a hearing last year.
"Too often, it appears the Department's information-related capabilities are stove-piped centers of excellence with varied management and leadership structures, which makes critical coordination more difficult. Further, the Pentagon has made limited progress implementing its 2016 Operations in the Information Environment Strategy, which raises questions about the Department's information operations leadership structure," he added.
Moulton, who has taken a keen interest in this space, had a sharp line of questioning for DOD officials during an April hearing, asking if the department has the right organizational structure for information operations. The official noted that they'd have to get back to the committee.
"You saw from that line of questioning how the DOD was completely unprepared to answer even the most basic questions about how information operations is structured within the department," he told DefenseScoop. "This is not just a theoretical problem. One of the most common themes I hear from commanders in the field is that they're doing great work and they have no way to communicate it effectively to the broader environment, to the people and the places they're operating. And I've heard this all over the world."
Moulton is also concerned that information ops is too nestled within the cyber domain.
The DOD has "subordinated it under cyber, when really cyber is just one of many delivery methods for information operations," he said.
Signs of improvement
It's not all bad news, however, as some believe there is progress being made.
Kirschbaum pointed to the office of the principal IO adviser and the activities that office is undertaking.
"I'm pleased with the momentum right now because frankly, the momentum really wasn't there a few years ago when we were looking at the state of their implementation planning and their strategies," he said. "The temptation for them was just every time they did a strategy and they couldn't really follow through on it … Rather than trying to get that implementation going, they just stopped and started rewriting a strategy again. This time, they seem to be a lot more serious about the implementation part … That's in no small degree due to the fact that they've been getting a lot of pressure from Congress to do just that."
The Joint Staff in September updated its doctrine for Information in Joint Operations, which Kirschbaum also welcomed.
He explained that while not the most glamorous topic, once doctrine is established, it lays the foundation for how to fight, allowing the DOD to move forward in establishing training, capabilities and policy, among other focus areas.
Others noted that while this is a positive step, the proof will be in the pudding in terms of how it actually gets implemented and adopted by commanders.
Similarly, other services have either published or are readying strategies and doctrine in this space to include the June publication of Marine Corps Doctrinal Publication-8, Information, the Air Force's Operations in the Information Environment Strategic Plan — which was released in early 2022 but is not publicly released yet — and the Army's information advantage doctrine, which officials say should be published at the end of next year.
Moulton noted other bureaucratic challenges.
"I spoke with a [Marine Expeditionary Unit] commander, who certainly recognized the criticality of these resources, but I still didn't see any department-level coordination, or I didn't see effective department-level coordination for what's going on," he said. "What that means is that someone at a junior level can have something to communicate to people in the area he or she is operating [in] and it often takes too long to coordinate or approve what they want to send out."
Moulton would like to see a better and faster structure to be more adaptive to this dynamic environment.
"What they need to develop is a structure that is especially nimble and fast," he said. "Right now, approvals for information operations can take days or weeks. The end result of these reforms has to be that we're not only good at information operations, but we're fast."