US sending Avenger air defense weapons to Ukraine for the first time via new $400M security package
The Ukrainians have asked for help to shield their troops and critical infrastructure against Russian unmanned aerial vehicles, helicopters and cruise missiles.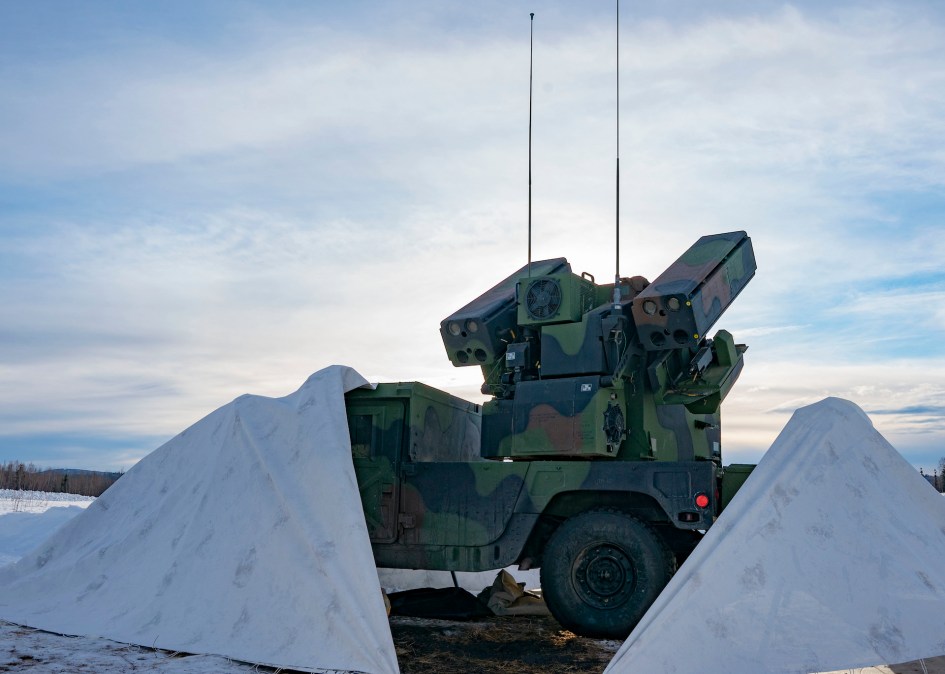 Included in the Pentagon's latest military aid package to support Ukraine are four Avenger air defense systems and 192 Stinger missiles that the Avengers could launch against enemy drones or other airborne threats.
The Ukrainians have explicitly asked for help to shield their troops and critical infrastructure against Russian unmanned aerial vehicles, helicopters and cruise missiles, DefenseScoop confirmed.
This new $400 million bundle of security assistance, announced Thursday, marks the first time the U.S. is supplying those Avenger air defense weapons to Ukraine. It is the Biden administration's 25th drawdown of equipment from Defense Department inventories for Kyiv since August 2021.
"We are in touch with our Ukrainian partners, and so we discuss with them what they need in this fight. We assess what we can provide and what makes the most sense. So, this was a request that fulfilled a need that they wanted," Deputy Pentagon Press Secretary Sabrina Singh told DefenseScoop during a press briefing at the Pentagon on Thursday.
Mobile and adaptable to different types of military vehicles, Avengers can fire surface-to-air missiles while on-the-move or from a stationary position.
"This is one additional air defense system that we have provided along with our [international] partners and allies that I think complements some of the air defense systems that they've provided," Singh said.
She explicitly referred to related capabilities Spain and Germany are delivering to Ukraine, emphasizing that the Avengers are for short-range defense purposes.
"We're basically creating — I'm maybe using a bad analogy here — but a net of air defense systems that have different ranges," Singh said. The tools can contribute "differently on the battlefield, which makes the Ukrainians effective," she added.
The Pentagon has committed to providing a variety of counter-drone technology and other air defense weapons to Ukraine since the Russian invasion in February, including the VAMPIRE system.
The first U.S.-built Avengers came online in the late 1980s, and the weapons have been upgraded over the years.
"In terms of when and what type of year or make we're providing," Singh told DefenseScoop during the briefing, "I'm not going to get into specifics on that."
While she declined to share a timeline for when the systems will be sent to and operating in Ukraine, Singh said presidential drawdown packages "have been getting equipment and systems to [the nation] pretty quickly."
"There will be some training required for these Avengers, but I don't have much more on how long or what the requirements will be," she added.
Other capabilities in the new security assistance package include:
Missiles for HAWK air defense systems
Additional ammunition for High Mobility Artillery Rocket Systems (HIMARS)
21,000 155mm artillery rounds
500 precision-guided 155mm artillery rounds
10,000 120mm mortar rounds
100 High Mobility Multipurpose Wheeled Vehicles (HMMWVs)
400 grenade launchers
Small arms, optics, and more than 20,000,000 rounds of small arms ammunition
Demolition equipment for obstacle clearing
Cold weather protective gear
When asked whether this package is part of broader plans from the Biden administration to accelerate military aid to Ukraine as a result of the midterm elections and concerns that Republicans in Congress might block future security assistance, Singh said there has been "a pretty steady cadence of security assistance packages that we've rolled out."
"I think there is — in Congress, on both sides of the aisle — a commitment to Ukraine that we're in this for the long haul. So, even with the midterms and the outcomes, I think that Ukraine will still see security assistance and support from the United States in their fight," she said.
In total, the U.S. has committed more than $19.3 billion in security assistance to Ukraine since President Biden took office, according to the DOD.