What we know about the Pentagon's mysterious X-37B spaceplane and its record-setting mission
The U.S. military's uncrewed, reusable X-37B space plane just completed its sixth mission after 908 days in orbit.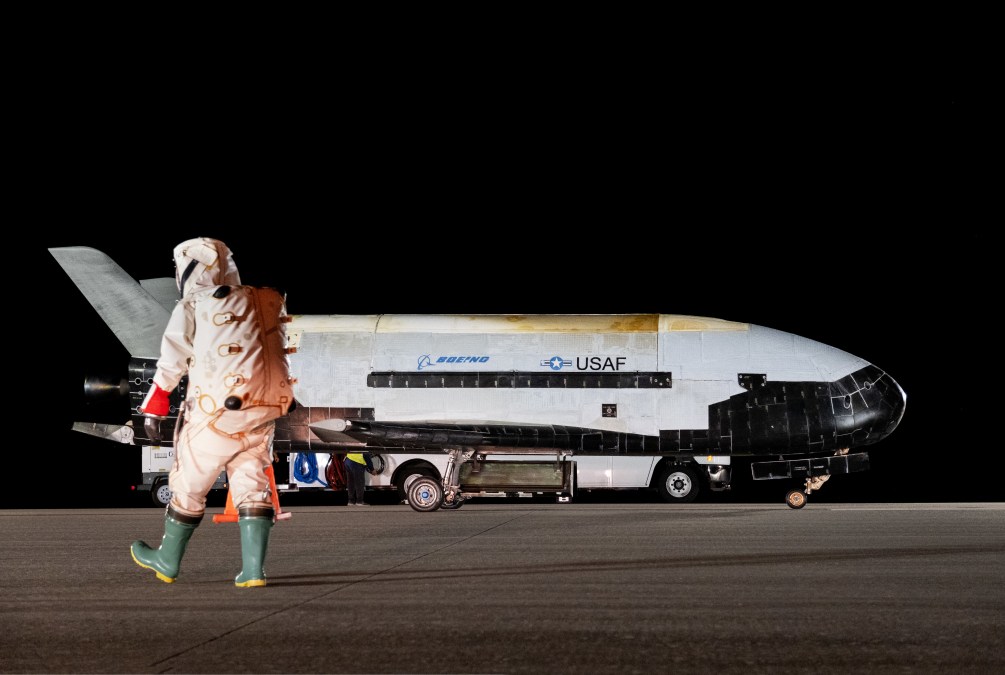 The U.S. military's mysterious, uncrewed and reusable spaceplane — the X-37B — landed at NASA's Kennedy Space Center in Florida early Saturday morning after 908 days in orbit, marking the completion of its sixth mission since it was launched for the first time in 2010.
Few operational spaceplanes exist at this point, and the Pentagon has been tight-lipped regarding its own Boeing-built, X-37B robotic test vehicle over the years. Details about associated payloads are largely classified.
Though somewhat similar and often compared to NASA's Space Shuttle — which is no longer in service — the X-37B is smaller and isn't intended to carry humans. Equipped with a payload bay that is the size of a pickup truck, it is instead designed to enable unmanned, on-orbit experiments and technology demonstrations — and to return data and research objects back to scientists and engineers on Earth for deeper inspection and analysis.
During its latest, recently concluded mission, the Space Force's X-37B Orbital Test Vehicle-6 (OTV-6) assisted multiple government-led studies, including for NASA, the Naval Research Laboratory and Air Force Academy. For the first time, it transported a service module attached to its rear "that allowed us to host more experiments than ever before," Lt. Col. Joseph Fritschen, X-37B program director in the Department of the Air Force's Rapid Capabilities Office, said in a statement.
"From what we know, this mission was significant because it is the longest ever for the X-37B and it carried the most payloads to orbit. But it is entirely possible there are other milestones achieved by this mission that the Space Force is not telling us about," Todd Harrison, non-resident senior associate for the Aerospace Security Project at the Center for Strategic and International Studies and managing director of Metrea Strategic Insights, told DefenseScoop on Monday.
Christopher Stone, senior fellow for space studies at the Mitchell Institute's Spacepower Advantage Research Center, told DefenseScoop on Monday that he's "very excited to see this program continue under the leadership of the Space Force following its handoff from the Air Force."
The Pentagon's primary use for the X-37B seems to be moving experimental payloads into orbit to test new and emerging space technologies — at least that's a conclusion that could be drawn "from what is publicly known," Harrison told DefenseScoop.
The platform "appears to have significant propulsion capabilities, so it can change its orbit or, in theory, boost the orbit of other satellites," he noted. Such technology could enable the military to move low-flying satellites to higher orbits so they stay aloft longer, effectively prolonging their usability.
"It is also possible that the X-37B may have some robotic capabilities that would allow it to perform repairs or upgrade satellites on orbit, like the Space Shuttle did for the Hubble Space Telescope, but this is just speculation," Harrison said.
He noted that this X-37B technology is very similar to China's efforts to test a reusable spaceplane, which caused "a bit of an uproar" last year in the U.S. national security community. Some observers at the time referred to the Chinese tech as an "orbital bombardment system."
"The X-37B is a hypersonic glide vehicle, and its mere existence could be cause for concern for our adversaries — just as any developments our adversaries make in hypersonic flight is of concern for us," Harrison said.
The latest X-37B mission was aimed at pushing the boundaries of space-based military experimentation and tech evaluations.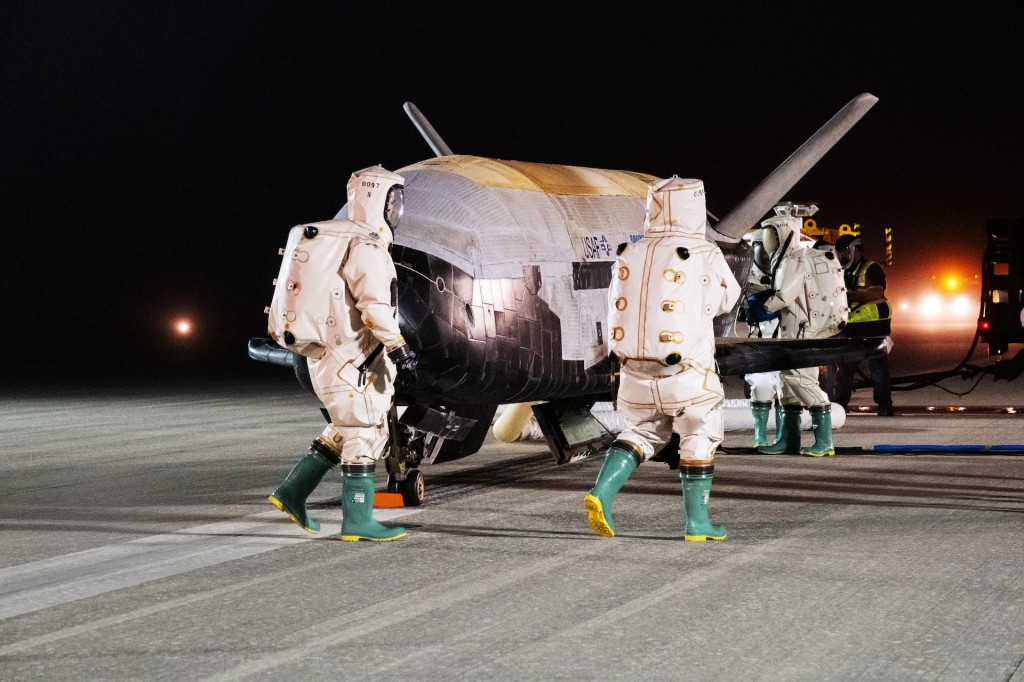 "Aside from the record-setting length of the flight and precision landing at Kennedy Space Center, one of the biggest advances this flight demonstrated was a tech demonstration of a space-based solar power transmission system for Naval Research Laboratory," the Mitchell Institute's Stone noted.
He was referring to the NRL's Photovoltaic Radio-Frequency Antenna Module (PRAM) that the spaceplane hosted, which tapped solar rays outside of Earth's atmosphere and sought to transmit power to the ground in the form of radio frequency microwave energy.
Stone, who previously served as an Air Force space operations officer and presidential appointee in the Defense secretary's space policy office, told DefenseScoop that this module was "set to analyze the antenna's energy conversion process from solar energy to a beam to send to Earth."
The most recent flight could have major implications for the execution of the new National Security Strategy and National Defense Strategy, especially with regards to climate initiatives and energy supplies for forward-deployed forces, he said.
"As far as I know, this is the first time a space solar power demo has been conducted in space. From what I am hearing it was successful and, if operationalized, could aid the current National Security Strategy and National Defense Strategy efforts towards finding alternative, clean sources of energy to beam to warfighters deployed worldwide" — and particularly in remote areas, Stone added.
The PRAM is roughly the size of a pizza box, and was attached to the military's X-37B when it took off for its latest mission in May 2020.
"Given the Chinese are also working vigorously on such a space energy beaming system as well, this could give the U.S. an edge in fielding such a system, should one be approved. At the very least, space qualifying this particular piece of the system is a huge step forward for many who have been working on such concepts for decades," Stone said.
Supporting another Defense Department-led effort, the OTV-6 mission also delivered the Air Force Academy's Falcon-SAT-8 into orbit. To Stone, that work is "huge" from an educational standpoint for future Space Force guardians.
"This provides training in both design and operations of spacecraft that will give these cadets valuable experience before they commission. That satellite remains in orbit, from what I have heard, for the cadets to learn about space mission operations hands-on," he said.
Among NASA experiments the recent mission enabled was an investigation into the effects of long-duration space exposure on seeds, to inform future crop production that could sustain permanently inhabited bases in space — something the U.S. government envisions down the line.
And NASA's Materials Exposure and Technology Innovation in Space (METIS-2) experiment built on other efforts to collect data for scientists to assess and later use to simulate ways that space settings can impact thermal control coatings, printed electronic materials, and candidate radiation shielding materials.
Future missions
Experts who spoke to DefenseScoop pointed out that the X-37B might be many things, but it is notably both an experiment — and an experiment carrier — for the government to mature capabilities like those mentioned above.
"Even its own flight profiles have shown that it is possible to have autonomous orbital flight, re-entry, and landings" at locations in California and Florida, Stone said.
"Having the ability to demonstrate technologies in space, expose them to the space environment for long periods of time, and getting them space-rated from a technology readiness level is a very important military mission. That is vital to getting systems approved and in space for use by the Space Force and the other services. Some of the technologies that have been tested include such things as advanced materials such as NASA's METIS-2 that sought to learn how space environment impacts these materials," he added.
Though he has not yet heard "when the next mission will fly," Stone said "they have flown their fleet fairly frequently, so I would not doubt that we will see another one fly soon."
A Space Force Spokesperson told DefenseScoop on Monday that "launch dates and details of future missions will be released as they become available."
"The X-37B maintains a flexible launch capability in order to accommodate experimental and mission objectives," the spokesperson noted.
The platform could potentially serve as a space weapon in the future if that's what the Pentagon wanted it to do, experts say. Defense officials increasingly view space as a warfighting domain where the United States will have to compete with advanced adversaries such as China.
"One could argue that any spacecraft could be used as an offensive weapon, but just because something can be used as a weapon does not mean it is intended to be used as a weapon or would even be effective if used offensively," Harrison noted. "From what we can tell based on its orbital track and history of use, it does not appear to have any offensive roles or missions — nor does it appear to be ideally suited for an offensive role."
In his view, if the "military wanted an offensive capability on orbit, it would not need to go through the extra expense and complexity of also making it a reusable spaceplane."
Earlier deployments and tests of Soviet Union-controlled satellites with offensive capabilities in the 1960s "looked nothing like this," he noted.
"It is possible that some of the technologies being tested on the X-37B could be for offensive or defensive counterspace missions, but the U.S. military has never indicated that this is the case," Harrison said.