Air Force taps Alphabet-spinoff SandboxAQ to demo quantum navigation tech
SandboxAQ is set to deploy prototype quantum sensors for GPS-denied navigation and other applications onboard Air Force test aircraft, as part of a broad new research effort to explore what those capabilities could mean for future military systems.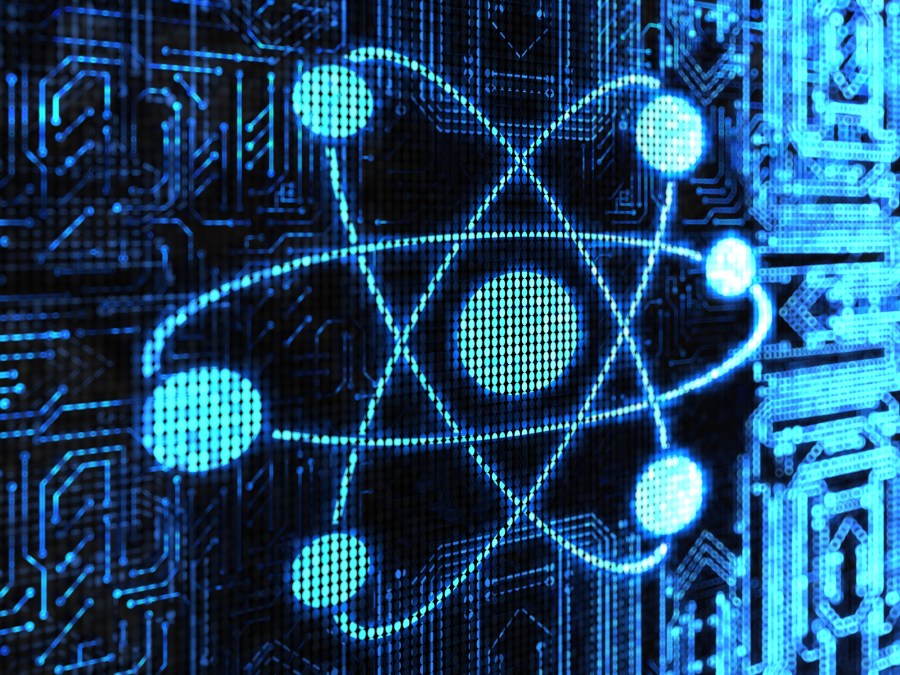 SandboxAQ — an emerging technology startup formed in 2022 with deep roots at Alphabet Inc. — is set to deploy prototype quantum sensors for GPS-denied navigation and other applications onboard Air Force test aircraft, as part of a broad new research effort to explore what those capabilities could mean for future military systems.
The "AQ" in the company's name alludes to its founders' aims to accelerate the adoption of technologies that combine artificial intelligence and quantum science.
Via a new Direct-to-Phase-II Small Business Innovation Research (SBIR) contract with the Air Force, announced on Monday, SandboxAQ will optimize its Magnetic Anomaly Navigation (MagNav) tools — which fuse AI and quantum sensors to ultimately use Earth's magnetic field as a signal — and then lead live demonstrations aboard military aircraft.
"We have our core components for quantum sensing, in line with other hardware components that are essentially collecting data and analyzing that data. The attempt to be, as part of this project in particular, towards [developing] a real-time component. So, if GPS is lost, how do we analyze and switch over in real-time, so that an aircraft can still navigate to those portions that it needs to navigate and maintain continuity of operations?" Lloyd Dabbs, SandboxAQ director of business development, said in an interview with DefenseScoop on Monday.
Dabbs has expertise in military intelligence, business management and AI concepts. Before retiring in 2018, he spent 21 years as an Air Force intelligence officer.
Sprinkled across Dabbs' portfolio over the decades was a recurring focus on enabling the force with emerging technologies. He started working for SandboxAQ a year ago, with recognition that quantum capabilities may soon prove "transformative" for the Defense Department and other agencies.
"I saw the loss of potential GPS firsthand in military operations. And there is a lasting impact, not just to aircraft, but the real people on the ground. Our [company's] focus is, yes, bringing new technology forward. But it's also about the people behind that technology, and assuring that they can maintain their mission and ultimately come home safe," Dabbs said.
Eyeing autonomy
Quantum navigation is a subfield of quantum information science — an emerging discipline that involves the investigation and application of phenomena occurring at atomic and subatomic levels to capture, process and move information. While the Air Force agreement announced Monday marks SandboxAQ's first military contract aligned with quantum navigation, it recently completed a phase-I SBIR effort on post-quantum cryptography, also with the Air Force.
Broadly, the company's "alternative navigation system" combines quantum sensors that measure the Earth's magnetic field, with AI algorithms that filter out platform noise and improve signal processing to enhance positional awareness of various assets.
"In the case of what we're talking about for this [new SBIR] effort, it's taking a look at small sensors that are measuring the activity in the physical world around it. So, it's looking at the atomic level in order to measure variations that classical sensors would not be able to pick up," Dabbs explained.
The U.S. government already relies on highly sophisticated sensors, so these could be thought of as an "addition to that, that provides maybe more fidelity, more data, more precise information and granularity that we didn't have prior," he added. Applying new AI methods to improve the way the data looks, and then pairing it with all of the other existing data, in his view, would help the service "to build a better picture for the environments" in which it operates.
He emphasized that the capability is not meant to replace GPS and that the Global Positioning System is a critical element to what the company aims to achieve regarding assured navigation, and targeting full-spectrum operations for the DOD.
"What we're trying to do is really taking a look at what these new emerging technology sensors like quantum sensors can do to collect delicate data at the atomic level and provide new insights. So in this case, when we talk about magnetic navigation, it's really just providing another valuable insight as an alternative to GPS that is persistent, that is all-weather, that is passive. So that if there is a disruption or loss — like we've seen in Ukraine with the loss of GPS — there is an alternative to switch over to that is reliable, accurate and maintains continued operations," Dabbs said.
Other types of alternative navigation technologies exist or are in-the-making, but some require visual ground features. Unlike those, magnetic anomaly navigation does not — meaning it can literally work anywhere on the planet.
"Think of the entire Earth's magnetic field as your sensor, right? When you look at other systems — like optical — if they're flying over the Pacific Ocean, there's nothing to geo-reference. So in this case, you've got the whole Earth's magnetic field as your geo-reference as you move through that very complex environment," Dabbs explained.
He would not go into specifics regarding all of the systems' elements, but noted that "there's hardware components and software AI-integrated components that improve the way it sees its environment around it." SandboxAQ, he confirmed, ultimately intends to see it all integrated into future military aircraft to improve how they function in GPS-denied settings.
The contract underpinning this work is worth the standard SBIR value of $1.25 million. Dabbs said SandboxAQ is "absolutely" looking at moving into a Phase III of commercialization as its "path forward."
Research and experimentation for this expedited second phase will unfold over 18 to 21 months, and then culminate in demonstrations aboard Air Force aircraft. Data collection is already ongoing on those associated test vehicles, Dabbs said.
"Like with any effort where you're trying to improve sensor performance, [this data collection involves] understanding your true ground truth with the aircraft sensor from a GPS perspective. And you want to collect all available data from your sensor, and then compare that against what you call a 'golden dataset,' so that you can improve those algorithms in reference to the aircraft over time — and then, ultimately, build the best version of that sensor at that time for the prototype delivery," he added.
The company has collaborated with the Air Force/MIT AI accelerator and the branch's tech incubator AFWERX, and others in the past. Dabbs said that some experts view innovations in quantum navigation as a way to support autonomous platforms that the military deploys down the line.
"Every service that we've spoken to has had a distinct interest in the future, which is autonomous operations. Whether it's an underwater unmanned craft, or whether it's an airborne unmanned craft, the loss of GPS is critical to mission continuity. So, they're always looking for ways" to address that, he said.
Breaking a stigma
SandboxAQ grew out of Google parent company Alphabet's Sandbox division, which was originally launched in 2016 to advance and refine quantum capabilities for the technology giant.
Capabilities that are now being explored through the startup and Air Force's SBIR-based cooperation "were incubating" in Alphabet for years, Dabbs noted — and many experts who'd developed them moved over to SandboxAQ's team after the spinoff.
"We are a non-traditional small business out there. We're bringing this expertise, these [officials with PhDs] who were actually working the program, prior to. So that's the connection there. But we are distinct and separate from Alphabet at Sandbox now, which means we're software and hardware agnostic — so we can work with a variety of vendors. That's completely new for us. So, we have almost a greenfield of partnerships that we can have across the landscape," he explained.
Now, the standalone business is pursuing a number of other creative quantum-sensing use cases with government and commercial players.
"For example, we're working with cardiac devices that will use the same sensors to look deeper in the heart and extract 90% more data out," Dabbs said.
He also sees potential for such dual-use options that might expand the way that intelligence, surveillance and reconnaissance data is collected for military customers in the future.
However, Dabbs said he and his team have had discussions with other military services and other entities within the U.S. national security community, that suggest many officials are still not aware that these emerging capabilities exist.
"It's been a lot of education and thought leadership in the space of the past year as we help mature how the government looks and views this as a viable technology — breaking the stigma that we're not doing computing, that we're doing the QIS aspect [or] the science behind it — to improve operations. Those are things that you can do right now, and telling the government that, as opposed to just disconnecting the hardware aspect, has been the biggest part of what we're doing," he said.