Air Force Research Lab opens new 'extreme computing' facility amid international arms race for quantum tech
The deputy director of AFRL's information directorate said the opening marks "a new era" for accelerating the development, integration and deployment of advanced computing technology for the U.S. military.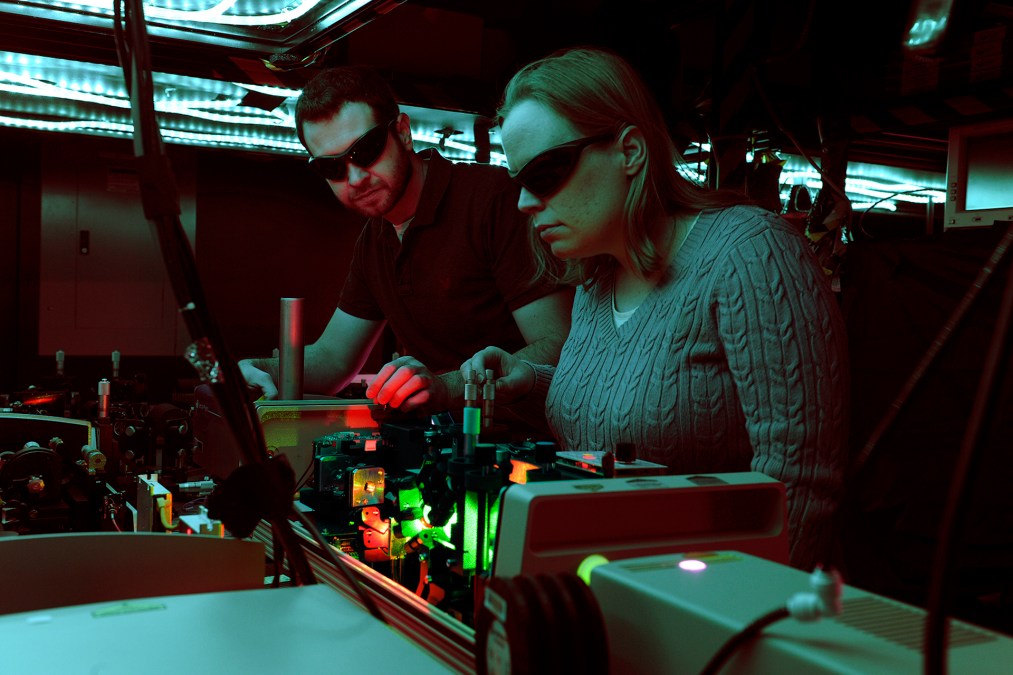 The information directorate for the Air and Space Forces' premier research arm has opened a new center aimed at boosting the department's quantum prowess, as the United States and China compete for new high-tech computing capabilities that could alter the military balance of power.
A ribbon cutting for the Extreme Computing Facility located in Rome, New York, was held Aug. 8, according to a release issued Monday by the Air Force Research Lab.
AFRL for years has been been engaged in quantum work. But Michael Hayduk, deputy director of its information directorate, said the opening of this state-of-the-art installation marks "a new era" for accelerating the development, integration and deployment of advanced computing tech for the U.S. military.
"The state-of-the-art laboratories for trusted computing, machine learning, neuromorphic and nanocomputing and quantum networking will advance our competitive edge in extreme computing," he said, according to the release.
Quantum information science — which encompasses the investigation and application of complex phenomena happening at atomic and subatomic levels to process and transmit information — is one of Undersecretary of Defense for Research and Engineering Heidi Shyu's 14 "critical technology areas."
Quantum computing — which uses "qubits" instead of traditional processing methods — is one of the key military applications of QIS. Others include quantum networks, atomic clocks and quantum sensors, according to the Pentagon.
"Quantum computing can provide unprecedented computational speeds and help solve the Department's hardest analytical problems. Quantum sensors promise the ability to provide unprecedented accuracy in position, navigation, and timing. From more accurate information to faster decision making, to significantly stronger encryption capabilities, quantum science has the promise to deliver cutting-edge technology," per the DOD chief technology officer's website.
AFRL's new computing facility in New York features two laboratories for basic research in quantum computing, networking and security, and two neuromorphic computing labs for basic research in machine learning models "approximating human neurocognition," according to Monday's release.
Collaborators from industry and other government agencies will be able to leverage the Extreme Computing Facility's science-and-technology capabilities, according to Col. Fred Garcia, head of AFRL's information directorate.
The acceleration of the U.S. military's push in this realm comes as China — which the Pentagon sees as its top strategic competitor — is developing its own quantum computing capabilities.
U.S. concern about Beijing's pursuit of these types of tools was reflected in an executive order that President Biden issued last week authorizing the Treasury Department to regulate certain U.S. outbound investments into Chinese entities involved in activities related to quantum, AI and microelectronics.
Gen. Mark Milley, chairman of the Joint Chiefs of Staff, has been banging the drum about the need for the United States to have a lead in these types of technologies. The biggest changes in warfare in the coming decades could emerge from the rapid onset of AI and quantum computing, he said in June during remarks at the National Press Club.
"I would suggest that the combination of those two technologies alone would spell a tremendous change in the character of war," Milley said. "Our task, the United States' task is for our military … to maintain our current decisive advantage, our lethality, our readiness, our competence, by optimizing these technologies for the conduct of war. And we do this not to conduct war, but to deter great power war."
To facilitate the development of a utility-scale quantum computer, AFRL last year inked a $22.5 million contract with PsiQuantum to co-design and manufacture quantum photonic chips.
The Office of the Secretary of Defense also requested $75 million in fiscal 2024 for a new initiative aimed at accelerating the operationalization of quantum devices.
"Quantum technology is approaching a tipping point that will determine how quickly it can make an impact. If the [U.S.] can stay on pace, many important outcomes for the [DOD] can be realized," Pentagon officials wrote in budget justification documents. Improvements could include more robust position, navigation and timing (PNT) for precision strike; rapid advances in materials and chemistry for advanced energetics, propulsion and platform coatings; optimization techniques for stealth properties, logistics and machine learning; intelligence collection; and enhanced electromagnetic spectrum capabilities for electronic warfare, they noted.
Lawmakers have also been moving to ramp up investment in the Defense Department's quantum initiatives.
Senate Majority Leader Chuck Schumer, D-N.Y., attended the ribbon cutting for the Extreme Computing Facility and touted additional funding included in the Senate Appropriations Committee's defense spending bill for the Rome facility in his home state, which would provide $10 million for a distributed quantum networking testbed and quantum cloud computing environment and $4 million to help develop a next-generation ion trap computer, among other initiatives.
"The Rome Lab and powerhouse workforce of the Mohawk Valley are going to be the ones to take us to the next frontier and ensure America leads the globe in the quantum computing super race," he said, according to a release from Schumer's office.
"This funding means that the next generation of the most advanced computers and technological research for our most sensitive military applications will happen right here at the Rome Lab. Now more than ever, we need to ensure that our nation stays ahead of our international competitors in virtual battle fields, and ensure the technology of tomorrow is developed right here in the Mohawk Valley," he added.
Meanwhile, members of the House Armed Services Committee want to create a new pilot program within the Pentagon that prioritizes near-term quantum computing solutions that are capable of being developed and deployed in two years or less. The House version of the fiscal 2024 National Defense Authorization Act would direct the Pentagon to partner with a federally funded R&D center and the quantum industry on the effort. The House and Senate have yet to pass a reconciled version of the NDAA codifying the pilot.
Members of the U.S. national security community are also concerned about developing defensive capabilities to protect networks against quantum computing that could defeat today's encryption tools.
Last year, the Air Force selected SandboxAQ, a spinoff of Google's parent company Alphabet, to analyze its existing encryption capabilities and explore how the department's networks can be better protected against future quantum attacks.
"Once scaled quantum computers are stable, they will be able to crack nearly all existing security codes and protocols in hours, if not minutes," retired U.S. Chief of Naval Operations John Richardson warned recently in an op-ed for DefenseScoop.