NORAD's VanHerck wants better data sharing, sensor architectures for homeland defense
Homeland defense will look "vastly different" in the future, according to the commander of U.S. Northern Command and North American Aerospace Defense Command.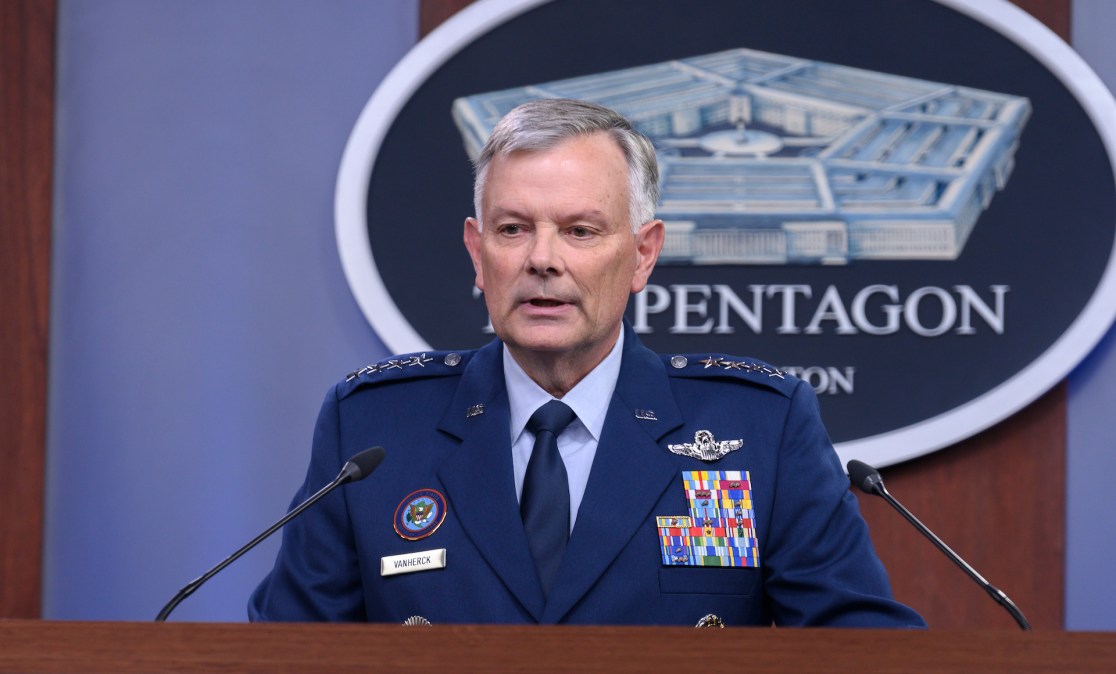 The Pentagon needs to evolve its approach to homeland defense and focus on detecting and identifying potential threats in all domains as early as possible, according to Gen. Glen VanHerck, commander of U.S. Northern Command and North American Aerospace Defense Command.
Speaking during a webinar hosted by the Mitchell Institute on Thursday, VanHerck said that homeland defense will look "vastly different" in the future. Instead of being segmented into geographical regions, solutions need to have global reach and foster collaboration between not just the United States' combatant commands, but also its partners and allies.
A number of emerging threats across the spectrum are challenging the United States' homeland defense mission, from undersea vessels to hypersonic missiles. The goal now is to look at the mission in a broader context and stay "left of launch," VanHerck said, meaning U.S. leaders need to have enough information about potential threats before they're deployed to make well-informed decisions on how to respond.
"The future of air-and-missile defense doesn't start here in the homeland. It doesn't start with kinetic end-game defeat. It starts forward with domain awareness, with allies and partners, sharing of data and information with my fellow combatant commanders [and] being able to generate those effects further away from our homeland so that we're not having to generate them here in the homeland," VanHerck said.
In order to do that, the department must have more capabilities that enable better domain awareness and data collection — including unmanned systems, space-based sensors and long-range radars, he suggested.
Better domain awareness involves "getting away from competition with my fellow combatant commanders for fighters or AWACS or tankers, and getting unmanned autonomous platforms with domain awareness capabilities [and] with effectors that are both kinetic and non-kinetic that we can think of as airborne, but also maritime, that we can utilize in the Arctic or we could utilize off the eastern seaboard, the western seaboard, or around the globe wherever we need to be," he said.
Missile warning and tracking satellites under development by the Space Development Agency will also be crucial, VanHerck noted, especially as adversaries continue to develop high-speed missiles like hypersonics that are more maneuverable and harder to defend against than traditional airborne threats. The SDA spacecraft are slated to be part of a constellation of hundreds of systems in low-Earth orbit set to begin launching in 2024.
VanHerck also pointed to commercial satellite capabilities that could potentially be tapped into to boost the U.S. military's situational awareness.
"We're not launching those satellite capabilities, but we can have access to those and develop our own encryption and capabilities to not only communicate, but have data and information sharing," he said. "Unmanned platforms then become more likely to be able to operate and pass data and information in that environment."
In addition, the Air Force is funding over-the-horizon radars for NORAD and Northcom that can detect threats at a range of around 4,000 nautical miles. Scheduled to be fielded later this decade, the systems will augment current radar capabilities and give the U.S. military better eyes around the world, VanHerck said.
"That domain awareness needs to feed a globally integrated air-and-missile defense capability where you can do real-time collaboration — think of JADC2 — and you can do that with allies and partners so they can generate effects for me," he said.
But while domain awareness and data collection capabilities are crucial, the ability to quickly share that data with key stakeholders and analyze it is paramount, VanHerck said, noting that capabilities like artificial intelligence and machine learning can help process data.
"The bottom line is: I'm not worried about where the data and information comes from. It's just sharing it so that we can have processing and dissemination for decisions quicker — which equals deterrence in the long run or integrated deterrence," he said.
Ultimately, the shift in homeland defense will need to be addressed by policy and cultural changes, according to VanHerck. Data and other information is currently siloed, he noted, and convincing organizations to be comfortable with sharing it with other Defense Department components and allies and partners, will be "a bigger overall challenge."