Greater ownership is the key to bridging the Valley of Death
In this op-ed, Dcode spoke with Rear Adm. Seiko Okano, who argues that culture and ownership are vital to scaling innovation.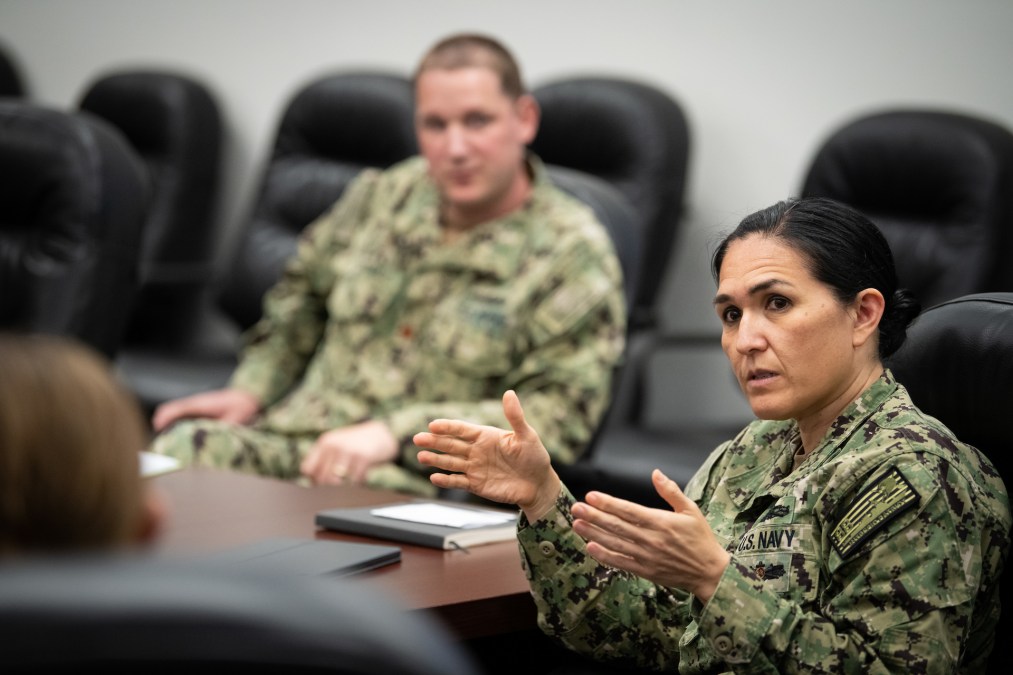 Changing culture has been a vital facet of the federal innovation space from the very beginning. But unfortunately, culture has become increasingly viewed as a buzzword rather than a necessary part of bridging the Valley of Death. This stigma against culture change has not stopped Rear Adm. Seiko Okano, who argues that culture and ownership are at the crux of the transition problem.
Dcode spoke with Rear Adm. Okano, the Navy's program executive officer for Integrated Warfare Systems, about the Valley of Death and her cultural approach to fixing the transition problem. Okano defines the Valley of Death as when we "don't get the technology into the warfighter's hands at scale." She explains that multi-level culture shifts to a more innovative mindset would help transition technologies into the hands of the warfighter, the ultimate mission for procurement. Okano argues that we can cross the Valley of Death through increased collaboration, ownership, and connection to the mission.
Collaboration is a transition hack
Historically, culture in government has led to maintaining the status quo. However, to successfully bring new tech into government, Okano emphasizes the need for collaboration across different departments. "The organizations that do well that we've seen at transitioning technology have really solid relationships with the organizations that do a lot of the S&T work," Okano explained.
For example, Okano noted, "at IWS, we do a fairly good job of it. If you look at our numbers in IWS, I think we've transitioned 83% of our FNCs (Future Naval Capabilities) from ONR (Office of Naval Research). Our future Naval capabilities and I think on the SBIR side, roughly 42% of our SBIRs get transitioned." A testament to collaboration and transitioning tech, Okano identified close cooperation between the program office and the scientists and engineers. "They're friends. They trust each other. They collaborate. We have seen that by itself is a transition hack."
Emphasize curiosity vs. compliance
In addition to increasing collaboration across organizations and departments, Okano identified "a culture of curiosity and ownership" as being central to transforming the organization's ability to transition technology. She further explained that individuals are successful when they think: "Am I curious enough to get myself out of what I'm doing and really understand what somebody else is doing? Can I use that in a cool, different way?"
This mentality encounters resistance, however, since the "systems are set up to almost disincentivize curiosity" and emphasize compliance. When asked to use an alternative contracting method, contracting officers often respond, "We can't do that," or "We've never done that before," emphasizing the need for a change in mindset at the procurement level.
Okano explains that this is an empowerment issue in addition to building a curious mindset. Leadership needs to say: "Hey, I'm empowering you to go forth and do great things," but "instead of compliance culture, we actually need you to go off and take some ownership."
Connecting to the mission
Finally, Okano urges individuals to connect to the mission and understand cutting-edge technology's impact on the mission. Between the innovation talk and discussions about overhauling culture, Okano reminds individuals that they're "responsible for putting capability into the hands of the warfighters" and connecting to that mission.
The goal is to get the best tech for the warfighter. "I've seen it as a systemic problem across a lot of R&D organizations or even some of these innovation groups that lose sight of that user focus… It's one thing to align to the stakeholders at the top, but another to align to the person that has to push the button."
Taking responsibility
Currently, the culture across government — from the congressional level all the way down to the individual level — disincentivizes innovation. To be more innovative requires a culture shift at every level, not just in procurement offices. Individuals need to be rewarded for curiosity and collaboration with other teams, bringing together the best of procurement and research without the risk of losing funding.
Meagan Metzger is the CEO and co-founder of Dcode.