Navy to expand unmanned systems campaign to 4th Fleet this summer
A new Navy effort to integrate unmanned systems into 4th Fleet in Central and South America will kick off in July, Navy Secretary Carlos Del Toro announced.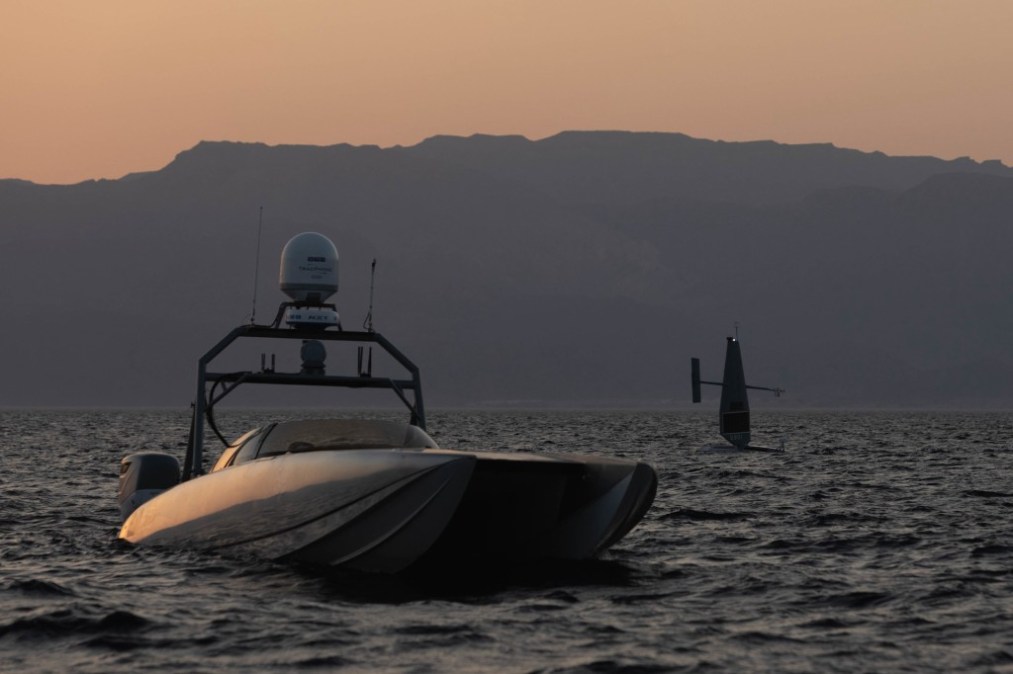 A new Navy effort to integrate unmanned systems into 4th Fleet in Central and South America will kick off in July at the multinational UNITAS exercise, Secretary of the Navy Carlos Del Toro announced Tuesday.
The initiative will incorporate lessons learned from Task Force 59, which has been operating under 5th Fleet in the Middle East. The task force has been using unmanned systems, artificial intelligence, sensors and the cloud to create what officials are calling a "mesh network" for U.S. Central Command intelligence, surveillance and reconnaissance missions.
Soon, U.S. Southern Command will be getting more of these types of capabilities.
"We're ready to expand our unmanned platforms beyond the Middle East, and … I'm pleased to announce that we will scale unmanned platforms to the fleet level and the 4th Fleet as well," Del Toro said at the Navy League's Sea-Air-Space conference.
"The 4th Fleet area of operations provides us with an environment best suited to operationalize the concepts Task Force 59 has worked tirelessly to develop to increase our maritime domain awareness, or MDA, capabilities. These unmanned platforms will meet the needs of our Southcom and 4th Fleet commanders and our partners in the Joint Interagency Task Force South as they defend the approaches to our homeland," he added.
The ISR technologies will help the U.S. and its partners in the region combat problems like drug running, human trafficking and illegal fishing, according to Del Toro, who highlighted China's distant water fishing activities as a concern.
Leaning on robotic platforms for these ISR activities will help the Navy "keep more of an unblinking eye on that traffic," Chief of Naval Operations Adm. Michael Gilday said at the conference. It is also expected to free up manned ships for other missions.
The initiative will also inform the Navy's journey toward a "hybrid fleet" of manned and unmanned vessels, and the service plans to apply the lessons learned in the 4th Fleet to future operations and other combatant command areas of responsibility, Del Toro noted.
The Navy is planning to move "fairly quickly" with the 4th Fleet. Some work is already underway but the new effort will "really take shape" during the upcoming UNITAS 23 exercise this summer, he said.
UNITAS is an annual multinational maritime exercise conducted in the waters around Central and South America. The aim is to enhance security cooperation and improve coalition operations. More than 20 ships and 5,500 personnel from 19 partner nations participated in last year's exercise, according to Southcom.
The exercise will contribute to the Navy's goal of bringing allies and partners into the fold for 4th Fleet's unmanned initiatives.
"Our kickoff, really, will be UNITAS in July," Gilday said.
Although 4th Fleet will leverage lessons learned from 5th Fleet, the Navy isn't planning to create a separate unmanned task force for Southcom along the lines of Task Force 59.
"One of the changes that we're making as we evolve and learn is to see if we can integrate this unmanned capability into our existing … fleet organizational structure," Gilday noted. "There will be some, you know, specialized personnel on the staff. But for the most part, it will stay within the traditional" organizational constructs.
Gilday elaborated on these plans to "normalize" the introduction of unmanned forces during a meeting with reporters on the sidelines of the conference.
"It will be integrated into the existing command structure, into the existing staff. So, intelligence, operations, plans, manpower … it'll all be integrated in. So we wanted to take a different approach rather than a task force this time, because … we're integrating additional sensors into the battlespace and we think this is another way to normalize it," he said.
However, the Navy's 4th Fleet has been working with 5th Fleet to take lessons learned as it gears up for the new initiative, Del Toro noted.
"We've also been baking some of it into the budget as well, too, so we have the resources necessary to kick it off," he told reporters. He did not elaborate on the amount of funding allotted to support these efforts.
The 5th Fleet is aiming to achieve a combined international fleet of about 100 unmanned surface vessels later this year to support the work of Task Force 59. However, the Navy hasn't yet settled on a force-level goal for 4th Fleet's unmanned component, which will include maritime drones and unmanned aerial vehicles, Gilday told DefenseScoop during the meeting with reporters.
"I think that'll evolve … I think it's going to be informed by the progress that we see by getting an understanding of the battlespace we want to cover and what makes most sense with respect to numbers. We're just not at that point yet. So we'll be doing some learning. And the good thing about this capability is we can scale it fast," he said.
Del Toro added: "I think it's fair to say, however, that you want to start small and build upon it, obviously. So you know, focus perhaps on the Caribbean Basin first and then expand beyond that."