As space grows more crowded, US leaders want AI to assist in future missions
At the Space Symposium, National Reconnaissance Office Director Chris Scolese emphasized that the NRO is integrating artificial intelligence and machine learning widely across the organization.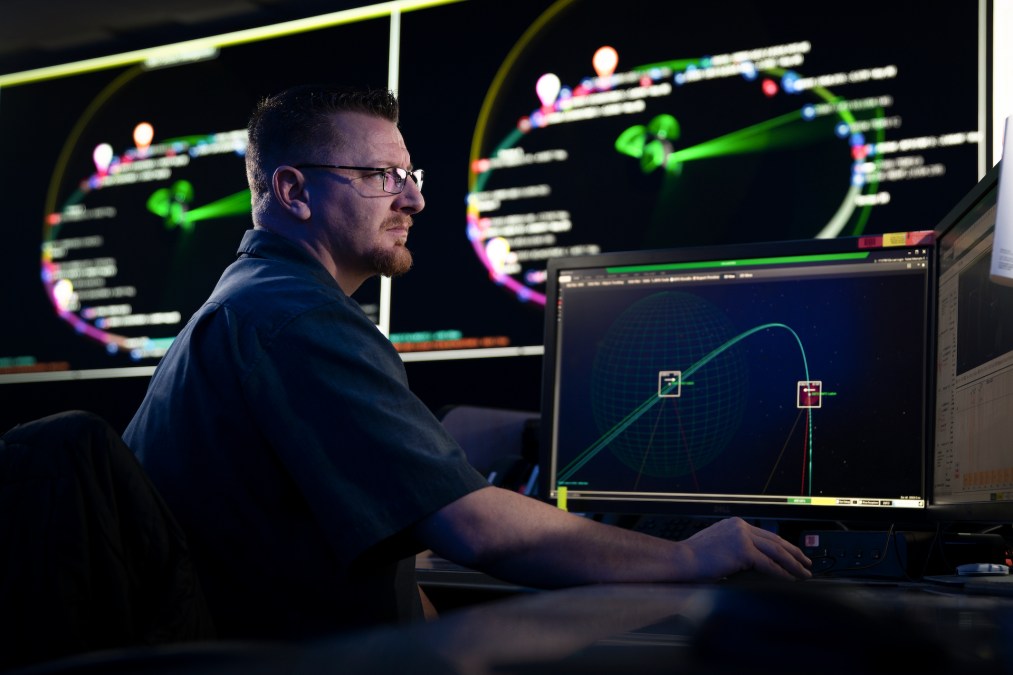 COLORADO SPRINGS, Colo. — Government agencies and commercial companies are poised to launch an unprecedented number of space vehicles in the coming years, and leaders are increasingly leveraging artificial intelligence and machine learning capabilities to assist operators in managing the assets and vast amounts of data created and collected by them.
During his keynote address at the Space Symposium on Tuesday, National Reconnaissance Office Director Chris Scolese emphasized that the NRO is integrating AI and ML widely across the organization.
"We're also increasing automation, multi-intelligence processes and machine learning capabilities so we can operate at the speed of machines and deliver the right information, at the right time, to the right place," he said. "Automation and machine learning can focus on the 'what, where and when' of our intelligence questions and allow humans to focus on what they do best — answering the 'why.'"
Scolese later told DefenseScoop during a media roundtable that he sees two critical roles for AI and machine learning at the NRO: filtering data collected by its satellites and assisting in managing a growing constellation.
"We bring down a lot of data down today, and we're going to bring down more in the future. It's not possible for a human to deal with all of that data," he said. "So we want to use AI [and] ML to go off and filter that data, find the objects of interest or find those things that are changing, so that the analyst can deal with a much smaller set or deliver a much more complex set to the warfighter."
At the same time, the agency has plans to quadruple the number of intelligence and reconnaissance satellites it operates within the next decade, Scolese announced during his keynote speech. The agency will be operating a mix of satellites that are proliferated across multiple orbits
Because of the growth, AI and ML can help operators task, collect and disseminate information from multiple spacecraft, he noted.
"When you're operating one satellite, one person can sit there and think about it," he said. "When you start multiplying that to tens or hundreds, it becomes more important to go off and look at how I am optimizing that constellation."
Gen. James Dickinson, commander of U.S. Space Command, also told DefenseScoop that the growing number of assets in space is influencing how he envisions artificial intelligence and machine learning — especially for the space domain awareness mission as space becomes more congested.
When Spacecom stood up in August 2019, it tracked and monitored about 25,000 objects in orbit on a daily basis. That number has since nearly doubled to over 48,000 objects, Dickinson said.
"You can imagine the size of the datasets that are coming, or the data that's having to be understood and manipulated so we understand what's happening and we're characterizing it," he said. "I think that a great application of AI and ML is to be able to tell us what we really need to look at [and] what we really need to pay attention to, because certainly we can't look at everything all the time."