A look at Space Operations Command's 'needs list' for AI, machine learning
In a list obtained by DefenseScoop, SpOC outlines the top 10 areas where AI and ML technology could be implemented to improve operations.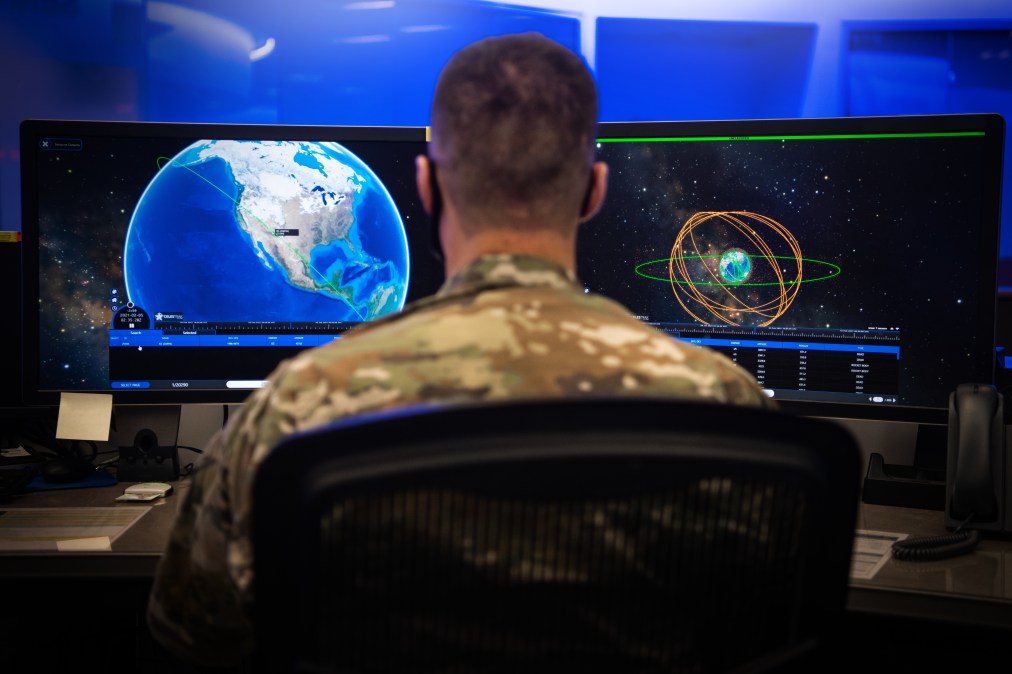 Space Operations Command (SpOC) has created a list of its top 10 priorities for how artificial intelligence and machine learning technologies can aid the Space Force in its missions — including autonomous space-based capabilities, better operationalizing data and more.
The list, which was obtained by DefenseScoop, was first mentioned by SpOC Commander Lt. Gen. Stephen Whiting on May 24 during a webinar hosted by the Mitchell Institute.
"It does seem to me that over the last year that AI/ML has stopped being something that happens somewhere else that might affect you, and it is a practical application that we need to be driving across all of our operations and business practices," Whiting said. "We've established a 'top 10 AI/ML needs list' across our operational missions. And working with partners like Space Systems Command and the Air Force Research Lab, we're working to actually field capability."
For years, organizations across the Department of Defense have hailed artificial intelligence and machine learning as key decision aids for next-generation conflicts. But as the technology continues to rapidly advance within the commercial sector, many in the department are still grappling with how to best implement AI and ML to improve operations.
At the top of SpOC's priorities list for applying the technology is "data" — a priority shared by many Defense Department components, like the Air Force and the Navy.
Second on the list is "situational awareness," or the basic knowledge and characterization of objects in space and the environment. The Space Force uses both space- and ground-based sensors for this mission.
Space Force officials have recently pointed to the need for better situational awareness in space due to the growing number of spacecraft and debris on orbit, noting that AI could be used to improve the service's understanding of the space domain.
Next on SpOC's list is using artificial intelligence for "cyber defense." Specifically, the organization is looking to leverage machine learning to develop "novel waveforms and receivers" in order to "improve performance and provide authentication capability," a Space Operations Command spokesperson told DefenseScoop in an email. Novel waveforms and receivers are innovative methods to transmit and process communications data aimed at enhancing efficiency and reliability.
The list also includes a number of the Space Force's core mission areas — including missile warning, "defensive counterspace," space domain awareness and "space electronic warfare."
For space domain awareness, SpOC is parsing out how AI and ML could conduct "space threat assessment for mission assurance needs, automate space-environment anomaly prediction and course-of-action recommendations," according to the spokesperson.
Meanwhile, for electronic warfare, the service is developing an "autonomous on-board satellite radio frequency jamming/interference detection, assessment and response system," they said.
And for defensive counterspace capabilities, the Space Force is using AI to create "opponents for contested space," the spokesperson said. The spokesperson didn't provide any additional information about this focus area.
Finally, SpOC wants AI and ML for automation, "predictive sustainment" and "characterization of new foreign launches."
During the Mitchell Institute's webinar, Whiting noted that some progress has already been made in implementing artificial intelligence and machine learning capabilities.
"Some of that's in our space domain awareness system, where we have a lot of data, and AI/ML can help us parse through that data. We've also seen it in some predictive maintenance activity [and] predictive maneuver-type capability," he said. "We really are working hard to put practical instantiations of AI/ML across all of our mission sets right now."
Whiting also noted that Brig. Gen. Kyle Paul, deputy commanding general for transformation at SPoC, is working through how to incorporate a "generative AI-like capability" that can assist in business practices at its headquarters at Peterson Space Force Base in Colorado Springs.
Generative AI is an emerging subfield of artificial intelligence that uses large language models to turn prompts from humans into AI-generated audio, code, text, images, videos and other types of media. Platforms that use generative AI have gone viral this year, prompting both excitement and concern over the technology's rapid advancement and applications.
Many in the Defense Department have expressed interest in generative AI for military applications, and the Pentagon plans to host a conference in June to understand how it can best leverage the technology and recognize its shortcomings.
As the Space Force moves forward with implementing artificial intelligence as a powerful new tool, Whiting emphasized that it's also crucial to understand the technology's vulnerabilities.
"We need to have insights into how the AI/ML is architected and how it's coming to its answers. We still need to have humans in the loop while we are figuring out and testing that AI/ML capability to prove to ourselves that it's working appropriately. And then … making sure that once we have demonstrated to ourselves that this AI/ML capability works, that it's not being corrupted," he said. "I think we're going to have to work multilayers as we become more comfortable and convince ourselves that this capability works."