Cyber National Mission Force Commander Maj. Gen. William Hartman nominated as deputy at Cybercom
Hartman would take over for Lt. Gen. Timothy Haugh, who was recently nominated to lead Cybercom.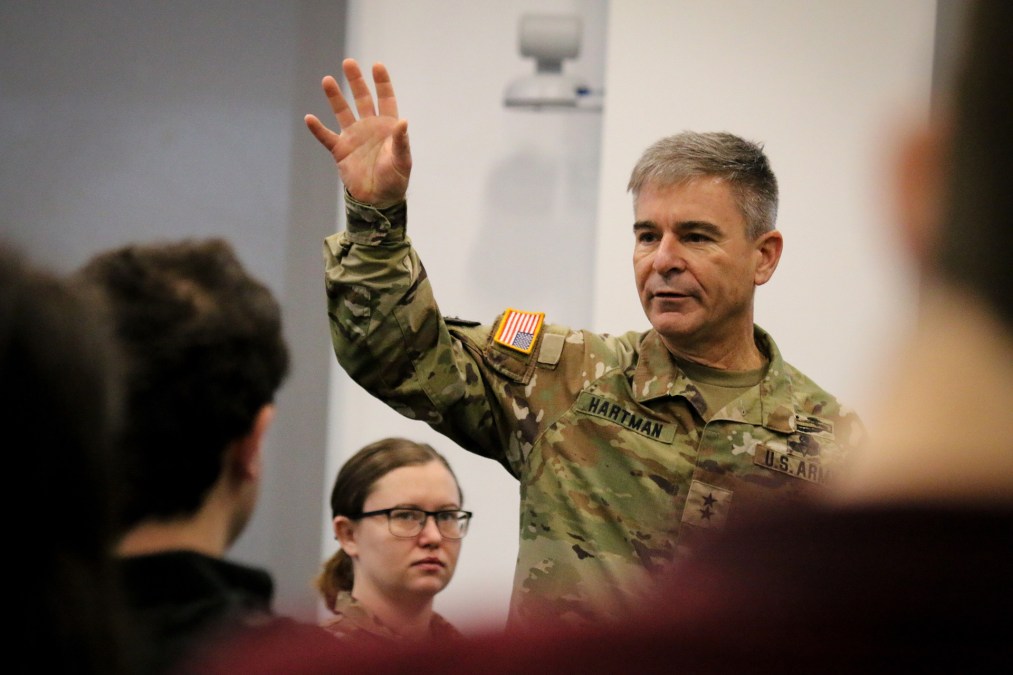 Maj. Gen. William "Joe" Hartman has been nominated to serve as the deputy commander of U.S. Cyber Command, according to a source familiar with the nomination.
Hartman's nomination for assignment to "a position of importance and responsibility" was posted to a congressional website May 30 with no fanfare and no description of his next job.
The news of the nomination was first reported by The Record.
If confirmed, Hartman would pin a third star and be the second in charge at the command, typically seen as the person running the day-to-day activities while the commander of Cybercom also serves as the director of the National Security Agency.
Hartman would take over for Lt. Gen. Timothy Haugh, who was nominated to succeed Gen. Paul Nakasone as commander of Cybercom.
In his role, one of Haugh's main tasks was focused on developing and building out the Joint Cyber Warfighting Architecture (JCWA), Cybercom's primary weapon system to conduct cyber operations that consists of an amalgam of platforms and capabilities.
Hartman currently commands the elite Cyber National Mission Force at Cybercom, which is made up of 39 joint teams and thought to have the Department of Defense's most talented cyber operators at the cutting-edge of their profession. It is aligned in task forces organized against specific threat actors. They have been on the front lines of defending elections from foreign influence.
At the end of 2022, the CNMF was elevated to a sub-unified command under Cybercom, signifying its importance.
Given its prowess, commanding the CNMF has generally been thought to be a launching pad for promotion and higher commands. Prior commanders of the CNMF include Nakasone, Haugh and Vice Adm. Timothy White, who retired in 2020 as the commander of 10th Fleet/Fleet Cyber Command.
Notably, Hartman has commanded the CNMF since August 2019. Predecessors dating back to Nakasone have only held this job for a maximum of two years.
In his time as the head of CNMF, Hartman has helped lead the so-called "hunt-forward" ops, which involve physically sending defensively oriented cyber protection teams from the CNMF to foreign countries to hunt for threats on their networks at the invitation of host nations. Officials say they are mutually beneficial because they help bolster the security of partner nations and provide Cybercom — and by extension, the United States — advance notice of adversary tactics, allowing the U.S. to harden systems at home against these observed threats.
While they started prior to his command, they ballooned under his leadership as he increased the capacity.
They have become a mainstay for the command, as they were enshrined in recently updated DOD Doctrine for cyber operations and featured as a part of one of four complementary lines of effort the updated DoD cyber strategy seeks to employ.
To date, Cybercom has conducted 70 of these operations in 22 nations on 50 different networks.
These initiatives also have played a significant role in a broader U.S. diplomatic effort within Cybercom's operating concept of persistent engagement, which envisions challenging adversary activities daily and wherever they operate.
"There's no accident that Gen. Hartman is visible on the ground and [in] Europe, visible as the commander of the Cyber National Mission Force meeting with and engaging with our partners and allies. That's a very deliberate, diplomatic and informational use of a military commander and his formation to send a message that bolstered collaboration and to strengthen partnerships," a former official told DefenseScoop.
Various U.S. diplomatic stations have tweeted out several photos of Hartman — dressed in a business suit, not wearing the typical combat uniform of a military officer — on the ground with leaders of foreign nations.
Moreover, the CNMF under Hartman picked up pilot efforts started before him and bolstered support for the private sector through several initiatives aimed at sharing indicators of compromise discovered in operations to improve the collective cybersecurity of the nation.
Jon Harper contributed to this story.