Nominee for Marine Corps commandant commits to securing data rights, intellectual property
Gen. Eric Smith told lawmakers that the rights to technical data and IP are crucial to some of his plans to improve how the Corps conducts logistics in the Indo-Pacific.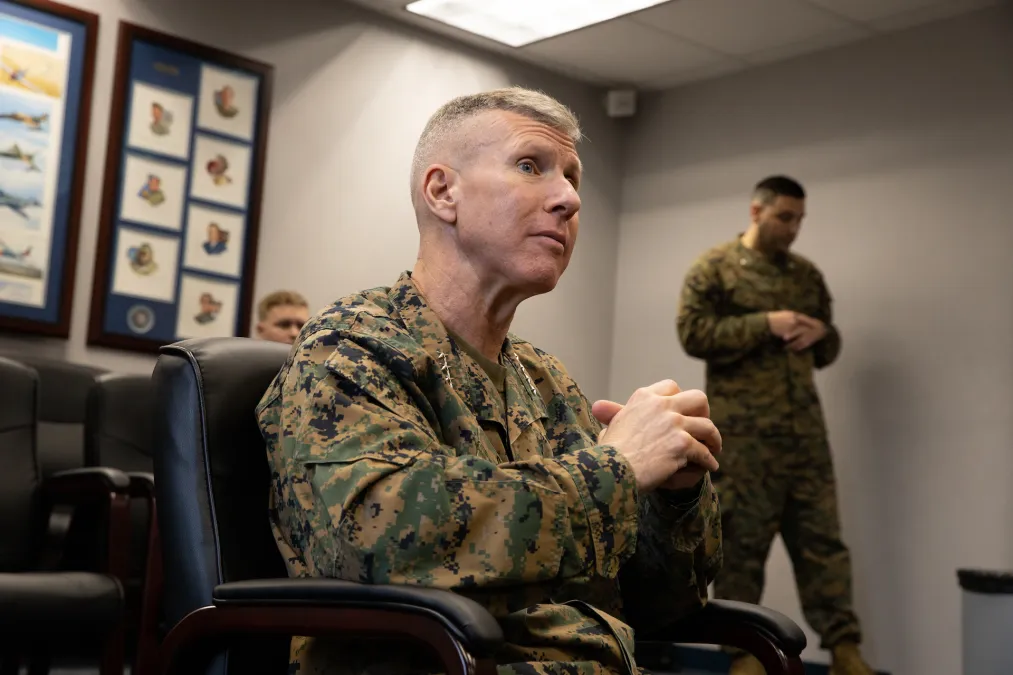 President Biden's pick for the next commandant of the Marine Corps said that ensuring the service owns the intellectual property and technical data rights for its platforms and systems will be one of his top priorities if he's confirmed by the Senate.
During his confirmation hearing in front of the Senate Armed Services Committee on Tuesday, Gen. Eric Smith told lawmakers that the rights to technical data and IP are crucial to some of his plans to deploy additive manufacturing capabilities to forward operating areas in order to improve how the Marine Corps conducts logistics in contested and dispersed environments in the Indo-Pacific.
"When we own … the [technical] data rights to things we procure, I can build and print aircraft engines forward. When you can do that, that is an entire supply chain that is relieved of some stress, and it gets the engine into the hands of the warfighter today — not weeks from now," Smith said. "You can pre-stage those metals and bring with you the 3D printer. That is in our future and if confirmed, I'm focused on that."
Currently serving as assistant commandant, Smith was nominated by Biden last month to take over the service's top job when Gen. David Berger's term ends later this year. If confirmed, Smith will be tasked with leading the Marine Corps through a plethora of modernization efforts currently underway, including Force Design 2030, Talent Management 2030 and the "stand-in forces" concept.
Smith told lawmakers that he's "100% committed" to ensuring the Corps acquired the intellectual property and technical data rights of its platforms if he becomes commandant.
The concern over technical data rights and intellectual property was heightened by the Defense Department's acquisition of the F-35 joint strike fighter. The Pentagon has argued that prime contractor Lockheed Martin's ownership of the fighter jet's IP — from software to spare parts — has limited the U.S. military's ability to integrate new technologies and conduct maintenance on the aircraft.
Now, both officials in the Pentagon and members of Congress have become mindful of how IP and technical data ownership influences defense acquisition programs.
For the Marine Corps, ownership over technical data and IP would permit unrestricted access to the information needed to 3D print key parts for forces deployed in the Indo-Pacific — one of Smith's top priorities if he were to become commandant, he said.
Also known as additive manufacturing, 3D printing is a technique that allows people to create three-dimensional objects using data in computer-aided-design software or special scanners. The Defense Department has increasingly invested in advancing the technology for military use as it confronts constraints on global supply chains. The Pentagon is also concerned that long logistics lines could come under attack by China or not move materiel fast enough during a conflict.
"We have to do some very creative work to do additive manufacturing and 3D printing forward," Smith said, referring to work being done by the Marine Corps Warfighting Lab to innovate contested logistics capabilities. "If confirmed, I'm committed to continuing that effort, because I do see one day we will be printing forward, and forward operating bases will be printing major end items [such as] aircraft engines, propellers. We'll be doing that forward as opposed to straining lines that come from the United States through contested logistics areas."