Hicks shares new details on DOD's vision for Replicator autonomous systems, but questions linger
Questions have been swirling since the deputy defense secretary unveiled the initiative publicly for the first time last week.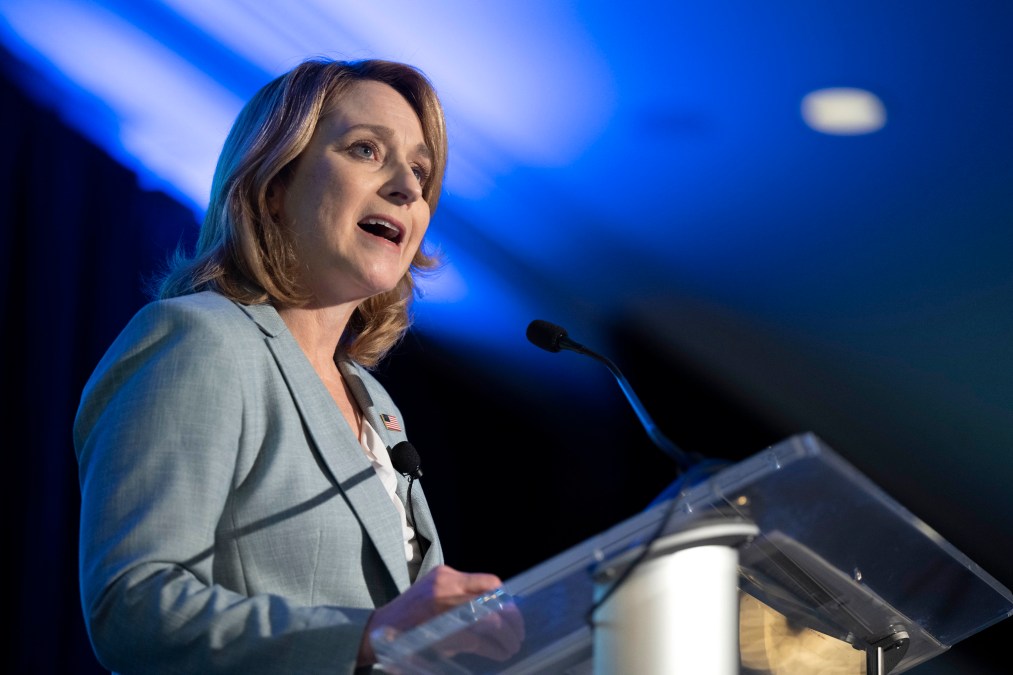 The Pentagon's ambitious new Replicator initiative — which aims to "field attritable autonomous systems at a scale of multiple thousands in multiple domains" within the next 18 to 24 months to counter China — is not a new program of record and will be enabled in the near term through existing funds, according to Deputy Defense Secretary Kathleen Hicks.
Questions have been swirling since Hicks unveiled Replicator publicly for the first time last week. She revealed additional details during a speech on Wednesday, but also doubled-down on her previous comments that her team at the Defense Department "will be cagey" about what all they release on this pursuit and when they disclose it.
"Though we will be working with industry, and Congress, and allies and partners in everything that we do, [there are] some things we will only reveal at a time and place and manner of our choosing. I know that isn't easy. Engineers want to take pride in their work, CEOs want to hear good news with investors, people in government want credit for their good ideas — and all that will come in time, if we succeed — but not today," Hicks said at the annual Defense News Conference.
"These aren't ships or aircraft that we'll be using for the next 30 to 50 years," she noted. Instead, these "all-domain attributable autonomy, or ADA2" systems as Hicks calls them, are assets that the Pentagon "might use for three to five years before we move on to the next thing, as we must, given a dynamic, fast-moving adversary in the pace of innovation."
This new initiative is designed to offset China's military buildup through the rapid production of technologies, assets and weapons.
"Replicator will galvanize progress in the too-slow shift of U.S. military innovation and leverage platforms that are small, smart, cheap, and many. Now, since we've announced Replicator, we've heard some questions, and you've probably heard some today. So, I came today with some answers," Hicks said at the conference.
She confirmed that initiative isn't a new program of record and DOD has no plans to request new money to fund it in fiscal 2024. Instead, Replicator will use existing funding, programming lines, and authorities to accelerate production and delivery at scale "by exerting leadership focus and attention on a singular operational challenge and maturing solutions, because that's what ultimately delivers," Hicks said.
A new Deputy's Innovation Steering Group is expected to help bring Replicator into fruition. Hicks is co-chairing this new forum with Vice Chairman of the Joint Chiefs of Staff Adm. Christopher Grady, with support from the Defense Innovation Unit's new lead, Doug Beck.
"Every DOD stakeholder will have a seat at the table: combatant commanders, military departments, service secretaries and service chiefs, and OSD key component heads. And for the next 18 months, we'll be laser focused on achieving this singular goal for ADA2 systems, plus determining our next 18 month goal after that — again, to replicate the process with another operational challenge," Hicks said.
Still, she did not share whether new funding would be requested from Congress beyond the next fiscal year to further enable the initiative — or clarify exactly which existing funds or mechanisms will be applied in the coming months.
Responding to other questions she's heard over the last week, Hicks shed a little more light on the platforms and missions that Replicator will be applied to. The selection process will largely be driven by current authorities, military personnel's top needs, and the capabilities that are already developed enough for DOD to use at scale.
"Let me give you a window into the possibilities of all-domain, attritable autonomy. Imagine distributed pods of self-propelled ADA2 systems afloat, powered by the sun and other virtually limitless resources, packed with sensors aplenty, enough to give us new, reliable sources of information in near-real-time. Imagine fleets of ground-based ADA2 systems delivering novel logistics support, scouting ahead to keep troops safe, or securing DoD infrastructure. Imagine constellations of ADA2 systems on orbit, flung into space scores at a time, numbering so many that it becomes impossible to eliminate or degrade them all. Imagine flocks of ADA2 systems, flying at all sorts of altitudes, doing a range of missions, building on what we've seen in Ukraine," she said.
Hick pointed to the U.S. Central Command and Indo-Pacific Command areas of responsibility as regions where such systems are already showing promise in experiments and operations.
Notably, Hicks also clarified that the term ADA2 is "not synonymous" with weapons systems.
"There are many applications for ADA2 systems beyond delivering weapons effects. But don't forget that integrating autonomy into weapon systems is nothing new for DOD. We know how to do it responsibly. In fact, we've done it so far for decades, from Aegis destroyers to ship- and ground-based Phalanx defense systems. And we've continually gotten better at it," she noted.
But she emphasized that, according to DOD policy, humans will remain responsible for the use of force.
Among other questions she sought to address, Hicks stated that the Pentagon's two-year timeline for Replicator does not reflect new intelligence about impending Chinese military moves in the Taiwan Strait and elsewhere.
Elements associated with this initiative could be classified. But Hicks also reiterated that the department is not incentivized to reveal much early on, and intends to stay tight-lipped about Replicator, so as not to inform China and other competitors of its plans.
"As for more details, we will be deliberate about what we share publicly," she said.