Pentagon office developing new sensors to better detect UFOs
AARO director Sean Kirkpatrick provided an update on the Pentagon's UFO-hunting work at a public NASA meeting Wednesday.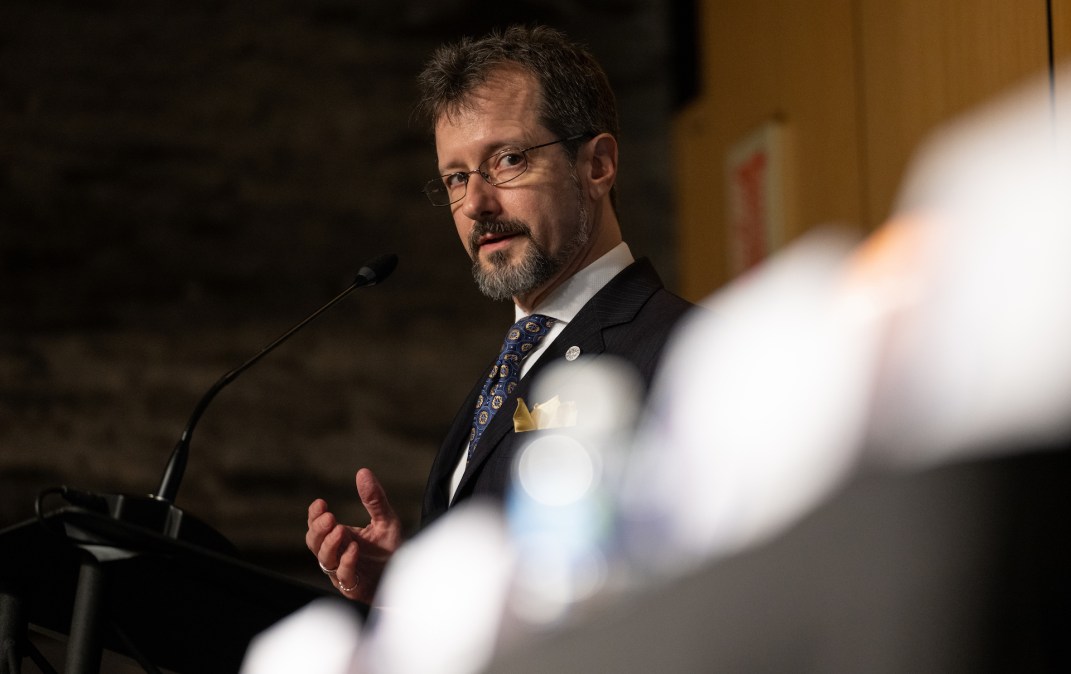 The Pentagon's All-domain Anomaly Resolution Office (AARO) is purpose-building sensors to better detect and investigate military-reported unidentified anomalous phenomena (or UAP, the modern term for UFOs) as its caseload continues to expand. And the team is also set to welcome a new expert from NASA to inform its complex analyses.
Sean Kirkpatrick, AARO's first-ever chief, revealed the moves during NASA's highly anticipated, inaugural UAP Independent Study Team meeting on Wednesday.
"One of the first things that we're doing" is assessing all existing sensors and associated data its privy to — from the Department of Defense, intelligence community, commercial sector, NASA and elsewhere — against typical UAP target objects, Kirkpatrick explained.
"Given what we've got so far, that is going to be an important first step to understanding which sensors are going to be relevant. From there we are augmenting with dedicated sensors that we've purpose-built and designed to detect, track and characterize those particular objects. We will keep putting those out in very select areas for surveillance purposes," he added.
His team is working to better calibrate existing U.S. and allies' platforms to better spot and monitor unidentified anomalous phenomena. Just days ago, Kirkpatrick met with members of the "Five Eyes" alliance — made up of the U.S., U.K., Canada, Australia and New Zealand — to establish processes for UAP data-sharing and asset calibration that can better inform investigations.
AARO is also working with universities to apply artificial intelligence and machine learning to its data holdings and target searches. Among other activities, Kirkpatrick said his office is conducting a new "pattern of life analysis."
"This is essentially baselining what is normal. I have all these hotspot areas — but we only have hotspot areas because that's when the reports come in from the operators that are operating at that time. They don't operate all the time. So to have a 24/7 collection monitoring campaign in some of these areas for three months at a time is going to be necessary in order to measure out what is normal. Then I'll know what is not normal when we have additional things that come through those spaces — and that includes space and maritime," Kirkpatrick said
Broadly, NASA's study explores how data captured by government, commercial and other sources can be studied to shed light on unidentified anomalous phenomena. Officials at the public meeting confirmed plans to officially publish their overarching work in late July.
The Pentagon's ARRO is separately working to better characterize, understand, attribute and help the department respond to UAP — specifically with priority given to reports by government personnel in or near areas of national security importance. It has a number of future deliverables mandated by Congress in the next several years.
"While NASA is evaluating unclassified data sources for its study, AARO's dataset includes classified material with a focus on national security areas. However, all of this data — collectively — is critical to understanding the nature and origin of UAP," Kirkpatrick said in his presentation on Wednesday.
Beyond "unique capabilities, world class scientists, and a wealth of academic and research linkages," he noted, the space agency "also has access to Earth-sensing satellites, radiological sensors, tools for gravitational wave and geomagnetic detection, and means of analyzing crowd-sourced data that may assist AARO and NASA in their UAP efforts."
AARO was mandated by the fiscal 2022 National Defense Authorization Act and established that same year. Pressure from the public and Congress for explanations of imagery demonstrating U.S. military pilots' interactions with baffling objects detected across multiple domains, ultimately led to its establishment.
In October 2022, NASA unveiled a team of 16 outside experts studying "observations of events in the sky that cannot be identified as aircraft or as known natural phenomena."
As AARO's director, Kirkpatrick serves as a non-voting participant of the NASA independent study team. He's been providing input and guidance since the study kicked off last year.
"The NASA team is using only unclassified data for its UAP study and is not drawing on classified data. However, AARO has been sharing classified data and information with the cleared members of the study panel. Though NASA and AARO are taking on different aspects of the UAP problem set, those efforts are very much complementary," Pentagon Spokesperson Sue Gough told DefenseScoop on Wednesday.
During a press briefing after the public meeting on Wednesday, Dan Evans — assistant deputy associate administrator for research in NASA's Science Mission Directorate — told DefenseScoop that his agency sees "true benefit to this team working solely on unclassified data, because when you restrict yourself to those types of data, you can collaborate freely with academia, with industry and with international partners."
Evans further confirmed to DefenseScoop that Mark McInerney — who he described as a "tremendous expert on large-scale curation of data and an employee of NASA's Goddard Space Flight Center who really runs the show when it comes to our Earth observing assets" — is the NASA official recently tapped to embed with AARO.
"Individuals such as [McInerney] can translate into both domains between unclassified and classified data," Evans said.
Back in April, Kirkpatrick testified to Congress about AARO's work and progress made from its inception up to that point. On Wednesday during the NASA-led briefing, he shed light on how his team's research continues to evolve.
"At the time of my open hearing, we were at 650 cases-ish. We are now at over 800. We are putting together our annual report, which will be due Aug. 1 to the Hill, and there will be an unclassified version as there always has been. We will have those updated numbers at that time," Kirkpatrick explained.
The "jump" in new reports stems from AARO recently integrating data from the Federal Aviation Administration into its arsenal.
"We're going to try to do a little more fidelity on some of the analytics we report out, but the numbers I would say that we see are possibly really anomalous or less than single-digit percentages of that total database," Kirkpatrick told the NASA experts.
AARO is generating a "robust scientific plan" about its efforts for Congress, which he said McInerney will fundamentally help inform.
Kirkpatrick also supplied eight recommendations that the Defense Department would like to see the space agency incorporate into its own UAP-resolving pursuits (see chart below).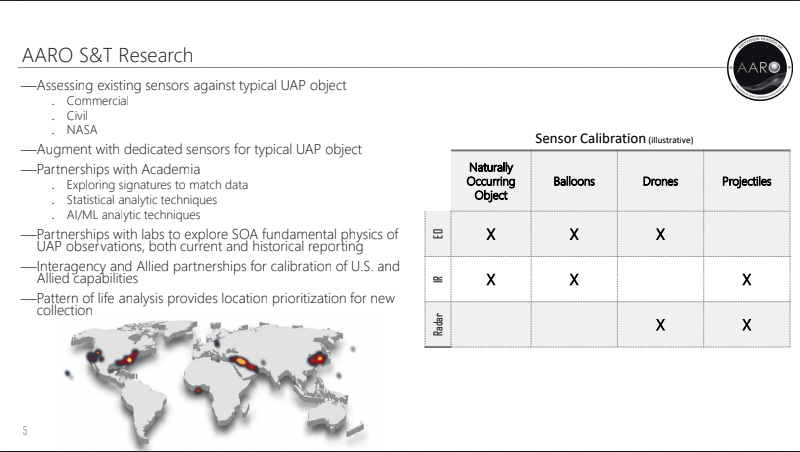 .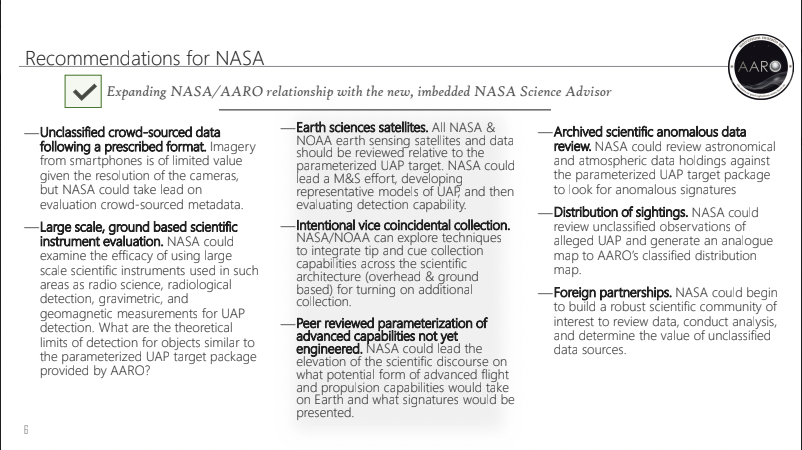 He suggested NASA take the lead on the government's crowd-sourced metadata evaluations, lead a comprehensive review of archive UAP data, examine the use of large-scale scientific instruments for such discoveries — and more.
Notably, during the meeting and follow-on press briefing, DOD and NASA officials also reflected on the online trolling and hostile public responses they are steadily receiving for participating in the government's UFO projects.
"The stigma has improved significantly over the years since the Navy first took this on, some years ago. It is not gone — and in fact, I would argue the stigma exists inside the leadership of all of our buildings, wherever that is. My team and I have also been subjected to lots of harassment, especially coming out of my last [congressional] hearing because people don't understand the scientific method and why we have to do the things we have to do," Kirkpatrick said. "Where can NASA help? I made that recommendation that NASA should lead the scientific discourse. We need to elevate this conversation. We need to have this conversation in an open environment like this where we aren't going to get harassed."