SDA director blasts critics inside DOD bureaucracy who don't like his 'bad cop' attitude
Derek Tournear wrote in a post published on LinkedIn on Thursday that he was recently told to no longer act as the "bad cop" for SDA or else he would hurt relationships with colleagues.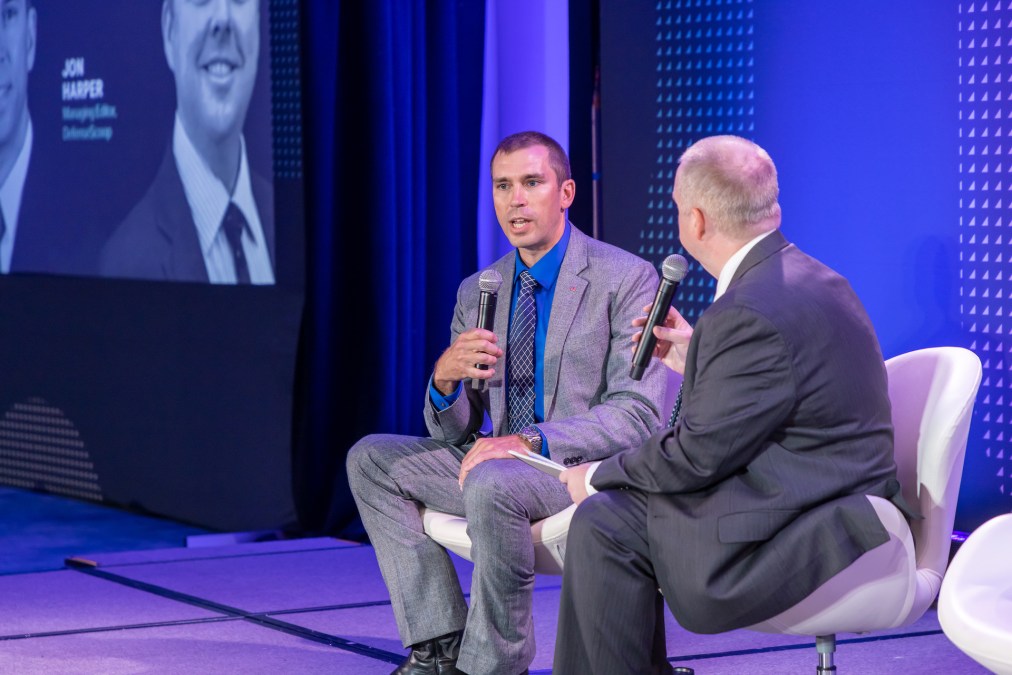 In a scathing new message, Space Development Agency Director Derek Tournear doubled down on his approach to rapidly delivering space capabilities for the U.S. military, suggesting he won't heed critics who don't like the way he goes about his business.
Tournear wrote in a post published on LinkedIn on Thursday that he was recently told to no longer act as the "bad cop" for SDA or else he would hurt relationships with colleagues.
"The professional relationship I hold as my highest priority is the one between my agency and the warfighter. To deliver on my end of that relationship, we have no choice but to change," Tournear wrote. "Change is hard; change is necessary. And nothing fights change like the paralyzing behavior of going along to get along."
Tournear did not explicitly state the name of an individual or organization that might be criticizing him and SDA's work. An SDA official told DefenseScoop that the post was prompted "by the everyday challenges one faces when trying to do things differently and accelerate the pace of delivery in a well-practiced bureaucracy."
Established in 2019 and transitioned under the Space Force's purview in 2022, the agency aims to streamline acquisitions of space capabilities in order to deploy new satellites and other tools as quickly as possible. SDA's "spiral development" business model prioritizes rapid procurement of low-cost systems, with a goal to deliver new capabilities in multiple iterations so that warfighters have access to the latest technology and can easily pivot to new threats.
It's a practice that is vastly different to the oft lengthy and bureaucratic processes historically used by the Defense Department to acquire new systems. Tournear noted in his post that space acquisitions have been guided by "very detailed capability – when it was ready."
"SDA flips that paradigm to deliver what is ready on schedule—when the warfighter needs it. In this context, there have been more than a few times, when constructive disruption required someone to play the 'bad cop,'" he wrote.
The agency has moved relatively fast in terms of sending out solicitations, awarding contracts and deploying capabilities. Tournear highlighted in his post that while he is proud of the agency's accomplishments, they didn't come without challenges or "scars" caused by going against the grain of traditional acquisition practices.
Earlier this year, SDA held the first two successful launches for its constellation of satellites known as the Proliferated Warfighter Space Architecture (PWSA). The multi-layer configuration of satellites will sit in low-Earth orbit and provide critical data transport, missile warning and missile tracking capabilities for warfighters.
The first two launches were for the agency's demonstration tranche, dubbed Tranche 0, which will consist of 27 satellites in total. The satellites were built by L3Harris, SpaceX, Lockheed Martin and York Space Systems.
The agency plans to begin launching Tranche 1, the first operational tranche of SDA satellites, in late 2024 and is targeting an aggressive monthly launch schedule. In 2022, York Space Systems, Lockheed Martin and Northrop Grumman each received contracts worth a combined total of $1.8 billion to develop space vehicles for the Tranche 1 transport layer, while Northrop Grumman and L3Harris were tapped for a combined $1.3 billion to build satellites for Tranche 1's missile tracking layer.
SDA has also begun soliciting and awarding contracts for Tranche 2, as well as for additional projects related to the PWSA and others completely separate from the constellation.
Overall, Tournear and the agency have received praise for their work from high-level officials across the Defense Department. Secretary of the Air Force Frank Kendall highlighted Tournear's efforts in pursuing commercially available capabilities in April during the annual Space Symposium, while Pentagon acquisition chief William LaPlante recently pointed to the agency's effective use of alternate acquisition strategies like other transaction authority and middle tier of acquisition approaches.
"Really watch that, because that is doing everything we've all said — go fast, use commercial, use all the authorities you have. They're doing it," LaPlante said in August during a panel at the NDIA Emerging Technologies for Defense conference and expo.
Still, the agency has not had a lack of critics in its short history. Former Air Force Secretary Heather Wilson fought hard against SDA's creation during her tenure, some lawmakers and experts have questioned whether the organization creates confusion for the Space Force's acquisition efforts, and others are still skeptical of the Pentagon's shift to small, commercial satellites over traditional space systems.
"Although it's not a role I relish, I cannot stand by and watch wasteful, thoughtless procedures that will only benefit our enemies by delaying delivery to the warfighter. Calling that out won't always make friends, but it will make our nation stronger," Tournear wrote. "If it's what is needed for SDA to meet its mission and deliver for the warfighter, then I will continue to be a 'Maverick,' a 'wild card,' and a 'bad cop'. I encourage all patriots to join with me as we arrest the status quo!"