Army leaders puzzling out how the service can fit into DOD's new Replicator initiative
"I do think that we have a number of areas that would be right for Replicator, and that would include [drones] of all sizes," Army Secretary Christine Wormuth said.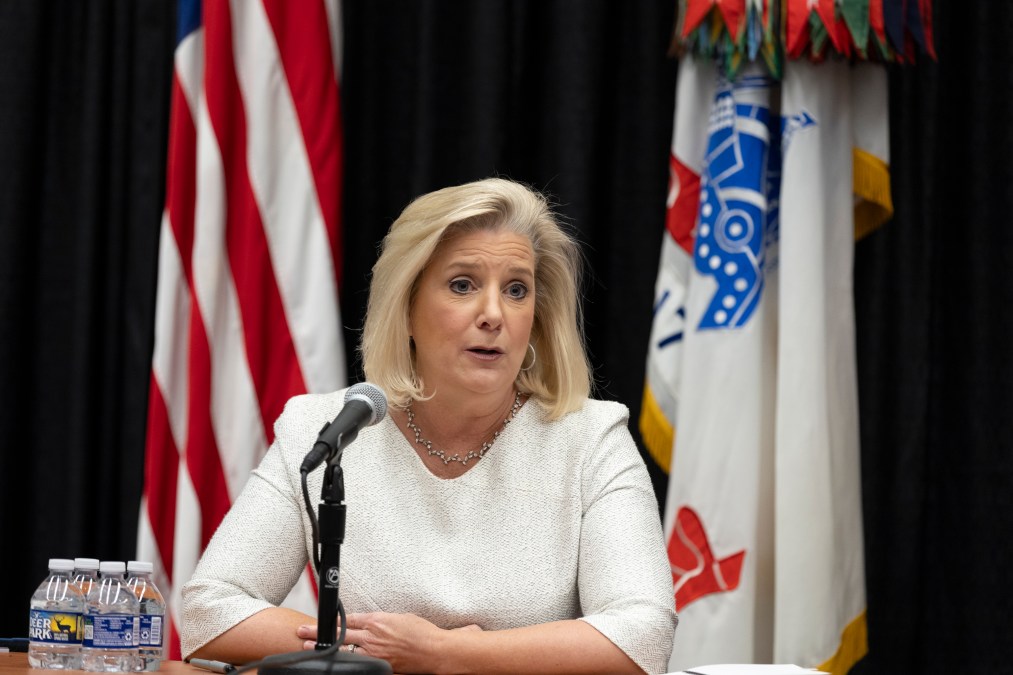 Army leadership is looking into which specific systems it can contribute for the Pentagon's new Replicator initiative that's ambitiously aimed at fielding thousands of autonomous assets across multiple domains in the next two years or less. But, so far, no official determinations have been made, according to the service's top official.
"I do think that we have a number of areas that would be right for Replicator, and that would include [unmanned aerial vehicles, or UAVs] of all sizes," Army Secretary Christine Wormuth told DefenseScoop Monday during a press briefing at the annual AUSA conference.
First unveiled by Deputy Defense Secretary Kathleen Hicks in August, Replicator is meant to help the U.S. offset China's recently intensifying efforts to bolster its military, while simultaneously accelerating the Defense Department's capacity to unleash American-made drones at-scale for operations in the next 18 to 24 months.
However, details regarding exactly how the Pentagon will fund and facilitate this new initiative — and how the individual services and contractors will support it — have largely remained sparse since Replicator was announced. Senior officials have expressly stated their intent to keep those associated plans mostly close to the chest to prevent China from being fully informed on the pursuit.
"[Replicator] is a fairly new initiative that the deputy secretary has just announced — so we're still exploring how the Army can fit into that," Wormuth said during Monday's briefing.
In response to DefenseScoop's questions, the secretary hinted at some of the service's existing uncrewed capabilities that could make sense to underpin Replicator.
"Using [drones] as sensors and as deliverers of payloads, and then also defending against them, is key on the battlefield — so, UAVs of all sizes. I think, also, some of the loitering munitions that we have could be candidates for Replicator. And then, finally, perhaps some of our ground robots. But we're still in dialogue with [the Office of the Secretary of Defense] on that," she said.
Relatedly, Wormuth also articulated her desire to deliberately "emphasize the theme of the need for the Army to innovate and transform," during this year's conference. That theme was threaded throughout her morning keynote to kick off the three-day event.
For example, Wormuth confirmed that this year the Army "started fielding our first robots outside of the" explosive ordnance disposal community for the first time. Separately, the service has also recently launched a new integrated formations effort, she noted, to ultimately bring robotic systems into units alongside humans — "with the goal of always having robots, not soldiers, make first contact with the enemy."
"New systems and technologies — paired with a robust digital transformation, incorporation of autonomy, [artificial intelligence], machine learning and advanced computing — will all contribute to the transformation of today's force into the Army of the future," Wormuth said.