Pentagon acquisition chief sees 'lots of different options' for procuring kamikaze drones
The DOD's top weapons buyer doesn't see supply chain issues or industrial base shortfalls when it comes to loitering munitions.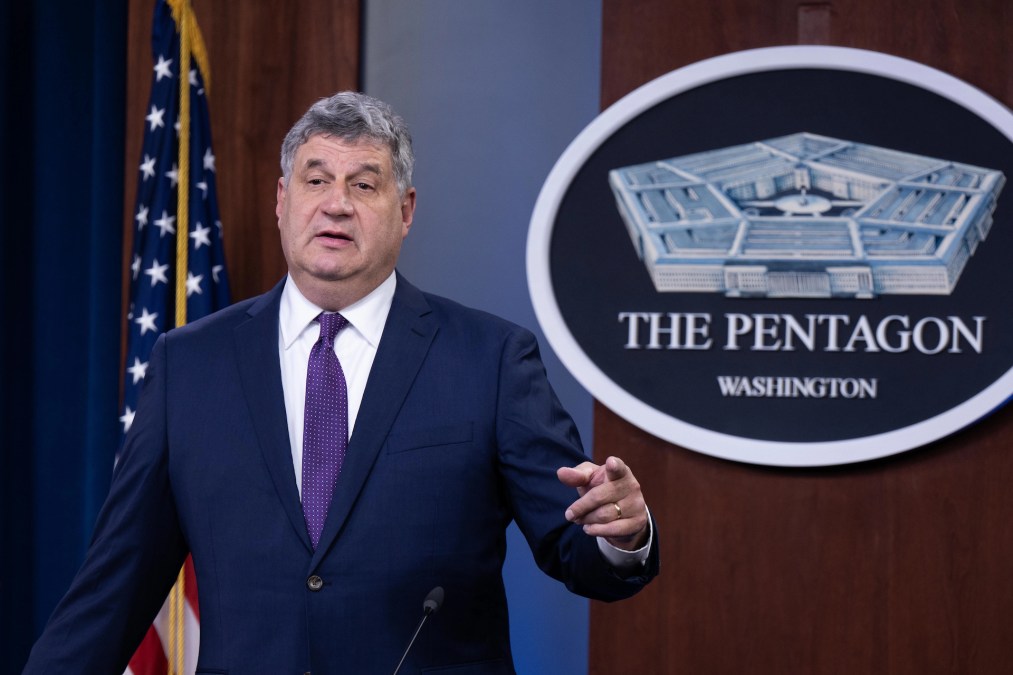 The United States and its allies are working through supply chain issues as they seek to expand their defense industrial bases and weapons production. But one type of system that the Pentagon's acquisition chief isn't too concerned about in this regard is loitering munitions.
These types of capabilities, also known as kamikaze drones or suicide drones, have been in the headlines in recent months as the U.S. has supplied them to Ukraine, including Switchblades and the new Phoenix Ghost.
Last week in Brussels, Undersecretary of Defense for Acquisition and Sustainment William LaPlante met with his international counterparts under the auspices of the Ukraine Defense Contract Group, as NATO countries and others make long-term plans to enhance their ability to manufacture critical munitions and continue aiding Ukraine.
"We had all of these acquisitions and defense industrial base specialists in the room together … We heard from nearly 20 of our partners who discussed efforts that they are doing to strengthen and expand their own industrial bases and deal with supply chain issues — all the issues we all are dealing with right now," LaPlante said at the Pentagon during a media briefing on Friday to discuss his trip.
DefenseScoop asked LaPlante if loitering munitions were a topic of discussion at the armaments confab and if he's concerned about production rates or supply chains for these types of weapons.
A variety of capabilities were discussed, he noted.
"On the broader category of loitering munitions … there's lots of different options that the U.S. has and other countries have that all have different capability of endurance, different warhead sizes, etc.," he said. "It's not really a supply chain or industrial base issue."
To date, the United States has committed to providing more than 700 Switchblades and approximately 700 Phoenix Ghost systems to Ukraine, among a slew of other weapons, according to the Department of Defense.
Some of these items have come from drawdowns of U.S. military stocks, while others are being procured from defense contractors through Ukraine Security Assistance Initiative funds. Systems being acquired through USAI will take longer to deliver — six to 24 months in many cases — and are intended to meet Ukraine's long-term needs.
Recent contracting actions through USAI include $18 million awarded to AeroVironment for Switchblade 300s, $2.2 million awarded to AeroVironment for the larger Switchblade 600s, and $116 million awarded to AEVEX for Phoenix Ghost platforms, according to the DOD.
However, looking at munitions more broadly, supply chains and the ability to meet growing demand are a concern for the Pentagon and U.S. allies.
LaPlante said his meeting with his fellow armaments directors last week resulted in commitments to stand up smaller working groups to continue the conversation and drive "actionable progress."
"These working groups will define multinational strategies to mitigate supply chain constraints, increase production and pursue not just interoperability, but interchangeability," he said.
Multi-year contracts and pooling resources are some of the ideas being discussed, he noted.
"When it comes to industrial base, really where the conversations go — and it may need help from the Congress and it may need socialization — is multi-country procurements, even development and contracting for items, such that we would have production lines … of the same item — multiple geographic places that are producing the same item by multiple countries. That's where we would like to potentially go, not for everything but where it makes sense," he added.