IBCS completes key tests, teeing up full-rate production decision for Army
The Integrated Battle Command System program has completed IOT&E, prime contractor Northrop Grumman announced.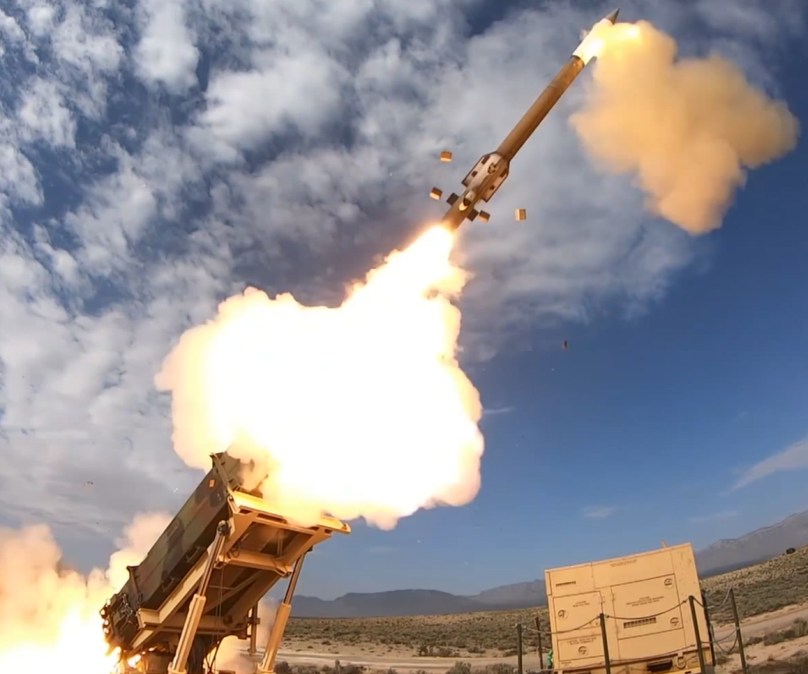 A system that is expected to be a key component of the Army's Joint All-Domain Command and Control architecture has wrapped up a series of important tests, paving the way for a full-rate production decision.
The Integrated Battle Command System (IBCS) program has completed initial operational test and evaluation (IOT&E), prime contractor Northrop Grumman announced Tuesday.
Officials say IBCS will not only be a central component of the Army's future integrated air-and-missile defense capability but also a critical enabler of JADC2 by networking sensors and shooters across the services.
The 10-month IOT&E effort kicked off in January.
"So far, things are going really well there," Doug Bush, assistant secretary of the Army for acquisition, logistics and technology, said Oct. 10 at AUSA's annual symposium in Washington while the testing and evaluation were ongoing. "That's exciting because that program and that effort — if we can actually connect sensors to shooters the way we envision — will enable all sorts of things in the future … [and] some of the things being worked on at Project convergence, for example, about how to connect intel sensors and shooters rapidly and win that long-range fires fight."
IOT&E included a series of operational flight tests at White Sands Missile Range, New Mexico.
"Throughout the 10-month period, soldiers operated IBCS in complex test environments encompassing a broad spectrum of attack and defense scenarios under realistic operating conditions, stressing the system as never before, and under intense scrutiny by U.S. Army independent evaluators," Northrop Grumman said in a press release on Tuesday.
The operational testing and evaluation included detecting, tracking and intercepting a "high performance" tactical ballistic missile and two cruise missile surrogates while the IBCS came under a "stressing" electronic attack, according to the company.
Additionally, the technology has been put through its paces at the Army's annual Project Convergence exercise to demonstrate its utility for defensive and offensive missions.
One experiment confirmed the system's ability to communicate with a missile in-flight by integrating with a new interceptor uplink.
In another experiment, IBCS was integrated with a variety of capabilities from multiple services including the Army, Marine Corps, Navy and Air Force.
"The Army successfully demonstrated the capability for IBCS to provide data for offensive fires for the first time in support of long-range precision fires objectives. IBCS rapidly integrated a U.S. Marine Corps sensor, Marine Expeditionary Littoral Persistent Sensor (MELPS), allowing information to disseminate to the U.S. Navy's Cooperative Engagement Capability (CEC) fire control network. Additionally, there was an airspace command and control (AC2) interface with the U.S. Air Force to provide increased situational awareness," per the Northrop Grumman release.
The company has "connected multi-service capabilities to enhance all-domain detection, tracking and engagement in the battlespace," it said. "With each successful experiment and rapid integration Northrop Grumman proved Joint All Domain Command and Control (JADC2) can be a reality, allowing the U.S. Joint Forces and Allies to act as one resilient force."
Bill Lamb, program director at Northrop Grumman, told DefenseScoop that at PC 22 the company's technology demonstrated its ability to serve as a "bridge" between multiple systems across multiple locations including California's Camp Pendleton and March Air Force Base, and Joint Base Lewis-McCord in Washington state.
The exercise "allowed us to demonstrate a truly joint service air picture and pass the track data over the network," he said in an email.
The system was designed to have a modular, open, and scalable system architecture that can integrate current and future capabilities "regardless of source, service, or domain," according to Northrop Grumman.
In December 2021, the contractor landed a $1.38 billion contract for both low-rate initial production (LRIP) and full-rate production of IBCS, with a five-year performance period.
The company is expected to deliver up to 160 systems to the Army and foreign partners, including Poland.
The technology is currently in LRIP. For Poland's WISLA program, Northrop Grumman is on track to meet an initial operational capability by next year, Lamb said.
The completion of IOT&E is the last major test hurdle before the U.S. Army makes its decision about whether to transition into full-rate production (FRP).
Lamb told DefenseScoop that Northrop Grumman is "fully positioned" to move directly into FRP.
In a release last year after the contract was awarded, Program Executive Office Missiles and Space said the contract will enable the program to "seamlessly ramp up production to meet Army fielding priorities" after a FRP decision is made.
Lamb said Northrop Grumman expects that the Defense Acquisition Board will make its decision in "early 2023."
The IOT&E exercises, which included "realistic operational scenarios" and flight testing in "challenging scenarios," were run by the Army independently, he noted.
"We don't have access to all of the data they are reviewing. However, based on the results that we have been able to observe, we would identify IBCS as being successful. We are very confident in the ability of IBCS to serve as the centerpiece of the Army's Air and Missile Defense program," Lamb told DefenseScoop.
Meanwhile, the Army has been touting the technology's potential.
"IBCS is a keystone Army Futures Command program that will provide a decisive battlefield advantage through weapon and sensor integration and a common mission-command system across all domains, delivering an integrated fires capability to the warfighter while improving battle space awareness, decision timing and protection against threats in complex integrated attack scenarios," PEO for Missiles and Space said in a release.
The program has been underway for some time. The engineering and manufacturing development contract was awarded back in 2009, but the project was delayed several years as the desired capabilities for IBCS expanded beyond the initial vision and the program confronted software development challenges, according to Defense News.
At the AUSA conference, Bush acknowledged that it's been "a long program," but added that things are "coming together" and IBCS will be one of his focus areas in fiscal 2023.