Quad partners work to boost Indo-Pacific domain awareness as concerns mount over a Chinese spy balloon fleet 
The U.S. and its allies are working to "show the receipts" of what's happening in those increasingly contested waters, senior officials said Thursday.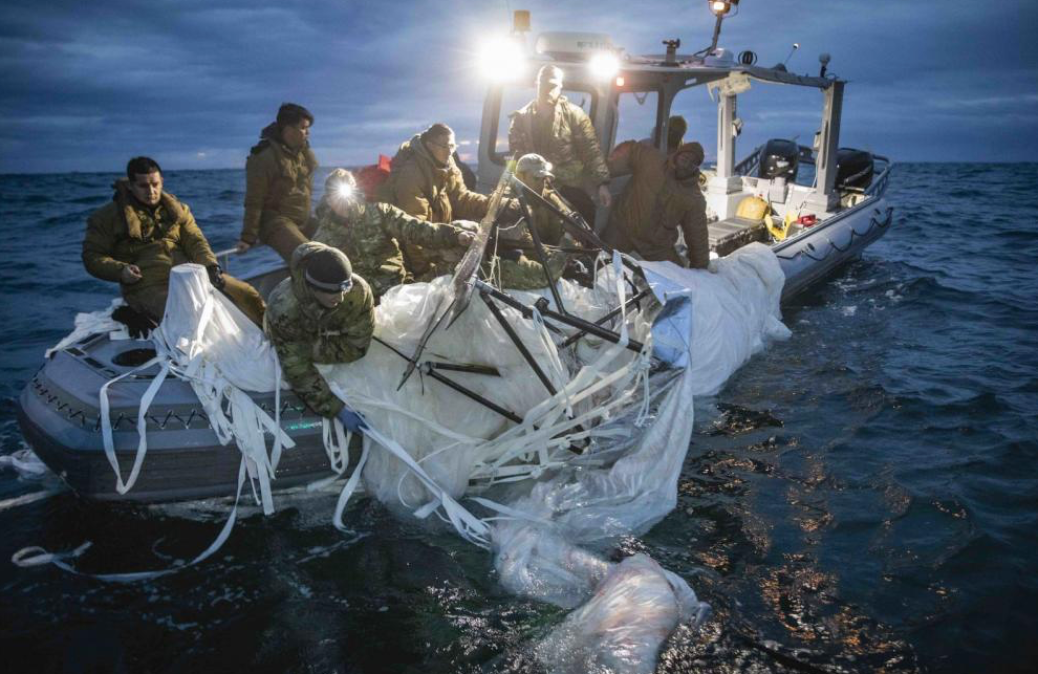 Last month's attention-grabbing saga involving the reported Chinese spy balloon that traversed the continental United States, before the U.S. military shot it down shed new light on operations the People's Liberation Army is conducting "globally" to surveil nations outside of China's territory, senior Pentagon officials said Thursday.
As U.S. tensions with China remain strained in the incident's aftermath, the Defense Department is deepening communications with its international partners in the Indo-Pacific region, according to Assistant Secretary of Defense for Indo-Pacific Security Affairs Ely Ratner and Deputy Assistant Secretary of Defense for South and Southeast Asia Lindsey Ford.
During an event hosted by the Hudson Institute, the officials spotlighted the nascent Indo-Pacific Partnership for Maritime Domain Awareness (IPMDA) initiative, which leaders of the Quad Security Dialogue nations — Australia, India, Japan, and the U.S. — agreed to last May at the 2022 Tokyo summit. Broadly, IPMDA is designed to enable a near-real-time, integrated, and cost-effective maritime domain awareness "picture" to help the nations involved fully monitor the waters and shores in that increasingly contested Indo-Pacific realm.
"Let's actually show what's going on in the region," Ford said at the event.
DOD, intelligence community and administration officials have individually maintained that the equipment on board the massive, now-grounded balloon was associated with intelligence surveillance activities steered by the Chinese military — but they still have yet to provide hard proof of its capabilities.
In response to questions Tuesday, Pentagon Press Secretary Pat Ryder told DefenseScoop that he'd let the publication know if DOD has new imagery or information to share in the near future, but that there was nothing to report at that time. In that vein, at the event on Thursday, Ratner also noted that "because of the nature of the spy balloon, this is inherently an intelligence issue" and is therefore being handled secretively by the government.
"Obviously, much of the balloon itself and the associated equipment was recovered in salvage operations and is being examined very carefully now by the FBI and other elements of the intelligence community and the U.S. military — but we want to do that carefully. And at the appropriate time, we'll be able to share the findings associated with that," Ratner said.
Though Ratner also did not get into specifics about the possible "spying" technologies the balloon was equipped with, he reiterated the Pentagon's previous claims that "there's no ambiguity" that it was being used "for intelligence surveillance." He added that the entire incident — and still-ongoing absence of communication with the People's Republic of China, despite multiple requests from the U.S. — is "destabilizing and dangerous."
The balloon shot down over the U.S. East Coast is part of "a broader fleet of capabilities that we know the PRC has developed to conduct surveillance operations," Ratner also confirmed, noting that other alleged Chinese balloons in that fleet have flown over more than 40 countries and across five continents.
"So this was not just an isolated incident — and I have not heard a plausible explanation for this activity," he said.
Both Ratner and Ford pointed to ways the PRC conducts efforts that appear to "violate sovereignty" of other countries but vehemently denies its actions publicly.
"So for example, you saw back in the wintertime, there was an incident in which PLA rocket debris fell into Philippine waters, so Philippine fishermen went and were recovering it. Then, the Chinese came in and essentially ripped it away and drove off with it — and when the Philippines tried to come out and say what had happened, the PRC basically said it was 'fake news.' But the Philippines said 'here's the receipts,' and they put it up and showed the video [of what happened]. That kind of transparency for the United States and for other countries, I think, is a big part of what we're trying to do," Ford explained.
Those happenings, and the balloon fleet, are all "part of why the Indo-Pacific Maritime Domain Awareness Initiative is important," she added.
A version of IPMDA has been in the works over recent decades, but only now is finally materializing.
"Essentially, we are working through new emerging technologies — including commercial radio-frequency technologies — to create a common operating picture that is much more comprehensive and facilitates for our partners real-time data on what is actually going on in the maritime domain, that folks can see bilaterally and that we can begin to share multilaterally in the Indo-Pacific region," Ford explained.
With data and information captured by and to be shared across the Quad partners' militaries, the initiative is ultimately intended to provide a more thorough view and grasp of activities there.
"Think of it as the countries maybe had like two 'layers of a cake,' in terms of what they could actually see happening in the maritime domain — and suddenly they're looking at a seven-layer cake, in terms of the data that they're [getting]. And instead of waiting an hour for that 'cake' to be baked, it's served on a plate immediately. That's sort of what we're talking about here," Ford said.
The IPMDA kicked off in Southeast Asia, so far, but the Pentagon envisions "rolling out this kind of information and data streams elsewhere in the region," Ford added.
"What that does is it enables things like, for example, ships who've turned off [their ​​Automatic Identification System] signals — so they've gone dark and you may not have been able to see them in the path — now you can because technology has evolved to a degree that you can't essentially do these things actually in the dark anymore. And so this for us is just a way of saying, 'Hey, let's all see the same thing. Let's all understand what's going on so that we can't have countries who essentially are denying what's actually occurring,'" she said.
A Pentagon spokesperson briefly provided DefenseScoop with a few more details on the maturing initiative Thursday afternoon.
"It harnesses cutting-edge technology, including commercial space-based platforms, to deliver a faster, wider, and more accurate maritime picture and empower our partners to respond to a range of challenges — from trafficking and illegal fishing to natural disasters," the spokesperson said.
The initial IPMDA pilot programming by the U.S. offers the regional partners access to radio-frequency-derived satellite data, which is meant to deliver a faster and more accurate maritime picture than existing systems.
"We will continue to work with innovators from across the region to refine our approach and develop innovative solutions to the maritime domain awareness issue set, including through holding technology challenges," the spokesperson told DefenseScoop.
In his annual Message to the Force — also released Thursday — Defense Secretary Lloyd Austin alluded to the military's growing need to "out-innovate" its "increasingly aggressive" pacing threat of China, and other adversaries via emerging and disruptive technologies.
"We are strengthening our deterrence posture in the Indo-Pacific by developing new concepts and capabilities, deepening our alliances and partnerships, and expanding our activities and operations," Austin wrote.