PACAF establishing new intel-sharing mechanisms to enhance all-domain awareness with allies
Gen. Ken Wilsbach discussed this plan as a key element of the command's new official strategy to guide operations through 2030.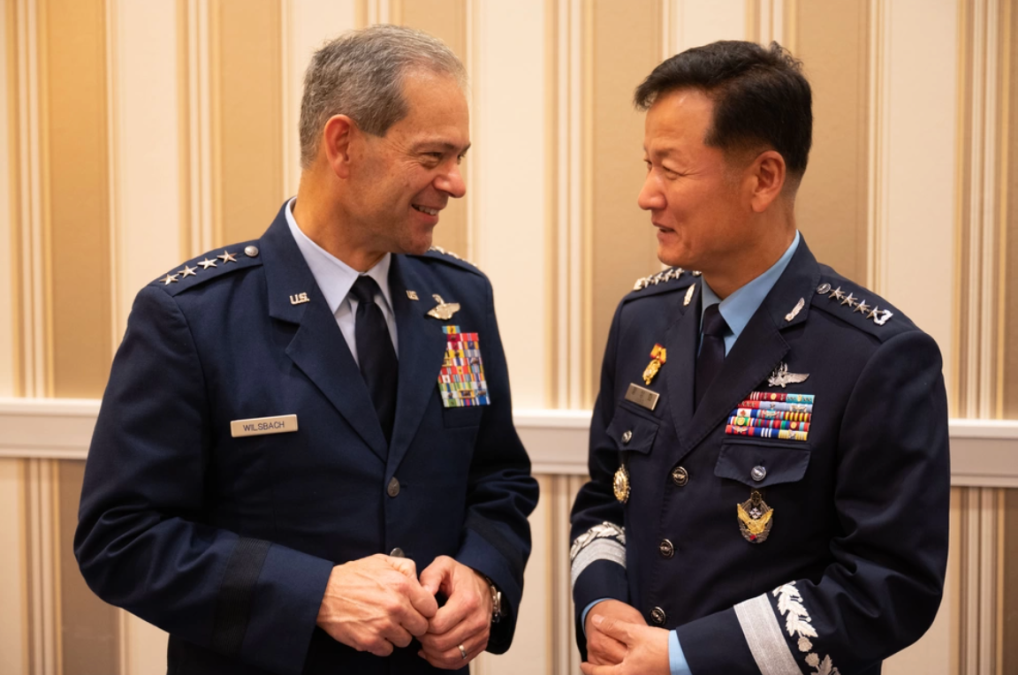 NATIONAL HARBOR, Md. — The Pacific Air Forces component of U.S. Indo-Pacific Command is strategically entering into new information- and intelligence-sharing agreements and establishing new connection channels with multiple international partners to cooperatively strengthen their awareness across all warfare domains.
PACAF chief Gen. Ken Wilsbach discussed this plan as a key element of the command's new official strategy to guide operations through 2030. Notably, he emphasized how his team is prioritizing security in their pursuit of these new information-sharing arrangements and efforts.
"The discussions are pretty easy. The papers are pretty easy. It's the protection of the information that we want to be safeguarded — that, we have to ensure. And so that's why things go fairly slowly, but we are kind of trying to come up with additional computer networks where we can work on [those] computer networks together," Wilsbach told DefenseScoop during a media roundtable at AFA's annual Air, Space and Cyber conference this week.
PACAF is charged with helping supply continuous air, space and cyberspace capabilities in the Indo-Pacific, where the U.S. military and its allies view China as the top threat.
"We know that [China's military is] working on attacking our logistics. We know that they're working on attacking our communications — because if you can take out those two things, you make agile combat deployments difficult," Wilsbach explained.
"The Chinese would love to have a fight that would be the China versus U.S. fight because that makes their math pretty easy. [But] when you make it China versus the U.S. — plus the other countries that will likely be with us — their math gets pretty hard to do," he said.
In the new PACAF Strategy 2030, which Wilsbach unveiled during the roundtable, officials state that the world is moving into a "pivotal era" and any actions made in the critical region will influence the social, economic and security conditions there "for the foreseeable future."
Competitors including "the Chinese Communist Party, the Russian Federation and the Democratic People's of Republic of Korea," namely, are seeking to undermine international rules and order, while violent extremist organizations are posing new risks to peace in that area, according to the document.
That's all part of the reason why, as the strategy notes, PACAF is moving to sign new intelligence-sharing agreements with international partners and allies to strengthen defense capabilities and detection tools against air and maritime threats.
When asked by DefenseScoop what nations the command was eyeing to deepen all-domain awareness integration, he responded: "A lot of it is classified, and so I probably don't want to reveal too much."
Still, he shed some light on what his command is really envisioning.
Currently, PACAF "probably has the best and most robust sharing" capacity with Australia, and then the United Kingdom, Wilsbach said. But more recently, certain European nations — like France, Germany, the Netherlands and Italy — are showing increased interest in furthering information-sharing with the U.S.
"The reason why those European countries have been interested in the Indo-Pacific is because they see some of the poor behavior that China has exhibited in our region. And those European countries have Indo-Pacific interests and they want to demonstrate that they're willing to defend those interests, if they have to. So, I'm really thankful for our European partners that have shown interest in the Pacific," Wilsbach noted.
His team is striving to "increase the amount of sharing" that exists within existing alliances there, which include Australia, Japan, South Korea, Thailand and the Philippines.
"With the Philippines in the recent dust-up around some of their islands with the Chinese Coast Guard — we want to be able to share more," Wilsbach said, alluding to recent attempts by China to harass members of the Philippines' military as they were embarking on resupply missions to their outpost at Second Thomas Shoal.
The PACAF chief also pointed to heightened tensions and military clashes in the last few years on the border between India and China.
"We've shared quite a bit of intel with [India] that they've been appreciative of. But we want to expand it beyond just that intelligence about China vis-a-vis India, but much more broadly than just the border region," Wilsbach said.
In response to DefenseScoop's questions, he also repeatedly emphasized how his team is working fervently on the front end of establishing this deeper collaboration with other nations to ensure any information and intelligence exchanged is done so with extensive security.
"One of the conundrums on sharing is we have to make sure that that information that we share doesn't get propagated out," Wilsbach said.
In that light, his command is looking to set up "additional computer networks" to connect safely with partners and allies in the region.
"We had a chance to work with Australia and Japan this year, of course. We already have a network that's very robust with the Republic of Korea. And we're trying to bring more and more of those together so they can be multi-country versus bilateral countries. And so all of these things are things that we desire and are working toward. It's slow going, but we're making improvements," Wilsbach told DefenseScoop.