US Army working to plug European allies into forthcoming JADC2 networks
Gen. McConville has been a proponent of "combined" Joint All-Domain Command and Control. However, there are challenges associated with that.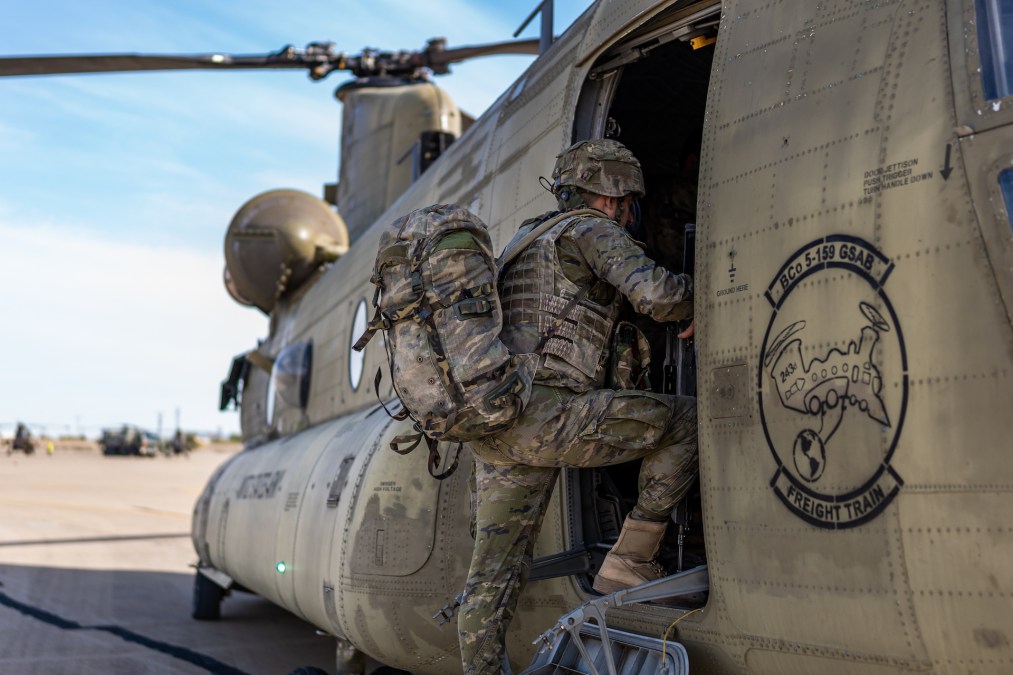 American Army leaders and other Pentagon officials have high hopes for the U.S. military's future warfighting paradigm known as Joint All-Domain Command and Control (JADC2). A key piece of the puzzle, and a challenge that must be overcome, will be connecting European sensors, weapons and communications capabilities into an integrated allied network — and using artificial intelligence to make it all happen.
"Everyone understands" the need to leverage AI for military applications, Army Chief of Staff Gen. James McConville told DefenseScoop on Friday during a media teleconference from the sidelines of the annual Conference of European Armies that's being held in Germany this week.
"There's a lot of things that it can do for us. It can do predictive maintenance, it can help us with targeting, it can help us with robotic vehicles, both air and ground. And so those are, you know, things that we take a look at. But the technology itself, and what most we're interested in … as we modernize our command-and-control systems, [is] that we can continue to conduct those to pass data at the speed of relevance and make sure we don't move ahead of each other. And … as we have our modernization priorities, for most of the leaders over here [in Europe], they are very interested in ensuring that we can do command-and-control operations together and that we can pass data so we can take advantage of the sensors and shooters that we have in theater," McConville said.
Army forces on the continent have been conducting exercises with international partners, including earlier this month, to test C2 capabilities.
British troops were also involved in last year's Project Convergence experiments, which were part of an ongoing campaign of learning that's part of the U.S. Army's contribution to JADC2. Additional international partners are expected to be part of next year's Project Convergence capstone event.
"We talk about convergence, which is the ability to take multiple sensors and bring them into an integrated battle command system, and then use artificial intelligence to quickly pass that data and those targets to the appropriate arrows," McConville explained.
Counter-drone efforts are an example of an area where the concept and related technologies could be employed.
In such a scenario, the Army would want to make sure its forces and those of its allies are employing "the right weapons systems" together to defeat adversaries' unmanned platforms. "And that can run anywhere from lasers to high-powered microwaves to … THAAD type, Patriot-type systems. And we see that as the future. And so they are very, very interested in working with us as we move forward in those endeavors," he said.
McConville has been a proponent of "combined" joint all-domain command and control, or what he calls CJADC2, to include international partners. However, there are challenges associated with that.
"What it comes to is the ability to pass data. And, you know, we all have our command-and-control systems and we're not going to replace them all to do that. So how do you do that? And how do you do it in a contested environment?" he said.
"You want to have a resilient [communications] path. You know, we talked about data fabrics and data networks, vice [traditional C2] chains, is really what we're trying to get to. So we want to have the ability to tie together, you know, current systems, the new systems and systems that all our partners have. And that's the challenge. And then you've got to be able to do it in an environment that is going to be contested. And that's why we're testing and that's why we're developing these systems to make that happen," he added.
Gen. Darryl Williams, commanding general of U.S. Army Europe and Africa, noted that the head of U.S. Army Futures Command attended this year's iteration of the Conference of European Armies. AFC is helping spearhead the service's modernization efforts.
"One of the great things about this conference which is different from the past, is that the chief tasked Gen. Jim Rainey to be here. He's our futures commander, as you know. And he helped reimagine and helped our partners think through the things that you're talking about," Williams told DefenseScoop during Friday's teleconference. "We want to be able to fight and win our nations' wars, all of our chiefs want to do that. And as … my chief talked about fighting in a multi-domain operation, this is part of that as we go in the future. So, we're excited about the opportunities to work with our partners and our allies as we go forward in this space."