Berger: Marines need to 'make up ground' in incorporating unmanned systems into amphibious operations
With a renewed focus across the U.S. military on great power competition in the Indo-Pacific region, the Marines are trying to enhance their ability to conduct amphibious operations using AI.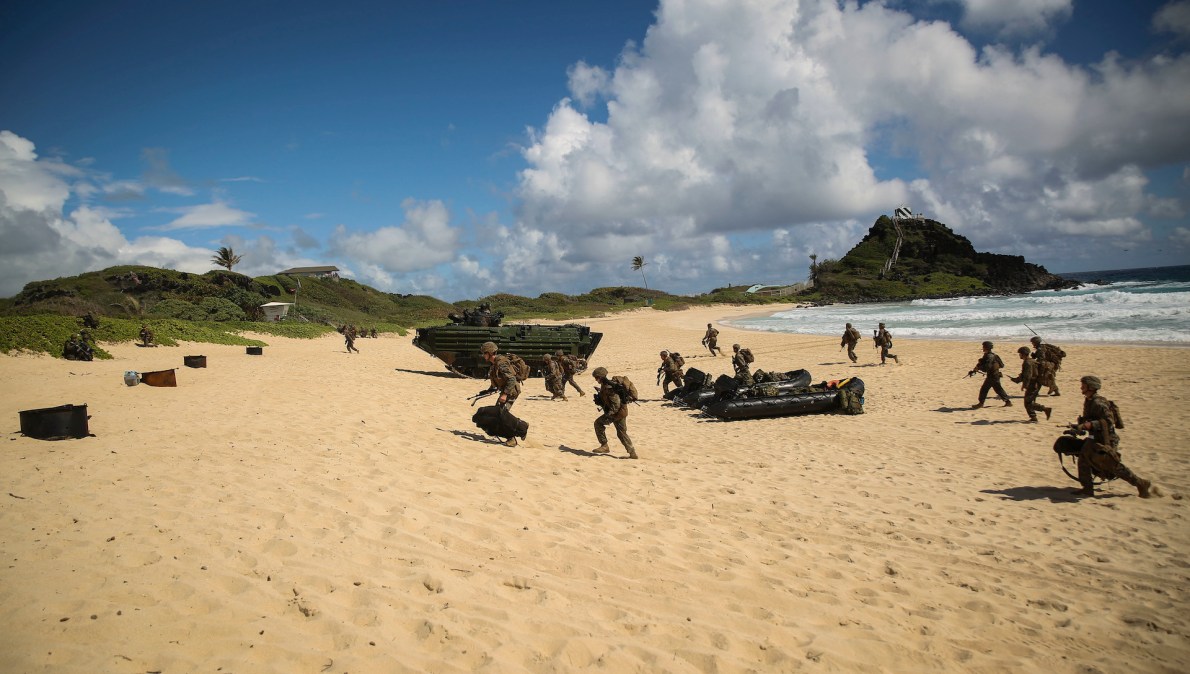 The Marines have an illustrious history of storming enemy beaches. But as it prepares for future conflicts, the service isn't where it needs to be for incorporating robotic systems into all stages of its amphibious operations, Commandant Gen. David Berger suggested.
In recent years, the Corps has been undergoing a transformation in pursuit of Force Design 2030, which includes acquiring cutting-edge tech and jettisoning older platforms, such as tanks.
However, "there's a lot of work there to do, more work in front of us [when it comes to] littoral mobility, artificial intelligence to improve battlefield decision-making, resilient sustainment webs in a contested environment — all of that and so much more," Berger said Tuesday during a keynote address at the Modern Day Marine conference.
With a renewed focus across the U.S. military on great power competition in the Indo-Pacific region, the Marines are also trying to enhance their ability to conduct amphibious operations.
"Unmanned surface and subsurface craft — we've got to make up ground there both in the pre-landing, pre-assault and post" landing phases, Berger noted.
The Corps needs to look at incorporating robotic systems "from the very beginning," including for intelligence, surveillance and reconnaissance (ISR) efforts, such as hydrographic surveys and meteorological surveys and overhead watch.
"I think that's where it begins — the pre-assault, pre-amphibious landing, [determining] what do the potential beaches look like, what does it look like inland? All that unmanned as much as possible," he told DefenseScoop at the conference.
The next stage is moving units, supplies and equipment from ship to shore via what Marines call "connectors."
If uncrewed platforms can't help with that, "then we're just stuck with the LCAC [landing craft air-cushion platforms] cycling back and forth, back and forth, back and forth [to drop off and pick up materiel]. If that's your limiting factor, how can you augment that with unmanned craft? How could you triple, in other words, the volume of equipment and the space that you can do it using unmanned?" Berger said.
Once troops push inland from the beaches after landing, rotary-wing drones could potentially help transport supplies and equipment to them from ships at sea, so the Marine Corps wouldn't have to rely on manned aircraft such as CH-53K helicopters, he noted.
There are two key reasons for using unmanned platforms as much as possible for amphibious ops, according to Berger. "One, why put a human there if a machine can do just the same? And two, you can generate a lot more tempo, cover a lot more territory if you're combined unmanned and manned," he explained.
"How much of all that can be done unmanned — all of it from the pre-assault all the way through, I think, through the sustainment, all of that? Lots to learn for us. We don't know where it leads us, but the potential is there," Berger said.
The Corps also needs Marines who are knowledgeable about AI, he suggested. The service earlier this year established its first-ever software factory in Austin, Texas, to enhance its in-house software development capability.
"I don't know if we need to expand the software factory, but I think it's becoming more apparent that there will probably be a need to … code at the edge. I think that's becoming more and more likely. There will be reach-back capability, but I think to do our reconnaissance [and] counter-reconnaissance effort, it will very likely mean that we have to code forward," Berger said.
AI and machine learning could serve as decision aids for Marines and assist with targeting. But Berger emphasized the need to pursue the technology for logistics.
For example, predictive maintenance is one area where the aviation component is ahead of other elements of the Marine air-ground task forces, he noted.
"Artificial intelligence can help us in readiness, in mobility, in sustainment, in all of the functions of logistics. And we can do that in a way that enables us to sustain the force better than we can do it today. So, I think artificial intelligence will help in fires, it will help as a decision-making tool. But where we apply it will matter. And I think those of us who believe that contested logistics is a huge driver in how we're going to operate in the future, we need to apply artificial intelligence to that function of warfare," Berger said.