Modern 'triad' aims to fill capability gap, help US military compete with adversaries
Officials believe the modern triad — combining space, cyber and special operations — will provide policymakers a key capability for deterring adversaries and preventing escalation.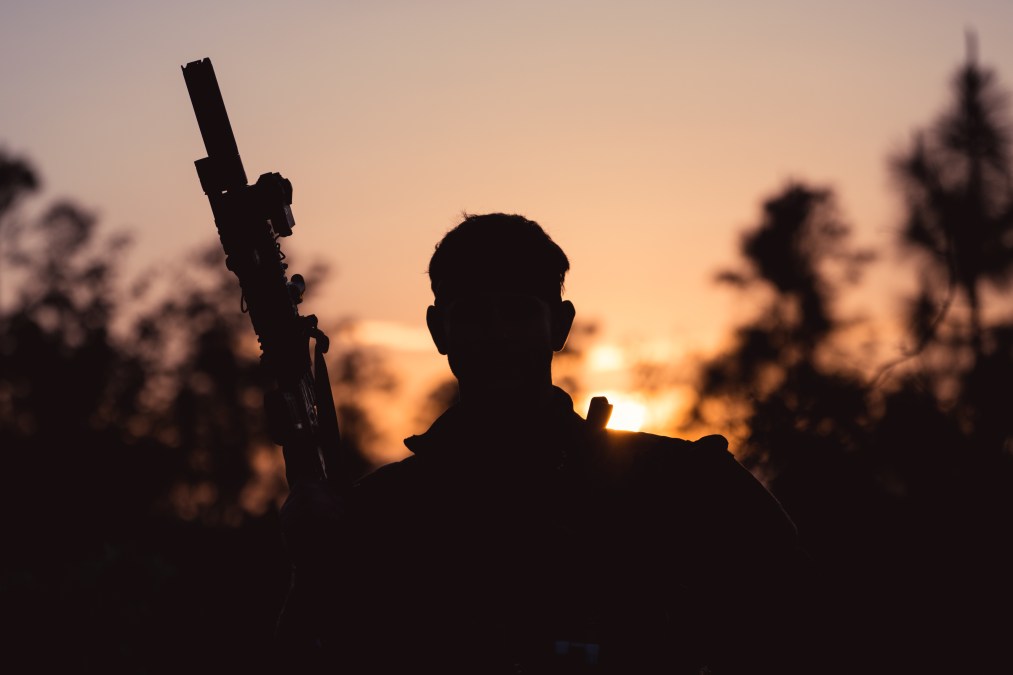 The "modern triad" — a combination of space, cyber and special operations capabilities — is needed to address the new paradigm of activity that is occurring below the threshold of armed conflict known as the competition space or gray zone, officials say.
Unveiled last year, the Army has begun exercising and demonstrating this concept in which its components pair their unique capabilities that span across the globe to provide integrated packages for commanders.
"The reason we coalesced around the term 'triad' because it means so many things. Again, anyone who's our age or older can remember the … '60s, '70s, '80s — all that of where 'triad' just meant so many different things. It meant deterrence theory, it meant the three different legs of the [nuclear] triad, it meant tactics, techniques and procedures, it meant developing actual weapons systems, it meant contributing towards deterrence theory," Lt. Gen. Jon Braga commander of Army Special Operations Command, said during a presentation at the Space and Missile Defense Symposium on Tuesday.
He continued: "My proposal is that the same thing is needed today in competition … from the modern day triad, because our adversaries are actually using against us to impose doubt and cost and coerce — in some cases, [to] assure their own friendly network, but certainly to deter us from actions."
Unlike the United States, which has long viewed conflict under the binary states of war and peace, adversaries have viewed it as a continuum seeking to achieve their objectives without firing a shot. As such, America's competitors have begun to be more active in this gray zone sphere, leveraging non-kinetic capabilities such as cyber, electronic warfare, intelligence, information and influence operations in order to subvert the U.S. and its allies, officials say.
The new modern triad is one way the military has sought to address this paradigm shift and provide commanders additional capabilities to combat adversary activity.
In February, the Joint Staff published a concept for competing in this gray zone or competition space, formally recognizing the Department of Defense is engaged in a competition on a daily basis below the threshold of all-out war or conflict.
Braga noted that from observations in Ukraine, there has been an ongoing game of escalation as new capabilities and offensives are presented.
The capabilities of the triad can help manage escalation and possibly deter actions — either below the threshold of conflict or during conflict — or prevent situations from getting worse, he suggested.
"When you bring on a new piece of equipment, a new weapon system, a new technique, it's a question every time for policymakers: 'Are you contributing towards escalation or towards deterrence?'" he said. "We have to be better at developing those capabilities for the policymakers and being able to deliver on those effects in order to make informed decisions that we look at a larger contribution to actually strategic deterrence there."
Braga is concerned about not only winning potential high-end conflicts, but also preventing them from breaking out in the first place.
"That's what's before us," he said. "I really think the weight of that burden, while not 100% on the legs of the triad, we certainly have a major role to play in that, an outsized ability to influence and prevent and contribute towards deterrence in this modern day triad."
For a real-world example of how these capabilities have demonstrated tangible results, Braga pointed to Ukraine.
"Jump forward to Ukraine and look at everything from one-way attack drones to the use of satellite communications to help assist with deep sensing, the use of cyber effects, … information ops," he said. "Sixteen-thousand Russian soldiers have deserted, 16,000 have been taken off the battlefield without having to expend kinetic rounds. That's by a combination of effects, delivery effects, I would suggest, that have been assisted by space capability, cyber capability, human capability and just old-school information operations there. That's a dramatic effect. That has few comparisons even dating back to some old information ops in our World War II chapters when we worked very closely with our Brit partners there."
Others have noted that the capabilities the triad can provide to commanders and policymakers will present new and more complex problems to adversaries.
"When confronted with a constantly changing situation, then our leaders can employ the triad to create new combinations of capabilities, methods and effects to pose new dilemmas for the adversaries," Lt. Gen. Daniel Karbler, commander of Army Space and Missile Defense Command, said. "The triad is valuable in competition as commanders have to consider the possibility that overt military action may escalate towards armed conflict … The combined use of space, cyber and SOF capabilities provides other options to commanders that are less likely to cause escalation. Triad capabilities can provide commanders with options to defeat, destroy, disrupt, or manipulate energy networks, information and decision-making."
Karbler noted that the triad has advanced beyond concept and the Army's components have been exercising it and developing tactics.
"When you look at what the triad demonstrates and its ability to integrate, synchronize space, cyber, SOF capabilities at the most effective tactical echelon, and then it expands options for creating advantages to exploit — that's what commanders are looking for. That's what our ground commanders [are] looking for. That's what the joint force is looking for," he said.
At the four-star, joint combatant command level, U.S. Special Operations Command has begun to take note of what the Army components have done and is examining it to see if it applies to its mission.
The other services haven't exactly created a formalized "triad" to date, though officials pointed to the fact that Marine Corps Forces Cyberspace Command also serves as the service's space component. It also conducts cyber operations for Socom through its responsibilities to U.S. Cyber Command under what's known as Joint Force Headquarters-Cyber Marines.
For its part, the Navy's 10th Fleet/Fleet Cyber Command is also the service component for space as well, taking an integrated approach to cyber and space capabilities.
Non-kinetic capabilities can help provide commanders a greater understanding of the battlespace to make more informed decisions.
"One of the biggest things that I think from my perspective, when I'm thinking about the competition sphere, is what can I produce for Gen. Braga and Gen. Karbler in terms of situational understanding of what the environment might look like," Lt. Gen. Maria Barrett, commander of Army Cyber Command, said. "It could be the cyberspace environment, it could be the electronic warfare environment, it could be the information operations environment."
Conversely, those leaders could bring their insights to Army Cyber, which through its big data platform can make sense of the information from sensors and data sources.
"If you've got a big data platform that can do things at a classified and unclassified level and I can take things off of sensors that … produce something that is then layered and makes sense, now you have an understanding of what is happening in the competition space at a level that maybe previously you did not have," Barrett said. "That sets the conditions for delivering effects in crisis and conflict."
While there aren't any overt examples from the U.S. side of the triad's uses or successes, likely given the classified nature of these operations and capabilities, Barrett noted that she's seen practical examples within Central Command.
Officials noted that each component of the triad won't always be featured equally. Depending on the situation or problem, it could be one or two that play a bigger role.