Army to seek industry input as it looks to reduce command post footprint for C2 on the move
The Army wants contractors to help bring forth new technologies to enable units to communicate on the go.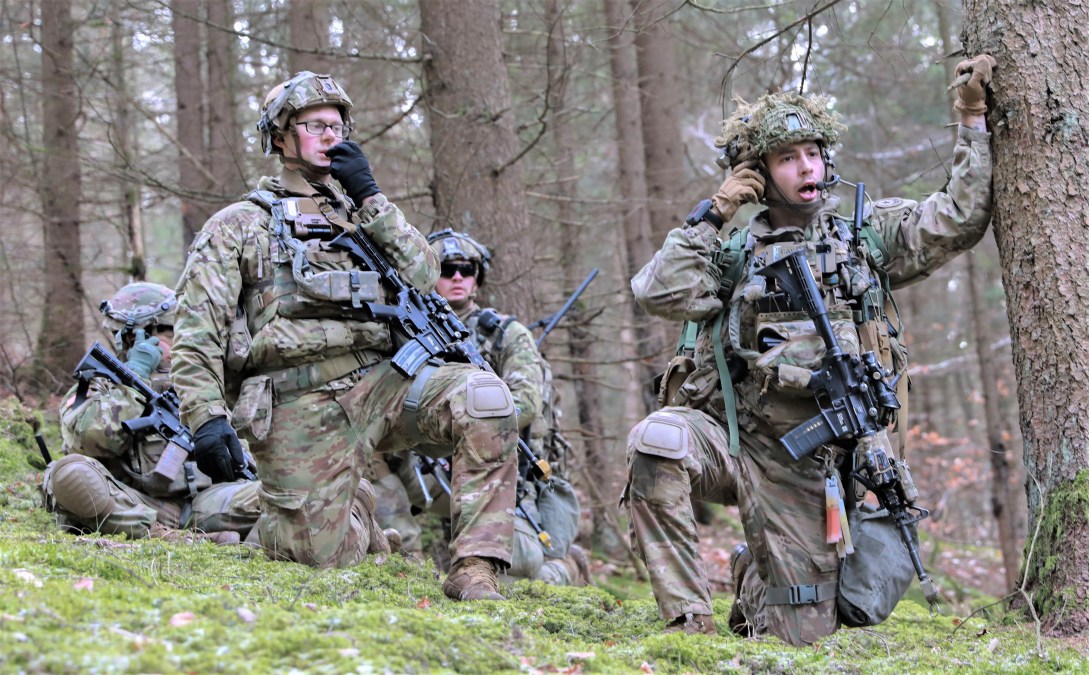 AUGUSTA, Ga. — The Army will be soliciting industry over the next year for potential options to reduce the footprint of command posts for larger units and echelons.
Command-and-control on the move is a key area the Army is turning its attention to as it continues its phased approach for modernizing its battlefield and communications networks. In future conflicts, military leaders anticipate that units likely won't have time to stop and establish communications or command posts the way they had in the past. As a result, forces are going to require technologies that allow them to perform their missions and communicate while on the go.
"We've got to look at the command post as a holistic capability, not just a truck, not just a vehicle, not just an application, not just data. We've got to look at the command post as something that is living, breathing and evolving," Mark Kitz, program executive officer for command, control, communications-tactical, told DefenseScoop at the TechNet Augusta conference last week. "Within the next year, you're going to see a couple of opportunities to industry for them to provide us options and how we would architect a command post in a much smaller footprint for the armored brigades, for the infantry brigades, even for our divisions that need to jump in a much more rapid way."
These efforts are associated with his office's Command Post Integrated Infrastructure (CPI2) initiative, which aims to improve the mobility, scalability and survivability of Army command posts.
Kitz said over the next year, there will be opportunities for industry to design and potentially prototype how to deliver a command post in line with the lessons learned in Ukraine, which is to say how to organize around large-scale combat operations.
Command-and-control on the move will be a focus area at the Army's upcoming technical exchange meeting in December, which will be the 11th iteration. These biannual events gather members of industry, the Army acquisition community, Army Futures Command and the operational community to outline priorities and capabilities to modernize the service's network.
When it comes to reducing the infrastructure in command posts to make units of all sizes more mobile, Kitz described an eventual desirable end state of compute on demand.
"One of the things that we're going to embark on also this year is a first instance in a cloud-first strategy," he said. "How we would leverage a cloud-first capability so that when I'm at the halt I can use the network to get to my data, [and] when I'm on the move I can use the network to get to my data. When I need to stand up a [tactical operations center] and I need that edge compute, I can do it in a much more smaller form factor, rather than procuring all these server stacks and giving them to all the units that they're only using them in certain scenarios in certain situations."
Kitz continued: "What I'd like to get to is more of a compute-on-demand model where they can service out their applications when they need to in the edge and operate on the cloud as their primary means of getting serviced applications and data."
The Army is planning a pilot to test on-the-move capabilities for armored units. The event is a follow on from a pilot conducted last February with 1st Armored Brigade, 3rd Infantry Division at Fort Stewart, Georgia. These units must maneuver quickly on the battlefield, but current communications architectures can prohibit them from doing so.
The next pilot, which is still out for bids, will involve a brigade from 1st Armored Division and look at specific formations and technologies.
At the last pilot, "we tested on the move and at the halt. I think the results of that came back that the wireless radio type solutions work great from the move, [but] SATCOM not so much. But at the halt and the tree line, SATCOM solutions work the best. Now I think we want to expand upon that," Matt Maier, project manager for interoperability, integration and services at C3T, told DefenseScoop. "If we go after specific formation appropriate vehicles with specific vendor solutions, I know there's a lot of interest in things like the new [low-Earth orbit and medium-Earth orbit] constellations, for example, how can we enable those types of technologies? Then could those be integrated into the larger CPI2 baseline? Those are some of the things I think we're looking for."
Other officials said the pilot will be looking at what is in the realm of the possible today regarding form factors and technologies that industry can bring forward now.