Army awards Microsoft $95M for additional IVAS 1.2 headsets, virtual trainers
The Army is gearing up for expanded testing of the latest variant of Microsoft's Integrated Visual Augmentation System.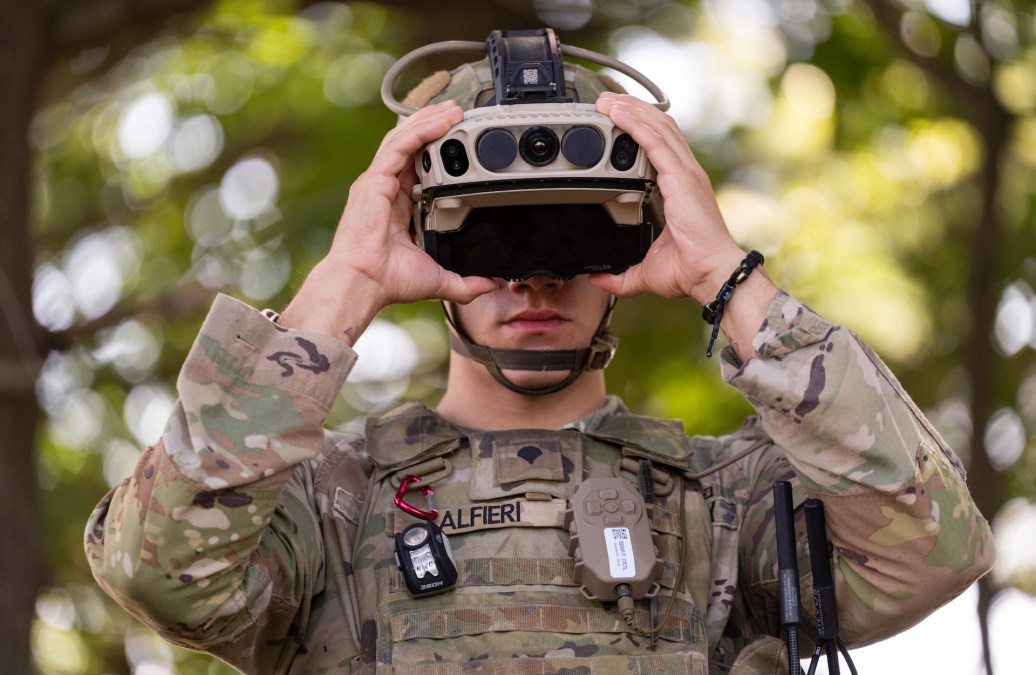 The Army is gearing up for expanded testing of the latest variant of Microsoft's Integrated Visual Augmentation System and has awarded Microsoft $95 million for the next stage of the program, DefenseScoop has learned.
IVAS is one of the Army's highest-priority modernization initiatives for its soldier system portfolio. The technology includes a ruggedized augmented reality and heads-up display system based on Microsoft's HoloLens 2 device. The service aims to use the capability for both training and battlefield operations for dismounted troops.
The new variant, known as IVAS 1.2, was developed to address soldier complaints stemming from testing of previous versions.
After receiving positive feedback from the initial cadre of troops that tested the system 1.2 in recent weeks, the Army's top weapons buyer gave the green light to order more systems for what he called "the next step in rapid prototyping."
"We fundamentally re-engineered the system to be a better fit for soldiers and how they do their infantry mission in terms of how they wear it, while also improving some of the technology problems with sensors and software. So, it's early, but early returns from some initial testing with soldiers at Fort Drum [in New York] was very positive. That gave me confidence to move to the next step in the rapid prototyping program for this," Assistant Secretary of the Army for Acquisition, Logistics and Technology Doug Bush told reporters during a roundtable at the Pentagon this week.
On Thursday, Program Executive Office Soldier told DefenseScoop that for phase two Microsoft has been tasked to develop and deliver 280 pre-production and "production representative" IVAS 1.2 systems and 11 soldier immersive virtual trainers to support planned testing during fiscal 2024, culminating in an "operational test" in fiscal 2025. The service has awarded the company $95 million for that effort.
The program could be worth as much as $21.9 billion if it comes to full fruition.
The Army is looking to potentially field an improved IVAS by the end of fiscal 2025.
The next phase of the effort includes "building more systems, and then doing more testing [of] it with more soldiers," Bush told DefenseScoop at the roundtable without providing more details about the quantity of additional systems that would be needed for that.
"We are though going in a step-by-step fashion. We're going to develop, test, develop, test, develop, test … and gather a body of knowledge that gives us confidence in the system before we … get into actual production, especially production at scale. So, it is a bit of a different approach than the first time around, but I think early returns are positive, which is a good thing to see," Bush said.
The augmented reality headsets are expected to give troops the ability to see through smoke, around corners, and in the dark using advanced sensors; leverage holographic imagery; and display 3D terrain maps and project a compass into a soldier's field of vision.
"I think the challenges we had the first time around were the software in terms of stability, you know, it just has to work better," Bush said. Sensors were also an issue.
"IVAS is attempting to be both kind of a night division device and an augmented reality device in one … What we call a NVD or night vision device, uses a tube to amplify the light. IVAS is doing that with effectively a night camera. So, we think this new version of that camera, apparently, in early tests performed very well," he added.
But the technology still needs to be put through its paces more.
"We have to see. So, you know, a camera can work really well when there's a little moon light. But then you go into a dense canopy of trees and it's pitch dark — how well does it work? I mean, this is the level of testing we'll have to get to," Bush said.
Soldiers had also complained about the fit and form factor of previous iterations.
"It had the giant cable coming out of the side … The giant cable is gone [now]. So, it's now really all in the head [gear] with a control device here that's connected with a very small wire. And we aspire to a wireless control so soldiers could put the controller anywhere. So it's not perfect, but we think this form factor … is just way closer to what is something [that's] really usable for an infantry soldier," Bush told reporters.
In July after the initial IVAS 1.2 systems were delivered, Microsoft told DefenseScoop in a statement: "Microsoft is collaborating closely with the U.S. Army to develop the next iteration of the IVAS headset that improves on earlier variants with a slimmer, lighter and more balanced form factor to greatly improve soldier comfort and performance. Our delivery of the initial set of IVAS 1.2 devices this month is three months ahead of schedule and part of our commitment to move with speed to deliver on this critical program."
However, if the company's tech ultimately doesn't pan out the way the Army hopes it will, Bush has suggested that the service could turn to other vendors.
"We have a requirement for a capability. So, I think this is on a good track. But were it to not work out, we would likely just do a new competition, perhaps with somewhat different requirements to see what else is out there, if there's other companies that could come to the table," he told DefenseScoop in July during a tech expo on Capitol Hill where an IVAS 1.2 system was on display. "I think there are other companies in this space … There's a lot of companies doing, you know, augmented reality and wearable tech. So, if we can't [go with IVAS], if it comes to that, I think we'd have a competitive environment to take advantage of."