Army moves to further automate its IVAS program's processes with bots
Via a new 5-year contract valued at $18.5 million, Aeyon will systematically automate and improve on dozens of processes and advance data-sharing to support cost, schedule, cybersecurity and other performance activities.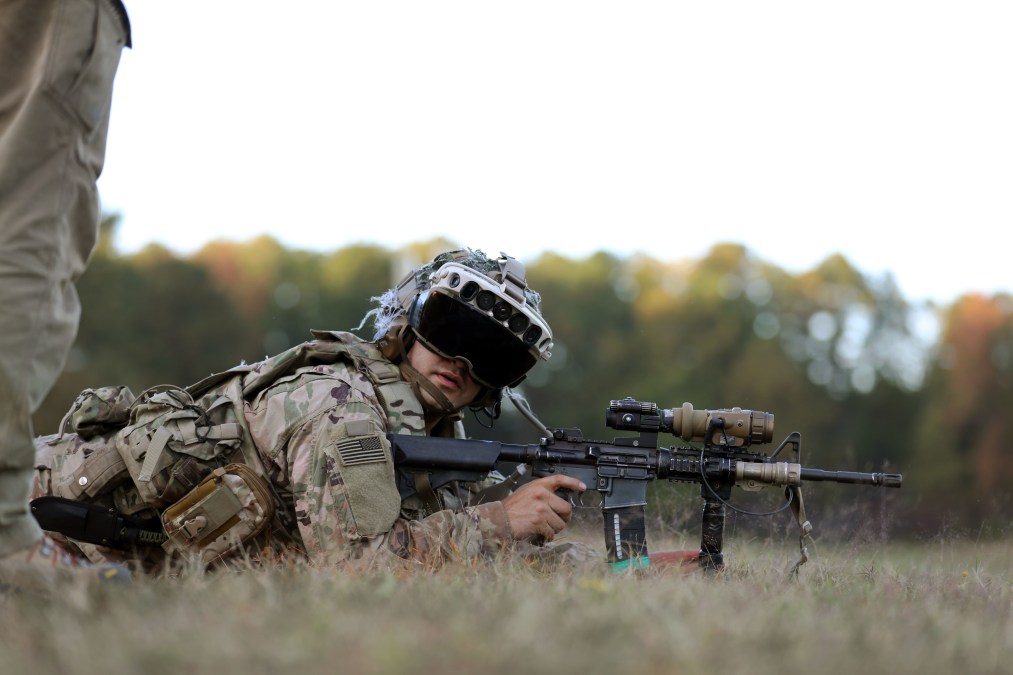 Digital services company Aeyon was tapped to design and implement new robotic process automation (RPA) tools — and advance existing bots — for the office that manages the Army's Integrated Visual Augmentation System (IVAS) program.
Through a new five-year contract valued at $18.5 million, Aeyon will systematically automate and improve dozens of processes and advance data-sharing to support cost, schedule, cybersecurity and other performance activities associated with the Program Executive Office (PEO) Soldier's Project Manager for IVAS, the Army's evolving campaign to innovate how soldiers fight and train by applying emerging augmented reality capabilities.
"Our goal is just to help the government save money and save time. [We want to help them] let their analysts be analysts, let their data scientists be data scientists — and take all their grunt work and automate all of it," Aeyon's President and CEO Sunny Singh told DefenseScoop in an interview.
Singh was only eight years old when he and his family came to the United States as refugees from India, under what he said were incredibly difficult circumstances. His father has been a cab driver in the D.C. region since that time in the 1980s, instilling a strong work ethic in Singh, who went after his dreams of being an entrepreneur immediately after graduating high school.
Aeyon is the conglomeration of four existing companies (one of which Singh originally founded) that merged together in more recent years. Collectively, the business works to provide RPA and other digital transformation technologies to the Pentagon and its military components — as well as NASA, the Federal Aviation Administration and other federal teams.
Singh confirmed that the company was an early subcontractor on the military's first IVAS contract back in 2018. "We were fortunate to be [among the first contractors] on the ground" since nearly the program's inception, he noted.
The CEO briefed DefenseScoop on some of the RPA successes the company has already helped enable with the PM IVAS. In one use case, Aeyon's technology helped reduce the time it takes government officials in that office to complete tasks aligned with financial analysis from 12 hours to 2 minutes.
"A lot of [that work involved] data-gathering — so you know, when you have data coming from all these different sources and different spreadsheets and different … sources, for us to be able to deploy bots that, without us having to do anything, just go in there and gather all the data that we need, and have it in one format and in one sheet where we can just display it and look at it the way that it needs to be displayed — that has been a tremendous savings" for the government, Singh said.
This new, five-year contract with the Army is separate from, but will build upon, that original RPA work. For it, Aeyon is the prime as opposed to a subcontractor.
IVAS marks one of the Army's highest-priority modernization programs within its soldier system portfolio. In 2021, Microsoft won a $21.9 billion contract to build IVAS for the Army, which plans to acquire about 120,000 augmented reality headsets in the next few years. Then, last month, the service awarded a task order to the tech giant for a new variant of that equipment — deemed as 1.2.
But the program has not matured without challenges.
Last October, for example, the Pentagon's Director of Operational Test and Evaluation reportedly found that soldiers who had recently experimented with the IVAS technologies suffered from "mission-affecting physical impairments" such as headaches, eyestrain and nausea.
Aeyon's latest IVAS-related RPA work is not associated with testing, or any other elements that could be connected to those concerns, Singh confirmed. Instead, the company's team will be working to boost processes associated with more of the "back office" demands in the PEO.
"They still have, like, a massive need outside of just the goggles themselves. There's a ton of investment that goes into it. I mean, again, the logistics of the parts that need to be built, the cybersecurity threats that come in — obviously, this is a program that's been in the news quite a bit that from the national security perspective we want to make sure that we're on top of that … So it's an entire office" with many processes to automate, Singh said.
He also noted multiple times that the company has no intention to stop here.
"We're hoping to expand. Currently, we're just working with IVAS — but we want to expand across all the PEO Soldier's Project Manager Offices," Singh said.