Saltzman: Space Force needs additional 'Skies' exercises to sufficiently train guardians
The current exercise tempo "is still insufficient," Chief of Space Operations Gen. Chance Saltzman told DefenseScoop.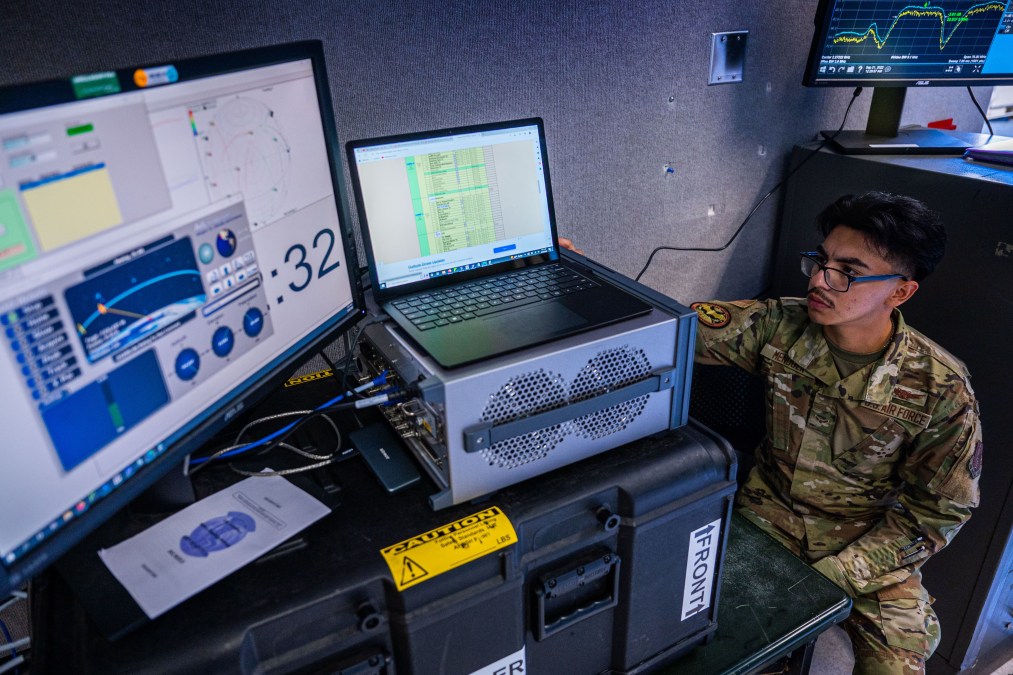 COLORADO SPRINGS, Colo. — The Space Force has begun a campaign of training events to prepare guardians for potential conflicts in space, and the nascent service is taking "baby steps" to increase the number of exercises done each year, Chief of Space Operations Gen. Chance Saltzman said Wednesday.
Known as the Skies exercise series, the live simulation training events are aimed at developing guardians' command-and-control skills. Space Training and Readiness Command (STARCOM) has already completed two exercises focused on live-fire electronic warfare operations — Black Skies — including one in September and another last month.
The current tempo "I think is still insufficient," Saltzman told DefenseScoop at a media roundtable during the Space Symposium.
"You're not going to have the throughput that really gets the number of guardians through those training exercises that I think is required to really advance the training and the skills of the broader set of guardians that we need," he said. "But baby steps — we're working through this as quickly as we can."
The next Black Skies exercise is now slated to be held sometime this fall.
STARCOM is also planning for two more live simulation exercises in the Skies series — Red Skies will focus on "orbital warfare," while Blue Skies will train guardians in cyber warfare.
Since taking the helm as the Space Force's top officer in November, Saltzman has made readiness one of his key priorities. That not only includes more frequent exercises, but the development of robust testing and training environments that leverage modern capabilities.
When asked by DefenseScoop if he thought the Space Force currently had the adequate training infrastructure to complete its upcoming Skies exercises, Saltzman said present resources are not enough.
"We are upping our resourcing to build the kind of testing and training infrastructure that we need, because right now it's not sufficient," he said. "In the areas where it is sufficient, it's not at the kind of scale to get to all the guardians that we need."
Lt. Gen. Stephen Whiting, head of Space Operations Command (SpOC), told reporters at a separate media roundtable that typical training for guardians involves training on the physical system itself and, in some cases, exercises conducted with simulations. However, those exercises are usually not able to accurately mimic the threats that the Space Force faces, he added.
"That's typically white carded or a tabletop discussion — like, 'What would you do if now there was a red threat that came up against you?' There's some value in all of that. We try to squeeze out as much learning as we can, but certainly that is not where we want to be," Whiting said.
Instead, the Space Force wants to leverage offline, simulated systems that use physics-based models to emulate the tools, environments and adversaries a guardian might encounter in a real-life battle scenario, he said.
The Space Force is requesting $340 million in its fiscal 2024 budget proposal to bolster its training capabilities. Saltzman said the service is looking to improve technology like high-fidelity simulators that give guardians reps and sets for their tactics, and range environments that can simulate adversaries and threat environments.
"That's where we're doubling down on the investments to really robust that out and be able to produce that at scale so all guardians have access to advanced training, get the skills on the valid tactics to be successful in a threat environment," Saltzman said.
Whiting also noted that because the space domain is thoroughly modeled in simulations by those that build the Space Force's platforms, the service should be able to accurately mimic the threat environment.
However, "we've struggled to get that done, and a lot of folks are working hard on that — including STARCOM and Space Systems Command," he added. "We've made some progress, but we just got to do better, and we owe our guardians and airmen a better training environment."