Space Force's latest 'Black Skies' training event focused on drone threats, joint operations
Black Skies live simulation training is aimed at developing Space Force guardians' skills in tactical space electromagnetic warfare operations.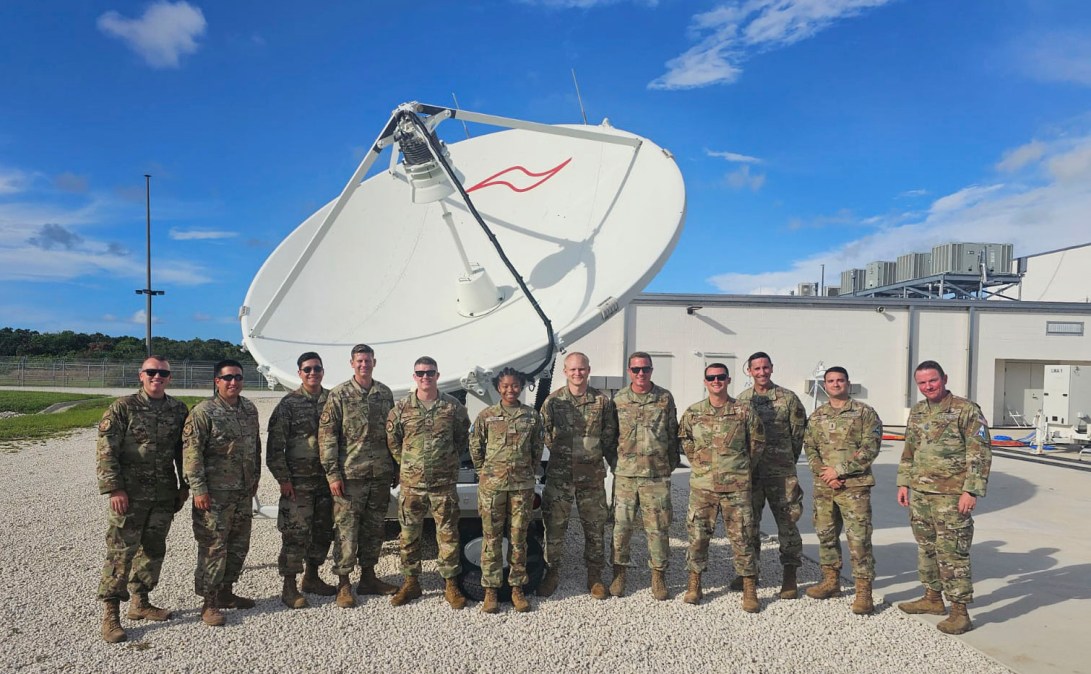 The Space Force recently conducted its third training event tailored for electromagnetic warfare operations — this time concentrating on defending against threats to unmanned aircraft systems and refining cross-service collaboration.
Known as the Black Skies exercise, the live simulation training initiative is aimed at developing Space Force guardians' skills in tactical space electromagnetic warfare operations. Black Skies is one of three iterations in the Skies series hosted by Space Training and Readiness Command (STARCOM); its others are Red Skies, focusing on "orbital warfare," and Blue Skies, which trains guardians in cyber warfare.
The latest training event, which was held in late September, focused largely on defending against simulated threats to drones, which were run by the Air Force 26th Weapons Squadron's Remotely Piloted Aircraft Electronic Combat Officer Course (RECOC), according to a Space Force press release.
At the same time, the Space Force looped in the Army for one of its Skies exercises for the first time. During the training, the Army's 1st Space Brigade participated by "processing multi-intelligence data from a diverse array of sensors," highlighting cross-service collaboration and operational planning, the release stated.
Like in past Black Skies exercises, September's event integrated "live-fire" training where guardians transmitted signals from Earth to real satellites in orbit. This time, the Combined Space Operations Center (CSpOC) was able to conduct command and control of different distributed units from multiple services, while also honing joint operational requirements, it added.
"Black Skies has been a massive success in training our forces and testing warfighting readiness," Lt. Col. Scott Nakatani, 392nd Combat Training Squadron commander, said in a statement. "The planning and execution team is small, but extremely talented and we will continue to evolve the delivery of realistic combat training to space warfighters."
Using real-world systems are crucial for space exercises, "as they provide a realistic training environment, allowing participants to better prepare for actual combat by engaging with real-world, operational space systems," the release noted. Guardians were also able to practice the same procedures in a closed-loop environment, which does not use physical space systems.
Overall, the third Black Skies event was STARCOM's largest thus far and included over 170 personnel from various units in the Space Force, Air Force and Army.
Hosting more frequent Skies exercises has been a key priority for Chief of Space Operations Gen. Chance Saltzman. He told DefenseScoop in April that the current training tempo is "insufficient," and that the nascent service is moving as quickly as it can to increase the number of exercises each year.
"You're not going to have the throughput that really gets the number of guardians through those training exercises that I think is required to really advance the training and the skills of the broader set of guardians that we need," Saltzman said during a media roundtable at the annual Space Symposium.
A Space Force release noted that focus is now shifting towards the upcoming Concept Development Conference, hosted by the service's 392nd Combat Training Squadron, that will outline exercises to be held in fiscal 2024.