Future Space Force training should include more live elements, STARCOM commander says
Although much of the service's efforts have been focused on simulations, the mission still demands that guardians be trained in live scenarios, said Maj. Gen. Shawn Bratton.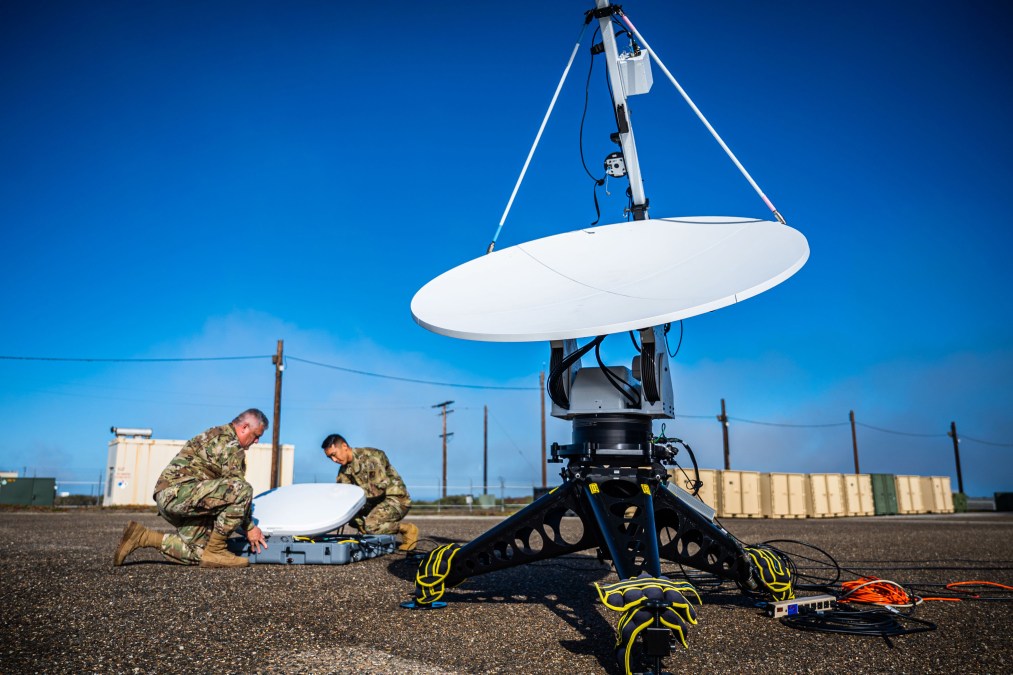 The nascent Space Force has big plans to build out its training and simulation capabilities, but the service's top officer in charge of readiness wants to make sure live training elements aren't neglected along the way.
Although much of the service's efforts have been focused on simulations that better suit digital warfighting operations in the space domain, the mission still demands that guardians be trained in live scenarios, such as how to operate spacecraft and work ground control systems, said Maj. Gen. Shawn Bratton, commander of Space Training and Readiness Command (STARCOM).
"I think a big change — certainly from when I came up, but even more in recent years — is we're shifting back a little bit more into live training," Bratton said Wednesday during a webinar hosted by the Mitchell Institute.
He noted that training for live space ops in the past has been primarily done in a classroom setting where warfighters would discuss missions and potential outcomes, with just some simulation training available.
"Now the discussion is, 'Why aren't we flying a spacecraft in training? Why aren't we getting some sort of reps and sets … in the training environment?'" he said. "If we can move that back into the training pipeline, I think there will be value added."
Adding those physical training elements within STARCOM's purview will alleviate some training responsibilities for Space Operations Command (SPoC), he noted.
Since its creation in 2019, the Space Force has been on a campaign to build tools and infrastructure that will help guardians hone their digital warfighting skills in the space and cyber domains. Much of those efforts are directed at high-fidelity simulators that virtually connect guardians to a simulated space environment.
While digital skills are key for the Space Force, guardians should also be able to receive training on the physical aspects of the space domain, Bratton said. He pointed to programs at the Air Force Academy that give students experience in building and flying spacecraft as an example.
"They're on crew, they understand ground systems, how to schedule the antenna pass times — all of these sort of fundamental concepts that apply, regardless of what spacecraft you end up flying in your career. We think we can bring that back into training through simulation, but also with some live activity," he said.
STARCOM plans to build out a National Space Test and Training Complex (NSTTC) that will act as "the gym to go work out the force," and it has already hosted the first of the service's Skies exercises, Bratton said. The complex will have scalable training capabilities for both synthetic and live environments that support the service's mission areas: electronic warfare, orbital warfare, cyber operations and digital connectivity.
"The NSTTC is the broad label that we put on the range that we're building, but it's not a physical piece of real estate that we own," Bratton explained. "It's those on-orbit capabilities, the ground sensors and then the infrastructure that ties it all together for command and control and gathering data."
As STARCOM continues to scale the training complex, it's looking for industry's help in ensuring its four mission areas are integrated and able to be trained on together, Bratton said.
"How do I bring capabilities together and then let it unfold in a live-virtual-constructive way? And so, we haven't quite cracked the code on that completely," he said. "We have some simulation capability, [but] I think that's an area where we need more help. We have some underlying infrastructure and we have a vision of where we want to go … but it's an area where we're going to need industry's help."
Also to help with integration, the Space Force is on the cusp of publishing a new vision and roadmap that will outline how the service will bring together how it trains its space, cyber and intelligence teams, Bratton said. Right now those three groups of operators are trained separately, but that isn't how real-world missions would be carried out, he noted.
"Right now we tend to train them in individual groups — especially space, cyber and intel. We don't operate that way though. Usually there's representative space, cyber and intel on the crew force," Bratton said. "And so again, I've shifted training burden inadvertently to SPoC. I think STARCOM needs to do a better job."