Third time's a charm: SpaceX launches SDA's first batch of Tranche 0 satellites
After multiple postponements, SpaceX successfully launched 10 of the Space Development Agency's Tranche 0 satellites on Sunday.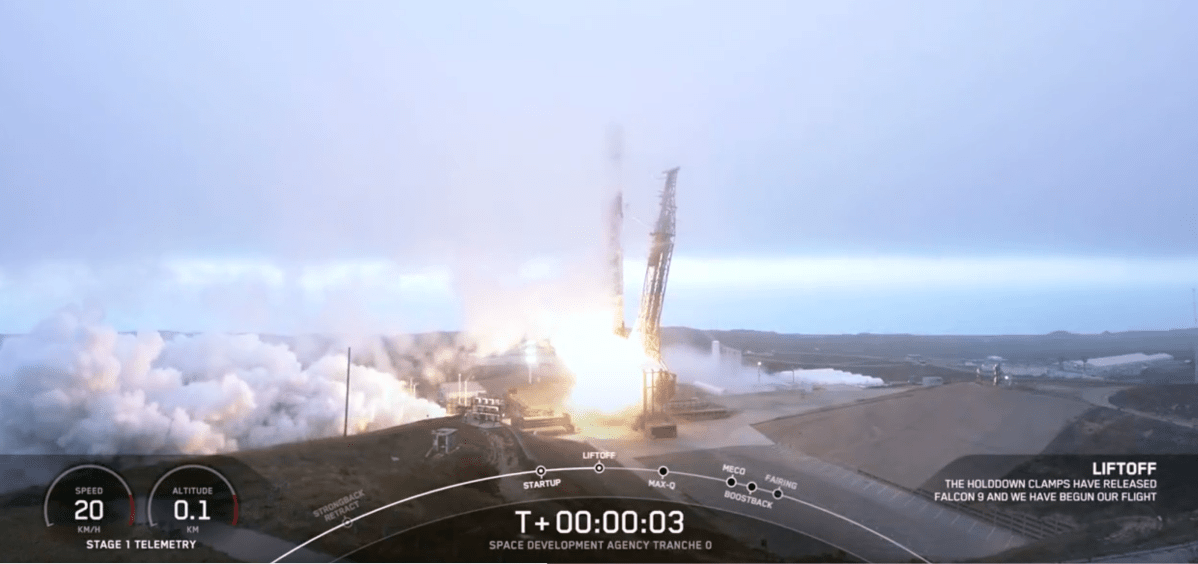 After multiple postponements, SpaceX successfully launched the first set of the Space Development Agency's Tranche 0 satellites on Sunday, the Defense Department announced.
The launch had been scheduled for Thursday, but the mission was auto-aborted just three seconds before liftoff. It was rescheduled for the following day, but on Friday the SDA announced that it was being postponed again, tweeting that SpaceX was "working quickly to resolve issues discovered during yesterday's launch attempt."
The delays happened "out of an abundance of caution to investigate technical issues with the launch vehicle," according to a Defense Department release.
But things went more smoothly Sunday morning. A SpaceX Falcon 9 two-stage rocket lifted off from Vandenberg Space Force Base, California, at 7:29 AM local time carrying the U.S. military payloads. Minutes later, the reusable booster successfully touched down at Landing Zone 4, according to SpaceX.
"This is a major accomplishment for SDA and for the whole Department of Defense. It shows that our key pillars, proliferation and spiral development, can deliver for national security space," SDA Director Derek Tournear said in a statement. "Through this launch, we've demonstrated that SDA can keep a schedule to deliver enhanced capabilities every two years. This revolutionary approach is enabled by growth in the commercial marketplace, allowing the PWSA [Proliferated Warfighter Space Architecture] to move forward to deliver warfighting capabilities in each future tranche."
For its forthcoming architecture, the Pentagon plans to have hundreds of spacecraft in low-Earth orbit carrying critical technologies for satellite communications, data transport, and missile warning and missile tracking. It intends to add new tranches every two years or so.
The Space Development Agency in December 2020 tapped SpaceX to be the launch provider for the Tranche 0 satellites, awarding the company a $150 million contract. The two launches for Tranche 0 were initially scheduled for September 2022 and March 2023, respectively, but they had to be pushed back due to supply chain issues and other problems.
Sunday's launch carried the first 10 satellites for Tranche 0, including eight data transport platforms provided by York Space Systems and two missile tracking systems provided by SpaceX. The second batch is slated to be launched in June, including two satellites from York Space Systems, two from SpaceX, 10 from Lockheed Martin and four from L3Harris, according to the SDA.
Overall, Tranche 0 will include 28 satellites. The constellation will support military exercises and tests, including advanced missile tracking tests, beginning this summer. It will demonstrate the feasibility of low latency data connectivity, beyond line of sight targeting, missile warning and missile tracking, on-orbit fusion, and multi-phenomenology ground-based sensor fusion, according to a Defense Department release.
The SDA refers to Tranche 0 as its warfighter immersion tranche that will host demonstrations and help operators start understanding how to best use space-based capabilities in the future.
"We are demonstrating the core architecture that will evolve in future tranches," Mike Eppolito, program director for Tranche 0, told reporters during a briefing on March 29. "The satellites that we have up there, the intent there is to get them in the warfighters hands so they can start developing their techniques and be able to use them, to give them a timeline to go through their training and to allow them to start thinking about how they would use the larger constellation once we have it on orbit."
Demonstrations for Tranche 0 will begin once all 28 satellites are on orbit and have gone through a period of calibration.
"It will take single-digit weeks to get through tests and checkout of the satellites' initialization and the initial calibration, and that's when we can start to actually do the warfighter versions or participate in exercises and things like that," Tournear told reporters during the briefing.
Following Tranche 0, the SDA has big plans for Tranche 1, which is expected to be the agency's first mission-capable constellation.
"SDA plans to field the first operational generation of the PWSA, Tranche 1, beginning in late 2024. Tranche 1 will include 126 Transport Layer satellites, 35 Tracking satellites, and 12 tactical demonstration satellites (called T1DES). Tranche 1 will be operated by SDA's groundbreaking space operations centers based heavily on commercial space operations models," per a Defense Department release.
During the media briefing on March 29, Tournear told DefenseScoop that the agency is still on track to begin Tranche 1 launches in September 2024 and contractors are currently going through their critical design reviews.