NATO refining domain-specific 'family of plans' to guide allies' cooperation in future contingencies
The plans will improve the alliance's ability to respond to any contingency and to ensure timely reinforcement, according to NATO's Supreme Allied Commander Europe.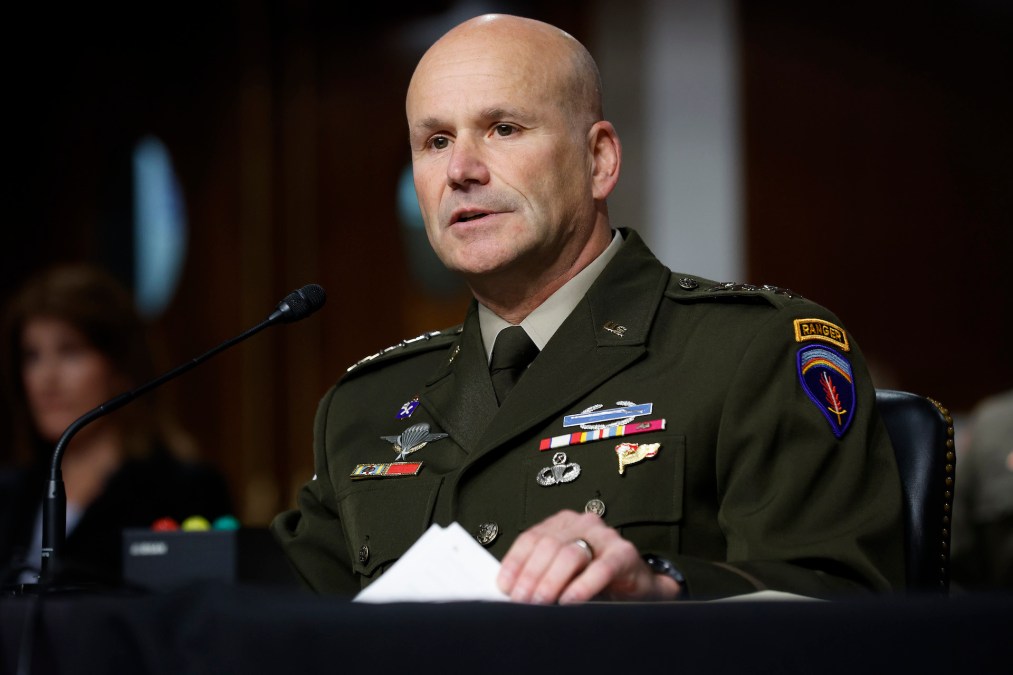 With a sharp focus on driving more integration and coordination between its members, NATO's recently adopted concept for Deterrence and Defence of the Euro-Atlantic Area (DDA) is already strengthening allies' military posture amid Russia's invasion of Ukraine — and underpinning preparations for next-generation warfare, U.S. Army Gen. Christopher Cavoli said on Tuesday.
That concept is also driving improvements to NATO's "plans, our forces and our command and control," he said during a virtual Center for European Policy Analysis Forum.
"We're developing strategic, domain-specific and regional defense plans to improve our ability to respond to any contingency and to ensure timely reinforcement," said Cavoli, who is dual-hatted as NATO's Supreme Allied Commander Europe and the commander of U.S. European Command.
He added: "This new family of plans under DDA represents an unprecedented level of alliance planning for defense against threats in the post-Cold War era."
Alliance members view air, land, sea, space and cyberspace as warfighting domains. Though Cavoli did not provide further details about the "domain-specific" plans, he confirmed that allied nations have additionally committed to further develop the full range of forces and capabilities "necessary to respond to multiple contingencies."
In June, NATO formally adopted a Strategic Concept to guide the alliance's approach to modernization and readiness through 2030.
DDA marks a core component of that overarching framework, and according to Cavoli, it is helping allies operate in a purpose-driven manner in response to modern warfare between Russia and Ukraine, and reducing the risk of the conflict widening.
The alliance has beefed up its posture on its Eastern front and its members' forces are poised at what Cavoli called a high level of readiness in strategically advantageous positions.
"Flexible and agile forces that can be employed across the Euro-Atlantic area to strengthen deterrence, respond to crisis or defend to conflict, are central to a DDA-based modernized NATO joint force and multi-domain architecture," he said. "Through the implementation of DDA, NATO is in a period of strategic scale adaptation of our collective defense to strengthen and secure all allies today and into the future."
The commander's comments on pursuits to modernize technology-based cooperation between the allied nations also come as the U.S. is beginning to carry out its vision for next-generation Joint All-Domain Command and Control (JADC2). Pentagon officials have said they want to ensure that America's military partners are also included on the front end of development for these types of capabilities.
"We have to be able to have an approach that allows us to both communicate with allies, but then also to synchronize fires down range with allies and partners," Deputy Defense Secretary Kathleen Hicks recently said during remarks at the Special Competitive Studies Project Global Emerging Technology Summit.
During a media roundtable at that summit, NATO's Assistant Secretary General for Emerging Security Challenges David Van Weel told DefenseScoop that NATO officials are operating deliberately to enable connectivity, meshing, and deep interoperability between allied forces.
"Interoperability is having the same doctrines, exercising together — but it's definitely also about being able to communicate with each other and our systems being compatible. So, it's definitely something we're looking at," Van Weel explained. "NATO, for example, is doing a lot of [drone and counter-drone] work, where we bring together allies with their different systems and then we let them interact for a week or two weeks, and let them come up with, for example, communication standards for these new systems. So, it doesn't always have to be driven by us — but just by providing the platform, we can stimulate this interoperability."