Former DIU chief Mike Brown urges approval of $1B defense 'hedge' fund, more testing of commercial tech on Ukraine's battlefields
The House Appropriations Committee is recommending investing slightly more than $1 billion to "begin deliberately fielding a hedge portfolio" of capabilities from nontraditional sources within one to three years.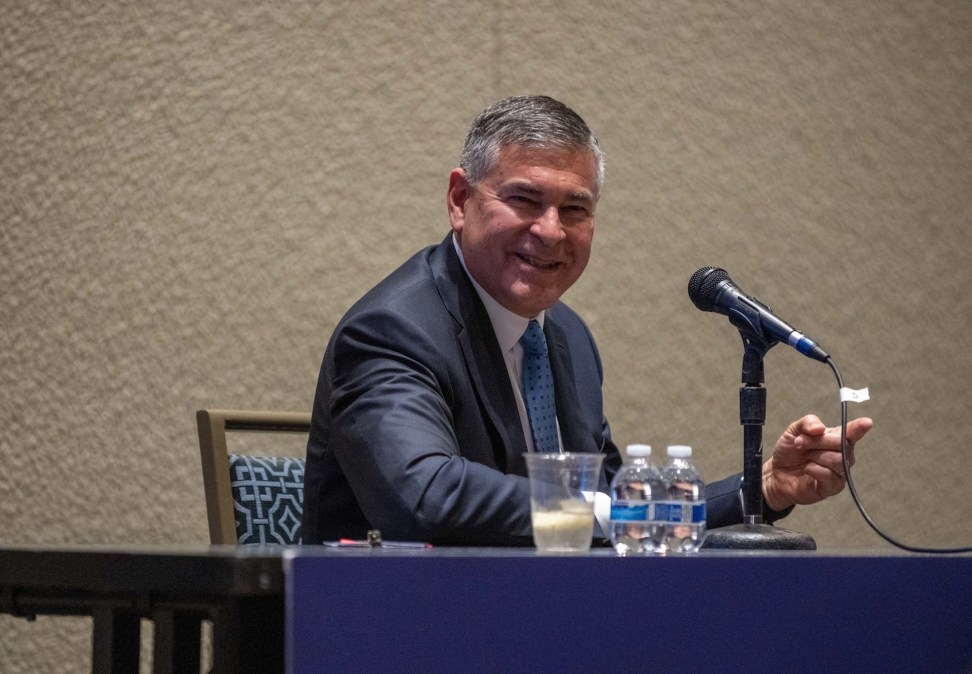 Mike Brown, the former director of the Defense Innovation Unit, is hopeful senators will support a proposal by House lawmakers to create a $1 billion fund to support the acquisition and fielding of "hedge" capabilities for the U.S. military. And he told DefenseScoop that Ukraine should serve as a "proving ground" for commercial technologies that the Pentagon might want to buy.
The House Appropriations Committee, through a provision in its fiscal 2024 defense spending bill, is recommending investing slightly more than $1 billion to "begin deliberately fielding a hedge portfolio" of capabilities from nontraditional sources within one to three years.
"This hedge portfolio of many smart, affordable, modular, and sustainable systems could include, but is not limited to, low-cost, light-logistics multi-domain drones, satellites, and munitions; agile communications, compute, and sensor nodes; and artificial intelligence agents and users. It could create asymmetric advantage to support combatant command operational challenges like contested logistics, electronic warfare, resilient communications, Joint All-Domain Command and Control, and weapon and platform capacity," per the legislation.
The Defense Innovation Unit (DIU) — which was established in Silicon Valley in 2015 by then-Defense Secretary Ash Carter to Pentagon connect with innovators in the tech sector and acquire new commercial solutions — would be responsible for executing the funding in cooperation with the combatant commands and the Joint Staff, with support from service nontraditional innovation fielding enterprises.
During his time at the helm of DIU, which ended last year, Brown helped develop the hedge strategy concept, which would be underpinned by an architecture of systems and tools that are small, low cost, unmanned, scalable, and "smarter" than many of the systems that are currently fielded.
"I'm pleased to say that the House Appropriations Committee, HAC-D, has actually incorporated this language, and provided a billion dollars to get started. So I hope the Senate will be equally enthused about it. We'll see. But that would give us a tremendous boost," he said this week during a panel at the Modern Day Marine conference.
Brown suggested the capabilities acquired with these funds would be cost-effective and save lives.
"We can't continue to produce evermore exquisite platforms. We know that we can't afford that, even with a trillion-dollar defense budget. Unmanned gives us a way to produce things at lower cost and send things on missions that we wouldn't want to send people into," he said.
The House and Senate appropriations bills must be reconciled before they can go to the president's desk for approval. The Senate Appropriations Committee has not yet approved a fiscal 2024 defense appropriations bill.
On the sidelines of the conference, DefenseScoop asked Brown if $1 billion would be sufficient to fully execute the hedge strategy.
"My gosh, but it's 10X what DIU had before. 10X. So it's a big step forward, right?" he said. "Is that enough? No. If you're employing the hedge strategy, you'd need more than that. But it's a huge start and certainly a lot to accomplish in one year."
When asked how much a fully implemented hedge strategy would cost, Brown told DefenseScoop he hadn't "priced it out" yet.
"We have to see how that construct [proposed by the House] can work. And if I were a lawmaker, I'd want to see some proof points. And I'm sure they will insist on that. And then they could talk about what to do from that point," he said.
Meanwhile, he sees more opportunities to use Ukraine as an operational test bed for the types of commercially developed systems that would fit in with the hedge strategy.
"Let's take what they've done with … all these technologies, but put it into practice so Ukraine can be a proving ground [to determine] what's working, what's not working. So it's really the combination of all that — the satellite imagery, what's being done with autonomous systems … There's so much out there. I'd want to make sure that we're taking advantage of all those technologies to see how they perform. I'm not going to be naive to think that everything a commercial company produces is going to work in a wartime setting. But this is a great opportunity to see what does work," he told DefenseScoop.
The Biden administration has provided more than $40 billion in military aid to Ukraine, including a slew of weapons, using presidential drawdown authority and Ukraine Security Assistance Initiative funds.
Brown, who is now a partner at Shield Capital, said there needs to be a more robust, dedicated pathway for providing new commercial technologies to Kyiv.
"If you look at what's on our security assistance list, it's what's already in stock or what we've already had experience with. Not that that isn't good, And Ukrainians need that. I mean, [Undersecretary of Defense for Acquisition and Sustainment] Bill LaPlante will be the first to say we need more munitions in this war. I agree with him 100%. But what a perfect opportunity to also see what commercial technology could do. And Ukrainians are already using that. So I'd love to see us take just a proportion of the security assistance and dedicate that to commercial technology so we could prove out what works," Brown told DefenseScoop.